HUSBAND SNATCHING:THE LATEST TREND IN NOLLYWOOD - AS OBY EDOZIEN JOINS LIST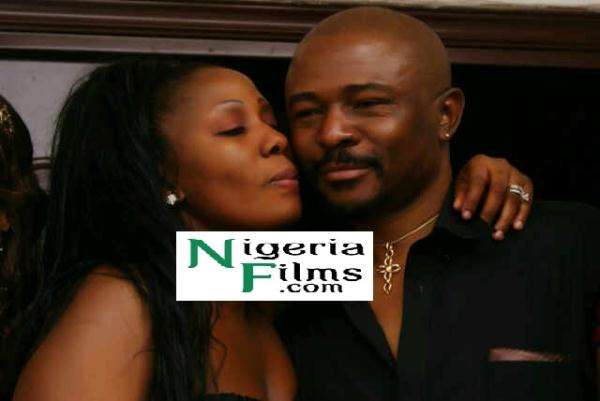 The controversy surrounding one of Nigeria's movie industry best actresses, Oby Edozien over her marriage to popular singer Alex O has been dividing many people who woke up on Tuesday, December 20th, 2011 to read a shocker that not only that the Imo State born musician is married, he also has a 3 year old child to show for the union.
Findings revealed that Alex O who got married to Oby on Friday, December 16, 2011 in a secret ceremony held at Ikoyi Registry,Ikoyi, Lagos is actually married to a lady in South Africa by the name Fathima.
Fathima is a South African lady of Asian ethnicity who Alex met in Singapore while he was struggling to better his life.
According to source,Fathima assisted and stood by Alex In turbulent times before they finally walked down the aisle together.
We gathered that shortly after Alex O gain ground in the country,he left their matrimonial home in South Africa on the pretext of going to Nigeria to establish his business and make arrangements for a US visa.But it came as a surprise when Fathima read on the internet that her husband and father of her child had gotten married to another woman.
In her quest to claim what rightly belongs to her,Fathima has surfaced with an overwhelming pictorial evidences of her marriage to Alex O. The marriage reported to have been contracted in Singapore on the 7th of November 2001.
Some, who are quick to condemn the star actress, blamed her for venturing into another woman's territory; some others were full of pity for the super star who has done so much for the make believe world.
In a recent interview with a Nigerian soft-sell magazine,Oby Edozien was asked;We don't know if you can clear the air on Alex O's marital status before you dated and now married? Oby said: "Alex has only one wife in this world, and she's Oby Gold".
The big question now is, Is it that difficult for Nollywood actresses to get their own man?Because actresses like Ini Edo,Mercy Johnson and Stephanie Okereke have also been accused of snatching another woman's husband.
In Fathima's words, Alex is a "TWO TIMING CHEATER…LOVING OLD SAD NIGERIAN WOMEN WHO NEED A MAN AND HAVE LOTS OF MONEY!!"
We shall keep you posted as events unfold.
click the link below to go to...
THE UNTOLD STORY OF HOW ACTRESS OBY EDOZIE FINALLY HOOKED ALEX O.
E-x-c-l-u-s-i-v-e: Star Actress Oby Edozieh marries Alex O secretly!
ACTRESS OBY EDOZIEN SET TO WED+MULTI MILLION MANSION NEARS COMPLETION.
© 2011 Nollywoodgists.com. All rights reserved. This material may not be published, broadcast, rewritten or redistributed without the express written consent of the publisher
ALEX-O AND WIFE FATHIMA DURING THEIR WEDDING.jpg