PRINCESS AND RACHEAL EVICTED FROM PROJECT FAME SEASON 4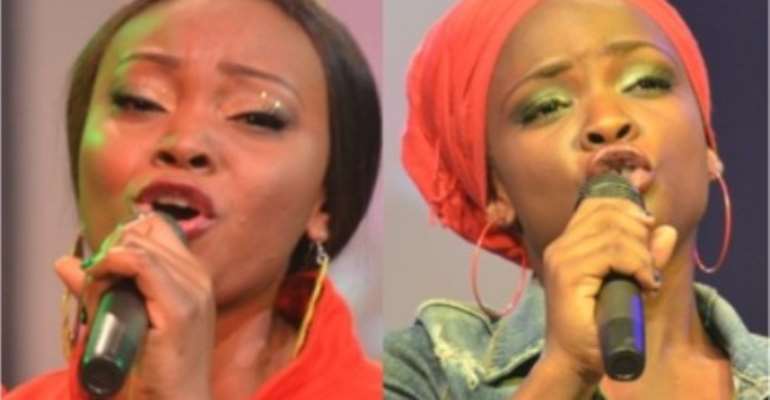 It gets tenser for viewers as the week goes by at MTN Project Fame West Africa Season 4. Over the weekend, two contestants Princess and Rachael said goodbye as they were evicted from the show.
Last week, the two evictees along with Ethel, Yvonne, Roy and Ese had been put on probation leaving them with one more chance to get themselves back into the competition. But after the six performances, Princess and Rachael were left hanging when the judges saved Ethel and the faculty Ese. Yvonne and Roy were also saved through unfamiliar circumstances as the latter saved Yvonne after a spectacular performance.
Rachael and Princess then performed for once last time and wowed everyone including the members of the faculty and the judges.
On the next day, the last six contestants standing thrilled the audience with an opening performance by rendering gospel group Infinty's 'Olori oko'. In pairs, the contestants then rendered other songs from Sunny Ade and Onyeka Onwenu's 'Wait for me' and Mariah Carey and Whitney Houston's 'When you believe'.
'I must say that you all brought your best tonight and even if there were some slight hitches, your performances tonight were very impressive and I must commend you all for making it this far in the competition… you guys are already stars! We have decided to leave the judging to the viewing public to start voting as this competition has gotten tougher so it is completely out of our hands now', Kwame announced on behalf of the judges.
The last six contestants will now slug it out for the grand prize of 2.5 million naira with a fully loaded Toyota Rav 4 jeep and a recording contract.
Monica and Princess doing their final performance.jpg
Ruth and Monica during their performance.jpg
Judges - Ben, Kaffy, Ige and Joke Silva.jpg