I wear caps to cover my big head - Ice prince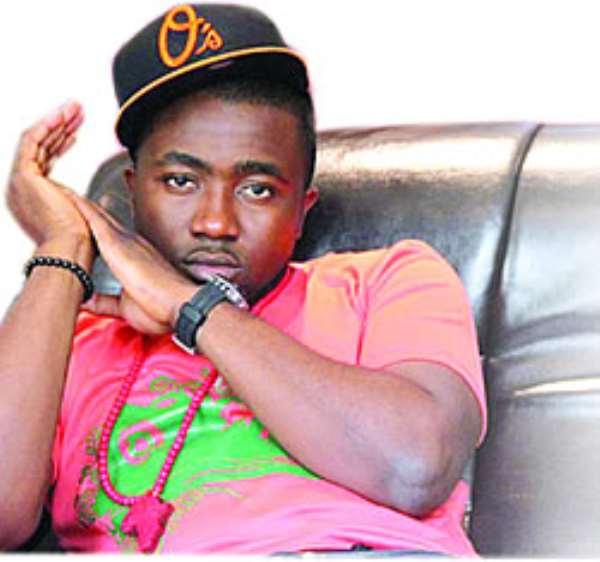 AS one Nigeria's finest showbiz personalities, what does style mean to you?
Style to me is your expression; using materials and accessories. It's the way you carry yourself. It defines your mood. For me, it is about dressing with mood and season.
How would you define your style?
My style is Ice Prince. I don't want to say I'm flamboyant or conservative, no matter how flamboyant I think I am, you will find people who are extremely flamboyant. Anyway, I spend a lot of money on my clothes and other stuffs.
What lifestyle material do you have weakness for?
I think I like and have a bit of everything. I live with Jesse Jagz and I'm comfortable with that. I have suits, urban gears in my wardrobe. I'm comfortable with what I have.
What kind of clothes are you comfortable with?
You'll find me in urban gears; I hardly wear corporate or traditional. In fact, I don't wear traditional at all but I'm mostly wearing snickers and urban kind of wears.
You wear caps a lot, how many do you own?
I really don't have a reason for wearing caps; apart from the fact that I do think I have a big head. I wear hats to cover my head. In the last six months, I have bought close to 200 hats. But I keep giving them out. I don't know how much I have at the moment. I'm comfortable with Snapback hats.
For your urban wears and accessories, do you have preference for a particular label?
For clothes; I love Live Mechanics for snickers, I love Nike, for wristwatches, I love G-Shock, for cologne, I love 212.
What about sunglasses?
I can do with any kind, I like the Supra sunglasses, they are really cool.
Where do you prefer to shop?
I shop for my stuffs in America, my stylist Snicker Boy, brings most of them from the States. I also shop whenever I go to London. Even in Nigeria, I visit Live Mechanics store, in Adeniran Ogunsanya Shopping Mall, in surulere. I shop anywhere; I could pick stuffs from Jos. I was in Ghana recently and I picked up some African bracelets.
What's your favourite food and drink?
I really don't have a favourite food but I tell people its rice, probably that's what I'm mostly comfortable with. Water is what I drink, because I don't want to advertise any kind of drink here, but I honestly love water.
Your favourite hangout?
My bedroom; I'm not a big fan of clubs, bars or lounges. I love my bedroom to a fault that sometimes, when I have shows in Lagos and the organisers put us in a hotel, I don't stay there, after the show, I'll still come back to my room. Most of the time, they end up fighting me for getting the hotel room in vain.
Where is your preffered holiday spot?
I love United Kingdom, because Jamaicans reside there. It's fun to be with those people. America is also cool but the UK Is where I love to stay.
What car do you drive, do you have a dream car?
I drive a Camry. I don't have a dream car because cars keep coming out every year. But I love SUV's.
What about other deluxe things of life like boats, jets, beach mansions?
(His face lights up with smile)Yeah, I want to make all the monies in the world, if possible. I do wish I could own big boats so I can have all the Skeles (girls) in the world and party on. I wish I could own a big jet, so I can get to my destination easy and fast.
In your short time in the industry, you have made a big mark, what should your fans be expecting from your debut album?
My fans should expect a lot of good music. The album is a collection of different ideas, different sounds that had been running through my mind, it's also going to be a collection of different genre of music. There is reggae, highlife, hip hop and lots of collaborations with industry giants. Jezze Jagz produced the album, that's what my fans should expect.
How did you come about the title, 'Everybody Loves Ice Prince' and what is the structure of the album?
At first, I wanted to name the album after the street I used to live in Jos but when I lost my mother, 'the mad love' I got from everybody around the world made me change it to 'Everybody Loves Ice Prince'. It's going to be a 15- track- album. I recorded songs with Tuface, Iyanya, Whizkid, WHP from South Africa. Obviously, M.I, Jesse Jagz and Brymo and a whole lot of bright talents that party people have not really heard about. The album will be dropped on the 4th of October. I thought it would be a perfect gift for MI as his birthday falls on that same day. The concert will hold on October 9, at Eko Hotel the Expo Hall. It's going to be smoking.
In your journey to stardom, what was the turning point for Ice Prince?
The turning point was when I won the Henessy Artistry in 2009. I think that was when my journey really started .A year later; I released 'Oleku' which was produced by Jezze Jagz, featuring Brymo. All these really put me out there.
You seem to have a grass to grace to story, what is your source of motivation?
God is the first drive obviously but my friends are also a big source of inspiration.
Their encouragement made me succeed and keep me going.
What has stardom brought to Ice Prince?
Stardom has opened a lot of doors for me. When I talk, people listen. I have been invited to be guest speaker in symposiums for students and young people. Stardom has also taken me around the world; I now know what America, Europe and some other parts of the world look like.