TONY OKOROJI/ONYEKA ONWENU SAGA UPDATE : TONY SUES ONYEKA N200 MILLION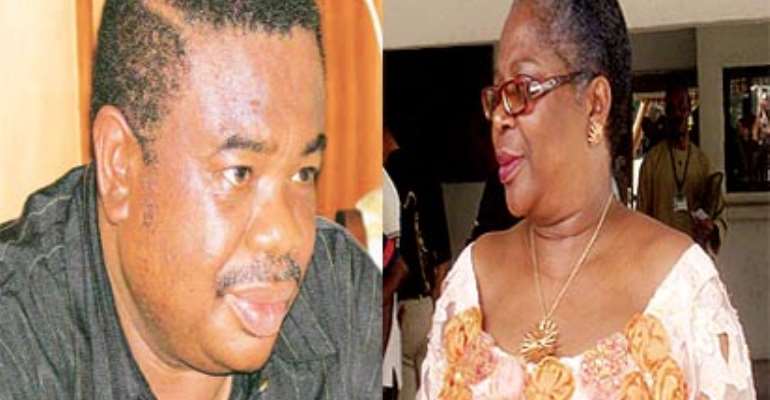 Legendary Musician ,Onyeka Onwenu accused Copyright society of Nigeria (COSON) boss Tony Okoroji of pocketing N3Million cross river state government donated for Christy Essien Igbokwe's burial .Now Tony Okoroji is suing her for defamation of character .
Tony Okoroji, who served alongside Onyeka Onwenu on the Christy Essien-Igbowe Burial Committee headed by Austin Izagbo, is asking for N200m, within two weeks, for a damaging article which the singer published in one of the national dailies last week as regards the N3m.
In a letter dated October 17, written on behalf of Tony Okoroji by Justin Ige of Seun Omotoba Law Chambers, made available to us, Okoroji is also demanding a full page apology published in five national dailies in addition to the said sum, as compensation for the embarrassment the article caused him.
Portions of the letter read: The attention of our client has been drawn to an e-mail titled: A Letter to Tony Okoroji: Where is the N3m donated by the Cross River State Government? dated October 11 2011, which you have widely published in different places by your actions you have brought our client to odium and terribly reduced his esteem and standing amongst decent people around the world.
Our instructions are to demand from you and we hereby demand from you the pay-ment to our client of the sum of N200m within two weeks of the date on this letter as damages for the grave injury you have done to our client
click the link below to go to...
THE AMAZING BAD BELLE OF ONYEKA ONWENU – Tony Okoroji.
Onyeka Onwenu Writes To Tony Okoroji: Prove Your Innocence.
ONYEKA ONWENU/TONY OKOROJI RIFT GETS MESSIER+PATRICK DOYLE STEPS IN,CALL ONYEKA AN INGRATE.