NOLLYWOOD'S CURSED MARRIAGES:THE LIST GOES ON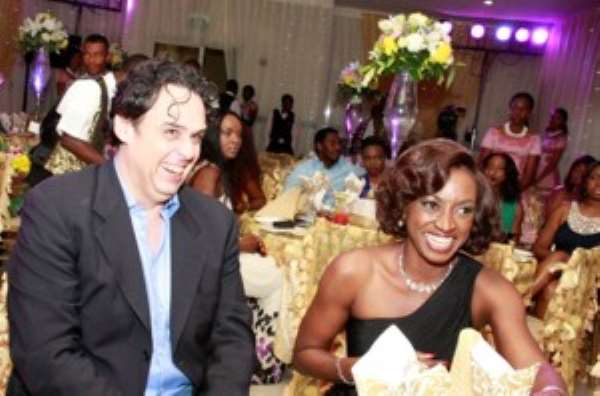 Why can't some of our celebrities keep their spouse? Why the constant buzz about celebrity marriage breakups?
Our celebrities break up their marriages without regards for their children. Every celebrity divorce leaves a lasting impression on the children making them feeling insecure and emotionally unstable even into their adult years.
Money and fame cannot buy good parental upbringing. It is on record that children from divorced homes are more likely to suffer physical, mental, spiritual and financial problems during their adult life. What examples are our celebrities passing on to the large number of teenagers who see them as their role model?
One of the major reasons most celebrities give for their marriage break ups is irreconcilable differences. In simple words, it is lack of communication. A lack of communication between two people makes it difficult if not impossible to deal with problems in the relationship.
Is the intense, public glare and microscopic scrutiny that celebrities must endure make maintaining a marriage more difficult for them?
Without mincing words,not less than 25 top actresses in Nollywood had waded through the 'marital swamp' and came out divorced or separated.i.e Foluke Daramola, Ayo Adesanya, Fathia Balogun, Monalisa Chinda, Oge Okoye,Chika Ike, Shan George, Stephnora Okere, Ngozi Nwosu,Jennifer Eliogu, Stella Damasus, Eucharia Anunobi, Kate Henshaw,Clarion Chukwura,Uche Osotule,Binta Ayo Mogaji,Regina Askia,Dolly Unachukwu,Hilda Dokubo and a few more
I think it's high time our celebrities learn to keep their spouse, because fame, intelligence and all the money will not help them keep their marriage from a break up.
Marriage under a glass bowl presents additional pressures. Many celebrities, though often idolized by fans, suffer from many of the same emotional problems that non-celebrities do. Because of their larger-than-life status.
I believe celebrity marriage breakups can become a thing of the past if they hide from the public glare and humble themselves like the ordinary person.
Believe me today, if celebrity marriage break ups can be prevented and eliminated, the rising rate of divorce in our society today will drop drastically. Our teenagers tend to imitate the lifestyles of our celebrities. The common reasoning amongst our teenagers is if Kate Henshaw,Eucharia Anunobi and Shan George are doing it, why can't I? why can't they get married when ever they feel like it and then get a divorce? Marriage is a sacred and special bond. It is not meant to be broken.
Marital conflicts are stepping stones meant to help create a special bond that cements our marriage. If you give away what you have so quickly, you will never see the true value of what you have.
Divorce makes people over generalized that celebrity couples marriage don't last the test of time no matter the level of commitment. But contrary to this assertion, few actresses like Omotola Jalade-Ekeinde, whose 15-year-old marriage has produced four children,there is mother-of-three-sons Omoni Oboli. The star of the award-winning Anchor Baby has sustained her marriage for 11 years. Chioma Chukwuka-Akpotha has clocked five years in her marital sojourn. Ini Edo-Ehiagwina is in her third year. Dakore Akande has just experienced 10 months of marriage,Sandra Achums,and Victoria Inyama.
A further four or five names can be added to the list and that is about the size of it. The "working marriages" still have the hurdle of 25-year silver benchmark ahead. To become a vintage marriage, they have to beat the Olu Jacob-Joke Silva test.
Genevieve Nnaji, Uche Jombo, Uche Ogbodo, Rita Dominic, Funke Akindele, Benita Nzeribe, Oby Edozieh, Lilian Bach, Bimbo Akintola, Cossy Orjiakor, Empress Njamah these ladies are single and they aren't in any hurry to rush down the aisle. They want to take their time and look before they take that leap. Am definitely sure that the common factor that binds them is the thought that getting married is not the only goal in a girl's life.However,let's hope they make the right choice when they are set to marry.