Street Idols! Nigerian Idol judge, Charly Boy, Goes Looking for Talent on the Streets of Lagos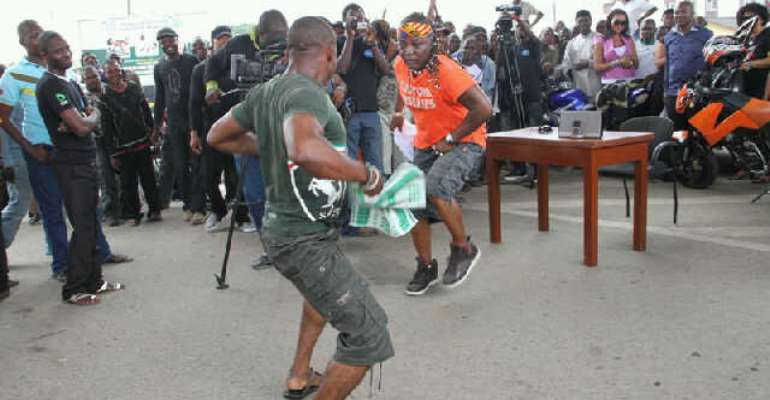 It was a spectacle never before seen under the bridge at Ikeja on Monday October 7th as a crowd of onlookers - mainly commercial motorcycle operators (okada) gathered to participate in what appeared to be a street talent show. Seated at the judges' desk at a corner of the road and shouting orders was none other than the 'Area Fada' himself, Charles "Charly Boy" Oputa.
The Nigerian Idol judge was clearly in his elements as Area Fada as he went in search of what he called the first ever Street Idol in honour of "his people". He was not disappointed. There was no shortage of talent waiting on the streets: from a dancing LAWMA official, to random singers and rappers and even a stripper Okada rider.
In that atmosphere of non-stop entertainment for a large crowd of onlookers, the down-to-earth star ensured that the crowd hailed every single person that performed and then joined a few of the performances. After making the first selection, Charly Boy let the crowd decide who the winners of the competition were for the music and dancing categories respectively. The three favourites in each of these categories received $100 (per category) from him as cheers went up among the crowd. True to form, after the unusual show, Mr. Oputa blazed off in dusty glory to cheers of 'Area Fada!
Charly Boy was in Lagos as one of the judges on Season II of Nigerian Idol. Alongside Yinka Davies and international choreographer and artiste Jeffrey Daniels, they reviewed the thousands of young eager talent in an incredibly long line at the Dream Studios in Lagos.