I Started Out As Fashion Designer -Stereo Man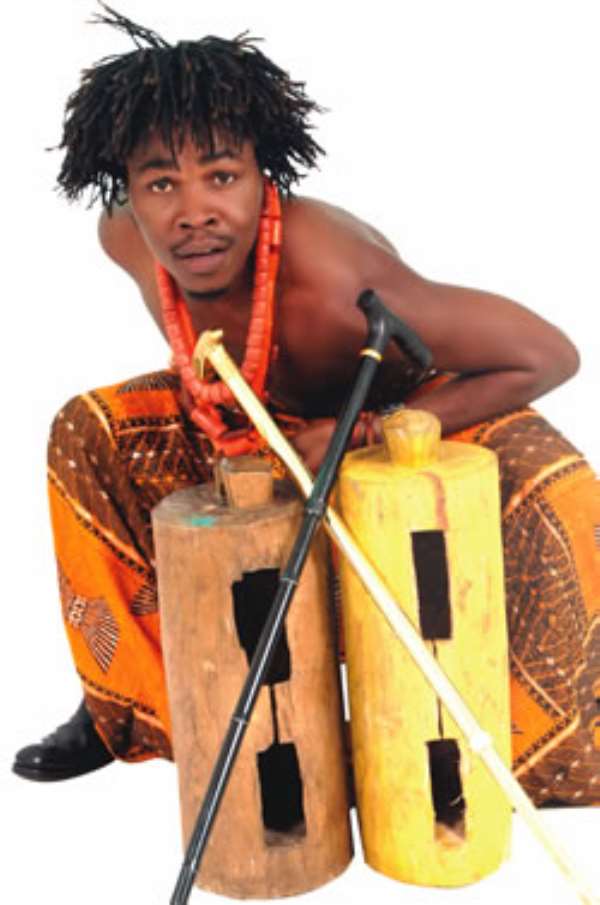 Osakumi Sunday, better known as Stereo man is Nigeria's traditional dancehall musician, which many regard as eccentric and a replica of Daddy Shokey, the Ajegunle-made musician. The energetic
singer/dancer, who is also a fashion designer, told Adunola Fasuyi, in a chat, why he has not been around for a while and how God saved him from an auto accident. Excerpts:
What has been happening to stereo man, you have not been around for some time now, what's up with you?
Actually, I have been working seriously on my new album that will be coming out soon. But because I have been travelling out more these days, I have not been able to focus on the album completely.
Most times, I have my shows outside the country and that is why the people don't get to see me often at public functions in Nigeria. In a few days time, I will be travelling to London for a tour and a concert. I promise my fans that I will bring something new to them soon.
What is the title of the album?
This album will be called, Egege Tradition. It is the new album that I will be bringing out soon. The album is going to have about 14 to 15 tracks.
Do you think it will be a hit like your other albums?
I believe it will be a hit. I believed in my first album and it was good. I cannot sing other people's songs, its my song that I will sing and this is another one. Until it gets to the market then people will know if it is good or not, but I can assure you, that it's a bomb!.
Did you feature any artiste in this album?
No, because my kind of music and performance on stage does not require featuring people. Like you know, I act and dance to the tune of my music.
The tours so far, how have they been coming?
They have been wonderful. Splendid. I have been travelling round Europe for shows. It's really wonderful because a lot of people want to see me over there. I still go for shows in Nigeria also. But my acceptance abroad has been awesome, it amazes me. I give all the thanks to God.
The songs that you play in Europe, are they mostly from the old album?
I perform songs from the old album and I chip in some of the new ones entitled, 'Wake up from your slumber', Come back again and others like that. They are simply beautiful.
Are you still a Glo Ambassador because your pictures seem to be missing in most of the posters?
I am still a Glo Ambassador and there are other things I am doing for Glo too, but it depends on when they call me. My face is also on their recharge card. I am also on their billboards, which are mostly in the South-South region. I am still very much with Glo and I am doing them and the Nigerian entity proud abroad.
Tell us then what is happening to your fashion outfit where you make clothes for people?
I am planning towards that also. It is still kicking and as a matter of fact, in most of my travels, I make enquiries on how to get my fashion outfit on a better scale. But presently, I have been able to open a VIP lounge. And I am hoping that other projects that I will get done will include my fashion outfit.
Interesting. So, where is the lounge located?
It's in Satellite town. The bar is called Angle 90 entertainment bar. I have not really done the official opening of the bar because of my frequent travels.
I want the launch to be a very big celebration. I am working towards having a boutique section that would showcase some of my finished fashion works, but we are still working on it.
How do you still make out time to pull the needle and thread together?
Once in a long while. It's not as frequent as before I went into music. Music takes much of my time now. I don't really have much time to make clothes these days, but I know the talent is somewhere inside me. I know that anytime I pick a material, it will all come back to me in a flash.
I would love to be the one that will be making the clothes for people when I launch the fashion outfit. I might not have the time to sit down at a machine and start sewing, but most of the concepts, designs, material sourcing will be coming from me. But as it is, I will have people that will be making the clothes, while I dish out the designs and concepts.
So, when you finally set your mind to putting up your fashion outfit, will it be for select people, like the high and mighty?
If I eventually start, it will be for everybody. I don't like doing things for just a few people. I believe in people and I know they believe in me also, so why pick a few?
Every human being is important, you know. I don't look down on people or underrate anybody, no matter your status. I respect all. Remember I'm a grassroots person.
Are you satisfied with how things have turned out for you now or do you still ask for more, music and business wise?
I thank God in particular for what I am today. In life you have to be thankful and grateful for whatever that has come your way through God.
Considering your background and where you are today, what do you have to say?
Glory to God Almighty. I did not come from a rich family, neither were we that poor. We were just a normal family trying to survive like everybody else.
My mother took care of us after our father died. She trained me to secondary school level and she never wanted me to be a musician. She wanted me to have a responsible career, because she was told that people who are musicians are people who are not responsible or cannot make it in life, but I chose music for myself because I know that that is what I can do best.
When I got to Lagos, because all my mother wanted was to keep me away from music, so I can focus on some other things, I was staying with my aunty, who is a fashion designer.
She took me to another male tailor who could teach me the fashion job well so that when I finish, I can continue working for her in her shop. That was how I got involved in fashion.
So, you never got support from your folks on your music career?
Not at all. My family and my mother never supported my music career, though my dad was a traditional dancer and a singer as well as my mother. When I started out as a singer, my dad was already dead.
He died when I was little. Maybe he would have supported my going into music then. It was people outside my family who encouraged me a lot to go into music. I kept it up until God said it was my time to shine.
How does she feel now that you are everywhere with your music?
She is quite happy now. Very proud of me. She was just being a mother back then. That is what every mother will do, not to let their children go astray. If I have a child too tomorrow, I think I will try and put my child in the right way.
But, when a child grows to some extent, I will give him or her some space to do what he or she wants to do but will be there to advice. The instinct to be protective and avoid mistakes for children is in every parent.
Most celebrities are walking down the aisle to tie the knots, are we expecting that from you soon?
I am praying for a good wife, because it is not every girl out there that is a wife material so I am praying for a good wife to come my way. It's not something you rush into. If you rush in, you will rush out. I am happy for everybody that is married.
The most important managerial course anyone can take on earth is how to manage a marriage and I am still going through that course.
Are you saying you don't have anybody in your life right now?
I am still searching. The fact is, I am not in a hurry to get married.
You said something about you not being mobile now, what happened to your car?
I had an accident about two weeks ago at Alakija, Satellite town. The Land Rover Jeep is a write-off completely now. It somersaulted several times about 2.00 a.m., but I thank God for my life because that is the most important.
Where were you coming from, a show or a party?
I was going home from Agboju youth carnival. I went there to watch Malika. I thank God that I don't have any injury.
So, now you are not mobile?
Laughs! But it's really no big deal, when there is life there is hope. Another one will come.
What kind of wheel should we expect to see you cruising now?
Nice, solid wheel that God will provide.
What do you cherish most in life?
God my creator and my family.
Who do you owe your success in life to?
God, obviously, because without him, who we be? Nothing! So it is God! I also thank my parents for giving me the care, education they can afford. You know education is not only about book, but training a child properly in the way of the Lord.
My mother did that and I'm grateful to her. Also, I owe it to all my fans out there who have been very supportive and encouraging me, without them, I won't be where I am now. I thank them all and I love them.