Tango with me - movie review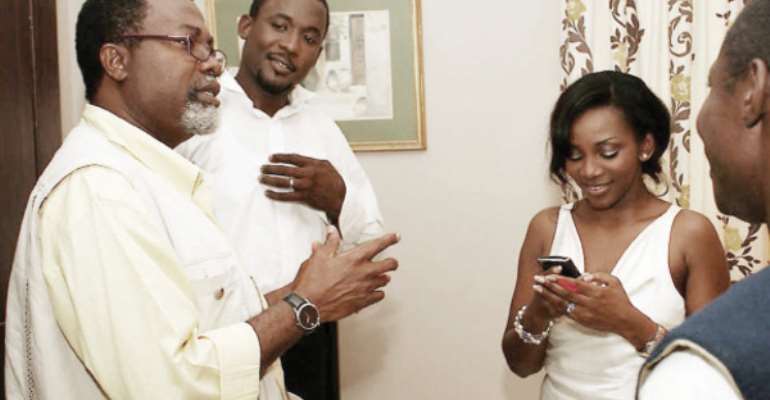 Movie Title : TANGO WITH ME
Starring : Genevieve Nnaji, Joseph Benjamin, Ahmed Yerima, Joke Silva, Bimbo Manuel, Tina Mba
Directed by : Mahmood Ali- Balogun
Genre : Drama / romance
Certain unpleasant events have occurred at one time or the other in our lives, which when we recall, instantly triggers off painful memories. During such fleeting moments, one unconsciously takes a flight to 'wishing land' and begins to engage in pity- party declarations, " I wish I could turn back the hands of time, I wish X, Y, Z, never happened, I wish I had never met him/her, I wish I could freeze that moment before A,B,C took place,…I wish….i wish… oh I wish !. Various events compete aggressively with 'man' in the unceremonious marathon race of life under the watchful eyes of the game's master "time". How you respond to unprecedented catastrophic events when it hits you, will indubitably determine what will be written on the pages of your journey book on Earth.
"Time", that subtle, insensitive, round the clock workaholic who lords himself on us and co-ordinates our very existence with impunity!. You can't undo what's been done, except you believe in the fairy tale of Aladdin & the magic lamp... but seriously as hard as it sounds the only antidote to such depressed state is to 'let go of the past and move on'. Director Mahmood Ali- Balogun brings this on, in his latest movie "Tango with me". The establishing shot reveals a couple, Lola (Genevieve Nnaji) and Uzoh (Joseph Benjamin) sitting apart on a sofa opposite an off screen marriage counsellor. The subtle melancholic soundtrack during the reeling of the opening credits, forlorn looks and body language of the couple clearly indicates that all is not well… but what could the problem be? Through series of split sessions with the couple, deploying the flash back mechanism, the premise for the failing marriage, which is less than two months is unveiled.
The couple met three years, four months and three days prior to the counselling session, at an investment bank Lola had been posted to serve in. She hadn't been thrilled about the idea, having been a Theatre arts graduate, and an ardent lover of dance who wanted to teach same. However, the heart stopping, stomach stunts performance powered by butterflies within, eye transfixing moments, temporarily put the desire on hold as 'she beheld her husband'. Successfully leaping over high hurdles of tribalism, parallelism in terms of religious denomination in the Christian faith, pre– marital sex, and living her dream as a ballet teacher in a private school, she ties the marital knot with the love of her life. Off to Abuja they go, to relish the honey moon moment and then continue the conjugal bliss.
He's Consumed with the passion to make his wife 'a woman', but she halts the streaming passion, asking for two minutes to change into something else in the bathroom, after all 'two minutes won't make a difference'… . She becomes 'a woman' via the savage, barbaric, inhumane, uncontrolled animalistic drive of the armed men who got the real target's room number all wrong. The beastly act rocks the 'marriage boat'… and then there's Uzo's boss Ms Bankole Smith a.k.a Jibike, (Tina Mba – Shadows TV series) who is dangling the 'adultery carrot' temptingly before him. A further discovery of the aftermath of the unpleasant event threatens to finally capsize the boat into the sea of failed marriages….
One thing that struck me about the movie was Ali – Balogun's ability to pay attention to details, the intricacies, nitty gritty involved in a sound movie production. His ability to prepare an eye catching movie meal with a fine blend of movie spices added into it and visually served to us via the big screens is remarkable!. The movie was nominated in six categories for AMAA 2011, (despite not winning) it's not one that can with time, be labelled amongst the lot of evanescent movies. Over two years of research was spent in coming up with the concept of the story which also involved inputs from clinical psychologists and victims of such brutal act. On the whole he worked on the movie project for five years.
He's added his name to the golden list of filmmakers who have produced films on 35mm, a rare feat and has been inducted into the unofficial 35mm Nollywood hall of fame. A three man crew from Hollywood added bite to his Crew base . The film was made on a budget of over N 50 million with the post production in Lagos, South Africa, Dubai, Bulgaria. Sound treatment (what most filmmakers do not pay attention to ) was carried out in South Africa then Bulgaria. A regular participant at the Cannes film festival, he has also shot movies and has been part of MNET new directions film project series. His directing dexterity in the movie with certitude reflected his wealth of experience on the job. I also liked the fact that he deployed the undermined tools of Film tourism (shots of Lagos, the beach ) and the product placement drive (Arik airline, NTA logo and seasoned broadcaster Cyril Stoba reeling out the news actually linked to a scene in the movie!, Shoprite, Temple preparatory school, Eko Atlantic, MTN) which created 'realism'. He certainly avoided the mishap of a miscast, using actors and actresses suitable for the roles.
Uzoh Dike (Joseph Benjamin, co- host of the MTN project fame west Africa TV reality show) plays the lead role (male) in the movie. Many don't know he's been around for a while (Cross Roads, Zeb Ejiro's Deadly Mission), unfortunately he's been living in the shadows of the A- list rated male actors in Nollywood. This tall charming bloke, has made TV appearances in 'Edge of paradise', Jeta Amata's 'Bachelors', and Tinsel. His voice over prowess is reflected in works done for MTN, GLO, Multi-links, Guinness, Samsung, Nokia, Stanbic/IBTC and many more. His understanding and interpretation of his role was invariably 'near perfection', thereby giving a good account of himself and proving critics wrong. His responses, facial expressions (especially at the hotel room when being taunted by his wife's flirty moves, and certain times with his boss) brought a comedial relief to viewers.
Africa's Juliet Robert (Genevieve Nnaji, AMAA Best Actress nominee 2011, with Amake Abebrese (Sinking Sands) clinching the title, certainly did not disappoint her fans. Her ability to play the victim crossing various emotional bridges was good. There were also 'Cameo roles' played by Sandra (Bimbo Akintola, AMAA Best actress nominee 2011 for Freedom in Chains ) and kate Henshaw- Nuttal (AMAA Best actress 2008). I was impressed by Lola's father (Ahmed Yerima) who has a knack for stage dramas than the onscreen platform. This acclaimed awards winning theatre director, scholar and playwright (with his play 'hard ground' winning in the drama category of the 2007 NLNG literary prize) played his role with finesse and I kept asking myself why he simply kept such wonderful talent mainly for stage productions all these years?
Cinematography was also good and the intro of late Fela's song 'palava you dey find' in one of the scenes between Uzoh and Jibike raised the ingenuity bar. The story conveyed a depth of problematic issues about what couples caught in the 'psychologically/emotionally' traumatizing nets go through. The use of 'FB' in unwrapping the story sometimes in a haphazard way, the 'termination clash' stemming from Christian principles, was rather ironical. Swift amends were further made via the adoption alternative.
Some movie goers might have watched other movies that bring to bear the reality of such violation against womanhood. Jerking acts by one of the armed men (Sunday Afolabi- no where to be found TV series) with shots on Lola's facial expression were seen. It is apt that victims struggle with the offenders who over power them before committing the deed. No struggling, just a slap from one of the armed men was seen, before carrying out the act and he wasn't even on her pretending to do it (don't get me wrong, I'm not saying he should have actually done it but at least they should have fooled us into believing it was real ). Ali- Balogun made other parts realistic… anyway he probably must have had his reasons for adopting the method .
The movie cruised on the emotional road for sometime but without warning veered off onto the bumpy path, only to be steered back to its chartered course later on. The emotional depth (which significantly holds the reins of the movie as depicted in most of the scenes) was generally on the average, but not enough to shake us up badly. I love xmas and Lola decorating the Christmas tree with her mom (Joke Silva- Bent Arrow) certainly made me wish I could fast track time to that period…but was that a reference to Easter I saw on a child's paper that was pined to the board?.
I guess Lola should have had another 'dance love' besides ballet which is a technical dance. This is someone who's passionate about dance and never dances for once (solo performance or not) through out the entire movie, after all dancing can momentarily get your mind off the problem and ease the mounting stress within. She only carries out standard routine performance with kids. Probably should have gotten her a dance coach or a body double who knows how to dance ballet!. The use of late Pastor Bimbo Odukoya's TV programme 'singles & married' where she addressed the thematic issue scored on points. However, the emotional reactions that came via the prayer angle was not fully explored and well utilized. Forgiving those who have wronged you is the hardest thing to do but when you're ready to let go of the hurt, streaming tears flow down your cheeks as you experience flash backs of the event that necessitated the hurt and declare the release words to heal your heart and soul in prayer. It's emotionally draining but in the end highly refreshing. This mode could have been adopted by the filmmaker to aid in propelling victims of such to further let go of the hurt. The viewers as well would have been emotionally connected to her pain and all the grief she felt at that point.
On the whole I'm impressed by Mahmood Ali- Balogun's meticulous manner in which he handled things, from the lighting, sound, cinematography, editing, directing, gosh I loved the sound tracks!. The story indeed imposes sobriety on us as we examine the degrading societal values, teaches us priceless lessons about love and life. Its simplistic though predictable style, reveals the under-mined age long formula that ably solves looming/dooming challenges ravaging one's marriage and even altar bound relationships. If at any point there is a bit of crisis in your relationship, take hold of your partner, his / her hands in yours, look him / her straight in the eye and say honey….. 'Tango With Me ! '.
Rating for Tango with Me – 3 points
Points' Rating Guide
5- Classic
4- very good
3- good
2- fair
1- An apology