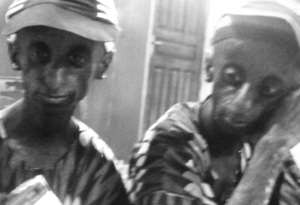 Taiwo and Kehinde Osuolale are the popular Yoruba movie twins who shot into limelight several years back when they featured in the late Yekini Ajileye's movie and thereafter became instant celebrities.
The physically challenged twins often called "Ibeji Oran"(Mysterious Twins) got married last year,and one of them (Taiwo) will be celebrating the naming ceremony of their new baby on the 12th of November,as well the release of their first movie titled"Osuolale".
The event which is already the talk of the town in Osogbo the Osun State Capital,will be held at Leisure Hall,Osogbo with two Fuji stars,Wasiu Alabi Pasuma and Saheed Osupa on the band stand.
The event which is being packaged by Afeez Salami CEO of Afeezco Films and Records, a leading Marketer in Idumota Lagos,promises to be filled with glitz and glamour.
click the link below to go to...
SHOCKING REVELATIONS ABOUT NOLLYWOOD IDENTICAL TWINS A.K.A IBEJI ORAN.