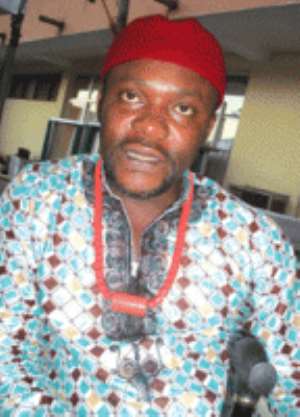 Harris Chuma is the President of Igbo Film Forum (IFF), a non-governmental organisation concerned with the revival of Igbo language films that was once the staple of the Nollywood, particularly at its early stages. Chuma, who produced his first film, Traces, in 1994 says IFF is committed to a true rebirth for the IFF.
We have a clear mandate at IFF
Well we have the mandate to ensure that Igbo language film is given a true rebirth and new direction. The body was inaugurated in June 2011; and since then, we have been campaigning aggressively and travelling from one place to the other sensitising filmmakers of Igbo extractions to consider a rebirth of Igbo language made films. We have been everywhere, committing personal resources and also spreading the message. We hope to use the festival coming up in December 11, at Awka, Anambra State to further drive home our message.
We have to secure our stand in the league of filmmakers
It struck me a few years back that we have to secure our place in the league of indigenous language filmmakers. What provoked my commitment is that Igbo language is lost on our screens and theatre. Look at most of the cable stations, there are Hausa and Yoruba language channels, but none for Igbo, yet some Igbo filmmakers fund most of the films produced in the country today. What I am doing is borne out of passion to give Igbo language film a voice.
Why we lost it
This genre of film suddenly disappeared from the scene because the producers choose to exploit other markets; so, they dumped it for English films. Even the stars, who made name acting in the films felt that, to be taken seriously, they have to crossover to the English genre. Some even left because they wanted to prove that they can also act in English contrary to widely held opinion, which for me was a creation of a section of the media who felt that some of them can't speak good English. So, to prove that they cut across and can indeed speak, they embraced more works in the English medium and would reject any script that will keep them as language filmmakers. That was what killed Igbo language films.
Any progress so far?
As I speak to you now, some of these cable stations have started airing Igbo films. Just give me one year and we shall flood the screen with our works. As I speak, now, most filmmakers are on location working on either video or series for television.
There is really nothing in it for me
I am doing this out of passion. The other thing I want to stress is that it is not a political organisation. If we have several NGOs flogging the issue of HIV/AIDS, I don't think IFF should be a threat to any association or guild in the industry. We didn't float IFF because we want to usurp the functions of certain guilds and association in Nollywood. Rather, our objective is to bring back Igbo language films and I am happy at the response I am getting. As I speak to you now, there are some eminent personalities, people in government and key Nollywood players behind us. My Facebook page has been recording hits since we set out and that is because individuals and groups are also worried that we have taken the back seat. So, we are not created to rock shoulders with any existing guild or association, for all we want, is for our voice to be heard on television and home video.