AFTER 12 MONTHS STRANGE ILLNESS,POPULAR YORUBA ACTRESS SIKIRATU SINDODO STEPS OUT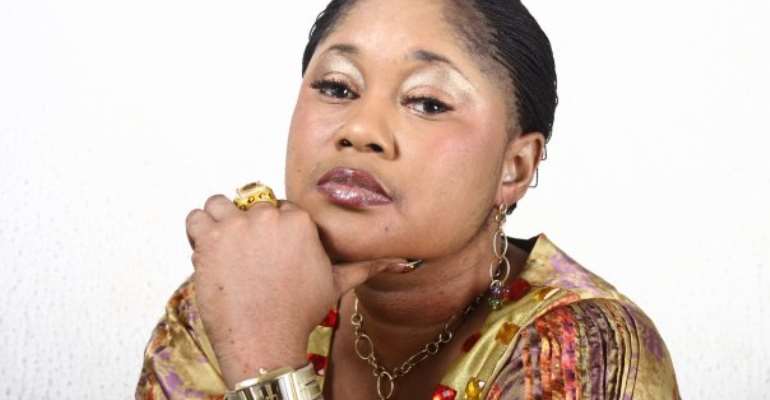 For friends,colleagues and family members of the Yoruba actress,Tayo Odueke popularly known as Sikiratu Sindodo who have been bedridden for more than 12 months now over some strange illness,this is celebration time as the actress has recovered from the deadly ailment that almost claimed her life.
One striking thing about her predicament is the fact that it was shrouded in so many mysteries,especially as she was alleged to have stepped on so many powerful toes shortly before the ailment besieged her.
It could be recalled that while she was still licking her wound from her failed romance with Musiliu Akinsanya a.k.a MC Musiliu Oluomo a Lagos NURTW boss who was her lover for many years and indeed made her the envy of her colleagues with the expensive gifts he lavished on her but trouble set in after both fell apart over issues bothering on infidelity.
Misfortunes set in shortly after,with all fingers pointing in the direction of mysterious repercussions for her actions.
First came the manslaughter case,Tayo was arrested and detained for crushing a 16-month old boy,Damilola,to death with her red Honda CR-V with registration number FE 589 LND.
However she was later released after she pleaded with the deceased's family and no charges were pressed.But barely 5 months after,she was struck by a strange illness.
At first,it looked like every other sickness as she was rushed to Lagos State Teaching Hospital but her case got worse by the day as doctors couldn't diagnose the cause of her sickness.It got so bad that her family resorted to spiritual homes where it was alleged she was suffering from a severe self induced spiritual attack.
While still at the hospital,different pastors,spiritualists and prophets were brought to proffer solution but her sickness simply demystified all efforts of these spiritualists.
It got so bad that the family ran out of funds and called upon her colleagues and friends to come to her aid but they took to their heels when it was also rumored that anyone of them who tried helping her will suffer the same faith.
But one person who stood by her through thick and thin was Fuji star,Alao Malaika,he it was we gathered took it upon himself to not only finance the bills but also brought in different spiritualist,imams and co to help salvage the acts failing health.
Several tales ranging from HIV,undisclosed terminal diseases with some claiming the doctors at LUTH finally diagnosed that she has Renal(Kidney) problem,were brandied as the cause of her long battle with life for close to a year.
While she was still admitted at LUTH,not all guests were allowed into her private ward to see her,even some friends and colleagues were denied access as a result of her degenerating state.She was said to have become very lean,hardly able to make use of her hands and limbs,her skin got very dark and part of it got tainted and she was also alleged to find it very difficult using her urinary system.
At a point,rumour was rife that she was to be flown abroad for treatment but that didn't happen rather she was allegedly relocated to a spiritual home in Badagry as it had dawned on all that her ailment defied all forms of medical treatment intervention whether home or abroad.
After the gist of her relocation to the spiritual home,nothing was heard about her until 3 months back when inside source revealed she had recovered from the illness and has returned home to her mother's residence.
People didn't buy that story but insiders affirm she decided to stay in doors that long and away from the public because even though she has been healed,her looks hadn't.She still looked very pale,lean and extremely dark.
On Sunday,September 18th,the pretty actress stepped out for the first time in the last 15 months,she attended a private event in the company of another Yoruba star,Eniola Badmus.For those who caught a glimpse of her,they couldn't help thanking God for saving her life as she has gradually gotten back to her old self.
Her complexion is now glowing,and she looks very trim.The star actress is gradually re acquainting with her colleagues and will hopefully start going to locations any moment from now.
Also,gist has it that she is planning to produce a movie recounting her ordeals in and out of sick bed.Her appearance on the social scene is still being restricted by her mother who is doing all things possible to ensure her daughter bounces back to life but threads with caution this time around.
It would be recalled that while she was ill, a London based Prophet had prophesized to her while in London on a trip that if she survives a mysterious sickness that will befall her she will become more popular than she was before.
The prophesy with the trend of things is not far from being fulfilled as the actress is about the only actress movie makers want to work with once she indicates her intention to return to movie location.