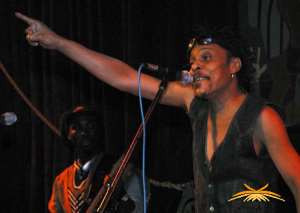 Once, Majek Fashek was Nigeria's greatest musician. A reggae extraordinaire with an epic all-time hit song called Send Down The Rain. Whenever Majek Fashek (whose full name is Majekodunmi Fasheke) raised his voice in a melodious refrain of "Send Down the Rain", there was always a downpour. And by that, he put an end to an almost two-year drought in northern Nigeria.
If reggae were to be a religion of sort, with the legendary Bob Marley as its Delphic Oracle, then Majek Fashek, at the peak of his career, was the principal prophet of reggae. Rolling Stone acclaimed him as the heir apparent to Bob Marley. He was compared only to the greats – Bob Marley, Jimi Hendrix and Fela. He was reggae's poster boy in the late 1980s and early 1990s so much so that any international reggae concert will not be complete without Majek Fashek headlining the show. When he performed live on the David Letterman show in 1992, he made history as the first African to appear on a national network television in the United States.
Half way, however, Majek fizzled out. The Majek narrative plunged to a dark epilogue. For a man who was heading for the Olympian height, he became but a 'fallen god.' He was for many a living example of the way famous stars self-destruct with drugs and alcohol.
Like Britain's tragic star, Amy Winehouse who died of suspected drug overdose, Majek seemed headed for a sad, tragic end—another victim of drug and alcoholic addiction. Conversely, it appears the truth we thought we know about Majek, is largely apocryphal. If there is anybody who knows Majek Fashek inside out, that person is Amos McRoy Jeg. He has an insider's insight to the grace-to-grass story of the fallen reggae icon. He is Majek's cousin. He was his former band mate. They grew up together. They shared the dream of reggae greatness. Nobody could have known Majek better. McRoy, whose last name is Osifo, is the pastor of Seed of Abraham International Christian Centre; the reggae artiste-turned-gospel-singer also doubles as a producer and CEO of Fresh Dew Studio. He avails himself of every opportunity to correct the misconceptions going round about his cousin. He says: "Look, Majek's problem is not drug or alcohol, it is spiritism". The McRoy's testament, raw and uncut, shed some light over the dark patches in the Majek Fashek's story.
The Man Majek
This year Majek is 51. In reality, he doesn't know his exact date of birth. Because his father and mother gave him conflicting months, he decided to adopt Bob Marley's date of birth. His late mother was related to my father. Majek is my cousin. We grew up together in Benin City. His father was from Ilesha, his mother from Benin. His parents lived apart because they were separated. Majek lived in Lagos with his father, schooling at Aladura Primary School, Anthony Village. When his father died at the time he was about 10 years old, he came to Benin to live with his mother and he continued his education. Like every normal male child of that era, he was a sports-loving guy. He attended New Era College, a school specially set up to nurture sports men and women of that era. He was a good football player. He was also good in athletics. Although, he did a little bit of martial art, Kung fu specifically, it was only as an amateur.
Coming from Lagos, Majek was likeable. A very sociable young man, he had no problem integrating into the Benin society. Though, till now, he is not very fluent in Edo language. He was not a difficult child; he was not a domestic child either. Majek never quarreled; but he really can argue, especially when he knew he was right about an issue. The Church of the Lord Aladura was the church we all attended. His earliest interest in music came from the church. We were both part of the choir. Majek started first as a trumpeter, later I taught him to play guitar. There was an anniversary whereby almost all the women in the church came to spray me with money while I was playing the guitar. At the end of the day, he told me "You don steal the show o. I no dey play trumpet again, this guitar na me and you go play am". That was how he started playing the guitar. We have different inclinations. Mine was Jazz and R&B. He was inclined to Rock. Majek's flair for music is innate. While in Lagos, he was in the children choir of The Church of the Lord Aladura, at Anthony Village. In the church in Benin, he composed songs for the choir. He was very good. He composed his songs in English. As a student, he was brilliant although, he was a habitual truant. Most times, he left home for school with another dress inside his school bag. Once out of sight, he changed out of his uniform to mufti. Most of the times, we both hanged around NTA Benin. But along the line, an opportunity came and we capitalized on it and we started performing in about four different programmes. Music Panorama was the major programme. At that time, Majek was about 14 or 15 years old.
The Years in the Church
We were all born in the Church of the Lord Aladura. His father called him Majekodunmi for a reason but I wouldn't know the reason behind the name, most probably some of his earlier siblings died before him. I wouldn't know. He doesn't have a middle Christian name. From his mother's side, he has two elder brothers. Till tomorrow, if you ask him, Majek will still tell you "Church of the Lord is my church." Whether he is in full control of his faculty or not, there is always a message in his songs. Things like that are not what you pick on the streets. You could go to school to polish talent, but you don't go to school to acquire talents. So it's a gift from God. And that gift manifested right from when he was in the church. Majek used to preach, not necessarily in the main service, but especially during youth programmes or other less prominent church activities. He preached in English. He was a very active member of the church. Apart from the choir, we were both members of Band of Love. We were the arrowheads of both groups, as well as the youth ministry. Sometimes, Majek would be the lead singer for certain events. We fasted as the spirit directed. Then, we could just decide that "Let's go on a seven-day dry fasting next week." Just like that. We would inform the minister in charge that we wanted to use the main vestry for seven days. Seven days fasting without food or water. And within those seven days, we received revelations.
In the Church of the Lord, people with spiritual gifts, such as those who speak in tongues, visioners and dreamers, belonged to the Army of Jesus Band. Majek wasn't part of the band. He didn't speak in tongue. But he saw visions occasionally. That we didn't join the group was a personal choice. The time we were contemplating to join was when we left Benin for Lagos. To the best of my knowledge, he was very godly when we were growing up in the church. He wouldn't deliberately hurt nor offend anyone. Even if he did by mistake, he was not shy of saying "I am sorry." There was never any complaint against him in the church. He did not mess around with girls. He left a record of good conduct. The church still remembers him for that. He didn't smoke when we were growing up. At the early stage of his success, he was not into marijuana. Then, Majek was a person that would take a bottle of small Guinness and he would be in stupor for almost two days. He didn't give a hoot about money. He was not materialistic. That was his nature from the beginning. When promoters came, he would say "Amos abeg, make u na go discuss with these people". When we told him there was money coming, his reply was always, "Then share the money".
The grooming years
Majek's reggae influence was Bob Marley and Leroy Sibbles; much later, he got hooked on Jimi Hendrix. Peter Tosh and Gregory Isaac fascinated me. After we finished school in Benin, we both studied music at Victor Uwaifo School of Music. Thereafter, we formed a band together - just the two of us. It was when we decided to do reggae that we all thought that we should have the physical identity of reggae artistes. Then we grew dreadlocks. The one he is wearing now dated back to 1982. Few months later a friend of ours came back from New Jersey, United States of America. His name is Black Rice. We met at the NTA premises and we discovered that we had a lot in common. We absorbed him into the group. The name of the group was then known as the RAM: R for Rice, A for Amos, M for Majek. Two years later, Denis Cecilla, another of our friend who was repatriated from Italy, was also assimilated into the group. But we had a problem of adding the letter of his name to our acronym. We decided to change the name of the group to Jah Revelation. That was in 1977. We unanimously agreed that Majek should be the lead singer. By that, it was convenient for him to sing and also play the guitar. Consequently, I had to stop playing guitar. That was how I became a bassist. Black Rice was the drummer and Dennis Cecilla the keyboardist. We decided to move to Lagos, but Dennis refused to relocate because he was running his mother's business in Benin. The year was 1980. When we got to Lagos, we incorporated two other guys into the group, a Liberian called Charlie Fynn, who is a wonderful guitarist and a Ghanaian, George Orwells, who was a keyboardist. Later, another friend, Sammy Samama, came into the group. Then we became a six-man band. We used to have a small studio at Ojota. During one of our rehearsals, someone came up with the idea that our name, Jah Revelation was too long. A heated debate ensued and it lasted for three days. Black Rice, the drummer, suggested: "Why not call ourselves Jah Walking Stick, like the stick of Moses?" We decided to make it artistic. We came up with Ja' Stix. At a point Ja' Stix became the reference point in terms of reggae music in Nigeria. Every artiste that made it big in the reggae genre in that era passed through the Ja' Stix School - Terra Cotta, Ras Kimono, the Mandators, Evi Edna Ogholi. I taught Ras Kimono how to play guitar.
In Lagos, we were one of the resident bands in Hotel Bobby, Bobby Benson's hotel at Ikorodu Road. While we were performing there, Kimono lived at Kayode Street, Onipanu, about two streets away from Caban Bamboo, the club at the Hotel Bobby. We used to feature him, just as we featured the Mandators.
Ja' Stix was signed by Japex Label, owned by late Frank Eke. The studio was at 15, Sylvia Crescent, Anthony village. We did two recordings. Unfortunately, they were not released. We were in the process of doing the last recording when he travelled to Germany. He had issues with the German Government and was incarcerated for some years. The manager he left behind, Boniface Ngbahuruike didn't have the finance to finish the recording, which we were doing at Sanuolu Studio in Ijebu Ode. Worse still, he refused to terminate the contract. After almost two years in limbo, Tony Okoroji, then the PMAN President, got wind of the stalemate and invited both parties for several meetings. The contract was eventually terminated. Because of the stalemate, we couldn't record anything with the name of our group as that would amount to a breach of contract. Instead of playing shows or reduced to a backup band, we resolved to do solo recordings while working on how to terminate the contract. That was what gave birth to our solo recordings. But the idea of a solo album didn't quite go down well with Black Rice who just got married to a Dutch lady. He decided to follow his wife to Holland and he influenced George Orwells, the keyboardist to go with him. Both of them left for Holland in 1988, eight years after the relocation of the band to Lagos. Majek and I went to Tabansi, whom we were already partially working for. Majek recorded Prisoner of Conscience and the rest was history. It was a hit.
Before my own album came out, we were still working together, playing shows together. We were on the same label. We used the same back up and were handled by the same manager, Aibtonia company. Just as we were signing for Tabansi, CBS Records also came calling. The label then was just an outlet of CBS International in Nigeria. Following the Federal Government's ultimatum that it should start dealing with Nigerian artistes or be folded up, CBS signed Ja' Stix immediately after Mike Okri. Soon after we were signed, Majek went to London to mix his album, Prisoner of Conscience. By the time he returned, he was too busy for us to continue the Ja' Stix-CBS deal. Much as we tried, it didn't work out.
It is still on record that we were the only group that didn't have a record in the market but played in Reggae Sun Splash. Reggae Sun Splash is an organization, a company with a strict policy of not featuring non-recorded artistes on its programmes. But when they came to Nigeria in 1988, with Raggae Comes Back To Africa, all the equipment they brought were from America, which used 110 volts in contrast to our own 220 volts. By the time they arrived here, the equipment couldn't function. The only place they could get the equipment to use was from Aibtonia, owned by our manager, Aib Igiehon, who was into massive promotion of reggae music. When they came to him, he told them "I have a group and my condition for giving you equipment is that my group will be featured". Because we were not yet recording artistes, it was against their policy to feature us. Aibtonia told them too: "It's against my policy to give my equipment out without my group performing on the show". Eventually they agreed. We performed in that show, which was not restricted to Nigeria but extended to Liberia, Sierra Leona, Gambia, Guinea among other places. There were a lot of artistes - Judy Mowart, Yellow Man, Burning Spears, Sly and Robbie, the Charlies. Even Sunny Ade and Fela were also on the tour. At that time Majek just came back from London where he had gone to mix his debut album. The album stayed on the shelf with Tabansi for almost two years before it was released. The reason was that the late Chief Tabansi was hospitalized in London for over a year.
Dark secrets, dire consequences
When Prisoner of Conscience was released, it was an instant success. My belief is that success don't change a person, it brings out the real you. As a person, till tomorrow, Majek is still the same person, in terms of humility, in terms of carriage and the rest, but the only problem I had, and I still have with him is that he listened to the wrong advice. That led him to his current predicament. Right now, many people think Majek's problem is drug-related; the truth is that Majek's problem is not drug, it is spiritual. Majek delved into spiritism; not spiritualism, but spiritism. Once, while Majek was on stage, he said, "Oh, Fela is my boy, Bob Marley is my boy". He made that statement during a Rothmans Show at Tafawa Balewa Square and Dede Mabiaku, Fela's protégé, almost went berserk. It took the intervention of Eddie Lawani to calm him. Dede didn't quite understand what Majek was talking about. He was looking at it from the physical sense, whereas Majek was talking from the spiritual perspective. Majek went into spiritism at a lightning speed - like jumping from kindergarten straight to the university without a linking bridge. He was not properly schooled, so he couldn't keep the rules. Majek totally "crossed the line" after the release of Prisoner of Conscience. Then we were sharing the same duplex at Anthony Village. I would see Guru Muharaji and his people come to visit him. The same Guru Muharaji we all know; then, he was just starting. The Hare Krishna people also came. My understanding then was "oh, this guy is popular, that's why they are coming to him for one favour or another." I didn't know that it was deeper than that. Majek released his album in April 1988. I released mine a year after. We were under the same management. We rehearsed at the same place, virtually using the same band as back up. One day, we were coming from rehearsal; he was driving his Peugeot 505 car. One of our backup singers, Monica Omorodion (who now lives in the US), said "Bros Amos, why is your record not making waves like Majek's, or the Mandators, or Kimono?" Majek looked at me from the rear mirror. He said, "Don't mind Amos. He doesn't want to ask me the road I passed to become a star. He thinks it is good record that makes someone a star". When he made that statement, I gave him a knock from behind. I said, "My friend shut up there! What are you doing that I am not doing?" He switched to Benin language. "This is not the Majek you grew up with", he said. I still did not understand. It took me 10 years to connect the dots. Not until we went to Cote d'Ivoire, in 1998 that Majek told me certain things, that I became aware, in retrospect, that "Okay, that is what my brother was talking about back then." The song Send Down The Rain had a spiritual force behind it. That was one of the things he told me when we went to Cote d'Ivoire. Based on what he told me in Cote d'Ivoire, I think he "crossed the line" before he released the song. In Cote d'Ivoire, as we were discussing, I asked him certain questions. His answer was: "Amos, are you that naive? I released Send Down The Rain, everywhere that song was played, rain must fall. Even in summer while we were on tour in the US, I played Send Down The Rain and rain fell. The month I released Free Mandela that was the month Mandela was released indeed. I did fire (Majek Beware) the week that record was released was the week the Rodney King incident happened. That song, Fire o! Fire o! was played for almost two months in all the TV and radio stations in Los Angeles during that Rodney King episode. So, are you that naive? Don't you reason?" He started mentioning some spiritual books. Then he told me: "You don't know, I have got to the level of De Lawrence". That was when I understood from which perspective he was talking when he would tell people that Fela and Bob Marley are his boys.
Majek was somebody I grew up with. While we were growing up in the church, we were competing spiritually by fasting. There were three of us - myself, Majek and Friday Omagbon, who is now late. If Majek fasted for three days, Friday and I would go for seven days dry fasting. That was how we grew up. We were competing spiritually. Once in a while, God revealed certain things to him which he shared with us. And those things came to pass as they were revealed to him. If he had not gone into music, he would have most definitely become a minister of God. Even if you listen to most of his songs, like Holy Spirit, or Righteousness Take Over The Earth, he was more or less a gospel artiste. I started noticing weird manifestations in him at about 1991-2. There was a show we had at Eko Le'Meriden Hotel in Victoria Island. To my surprise my brother came on stage fully dressed in a native doctor's attire instead of his regular outfit. By that time, we were not living together anymore. Majek's problem is not drug-related. He plunged into alcoholism to get over his real problem. Failing to keep the rules of whatever he delved into, he started to hallucinate. He started seeing things. For instance, if he is in this room now and the air condition is on, he would tell you "open the door, open the window". If you tell him the air condition is on, he would say "Can't you see the spirits; you want to trap the spirits, men, let the spirits move around." He felt he could stop seeing those things by getting drunk. Today, he has not been able to liberate himself from those spirits.
Before we went to Cote d'Ivoire, we had few shows here - First at Waterparks in Ikeja, then at MUSON Centre on Lagos Island, thereafter, the eastern part of the country. By then Majek's behaviour had become bizarre. He would come on stage, unzipped his fly and started saying "Let me show you my d**k. I used to f**k American P***y". The event we went for in Cote d'Ivoire was like Nigeria's Festac 77. Black artistes from all over the world were there for one week at the Félix Houphouet-Boigny Stadium in Abidjan. The Marley family was there, so was every big reggae artiste. I was determined not to let him disgrace himself the way he had been doing lately in Nigeria. Immediately we got to our hotel, after allocating room to everybody, I made sure I stayed with him in his suite. Whenever he picked the intercom, called room service and ordered for a bottle of brandy, I would pick the intercom immediately and cancel the order. As soon as I dropped the phone, we would begin to quarrel. For three days, I gave him close marking. He couldn't drink alcohol and I forced him to eat. On the third night, around 2 a.m., while we were watching a movie in the suite, he looked at me and shook his head. He said: "Amos I envy you, men". I said "What do you mean? How can you envy me, you are the star". He said "You won't understand. Just hold on to Christ, the way you are, he would pay you back at last". So I started probing him. One of the questions I asked was that "All these reports about you reading the Seven Books of Moses, are you really reading them?" His reply was: "Seven Books of Moses? Those are Kindergarten books." He started mentioning books that I have never heard of in my life. He started mentioning names too. That was how he came up with the line that he is getting to the level of De Lawrence. He told me so many things. He told me he couldn't keep the rules; that he broke the rules. But he failed to tell me what the rules were.
It was in Lagos he got mixed up with the wrong crowd, and it worsened when he got to the US. The circle he fell into in the US complicated his problem. He met with a promoter called Paul Trotman, who further messed him up. When he was signed on to Interscope Records, they brought in the producer of U2 to work on his album. That man also had a very negative influence on him spiritually. Those two guys were deep into spiritism. There is no difference in spiritism here and over there. The devil is the same everywhere. The irony about the whole situation is that once Majek gets on stage, it seems the spirit steps aside for him to perform; once he finished performing, the spirit comes back to start the torment.
Majek was Great
We were on tour of the US together several times and Lucky Dube also was just starting. I tell you, without mincing words, we were 'flogging' Lucky Dube in concerts like no man's business. Few months before Dube died, in one of his interviews, he said one of the African reggae artistes he holds in high esteem is Majek Fashek from Nigeria. The last Sun Splash we did in 1993 featured artistes like Maxi Priest, Shinehead, Tiger, Freddy McGregor and Marcia Griffiths. Griffiths and McGregor left their tour bus and were following ours because of their love for Majek. Marcia Griffiths folded her hands starring intensely at Majek. She said he reminded her of Bob Marley every time she saw him. Majek was the first African to appear on David Letterman's Show. One of his songs was used as a soundtrack for Malcolm X's documentary. Whether he would still be a reigning star today is another question. If Bob Marley were to be alive, how relevant would he still have been to reggae music? At a point an icon like Jimmy Cliff was high up there, today, how relevant is he to reggae? So, it doesn't necessarily follow that if Majek were in control of his faculties, that he would still be such a huge star. Like the Americans say, " Every dog has his day".
Why his rehabilitation failed
When Black Rice relocated to Nigeria, he spoke with a friend of ours who at that time was Commissioner for Justice and the Attorney General of Edo State, Honourable Osagie Obayuwana. He in turn spoke with Governor Adams Oshiomhole. They got the Oba of Benin involved and everybody came together to rehabilitate Majek. The state government got a guest house in the GRA in Benin for him. Because his problem is not physical, Majek refused to stay. He didn't stay up to a month. He came back to Lagos. He said he was going back to the US because he had shows there. Did he show any sign of progress? No. If you are suffering from cancer and you are taking drugs for headache will there be any improvement? The only solution for him is to give his life back to Christ, retrace his steps back to the church. No amount of rehabilitation can cure him. His major problem is that he doesn't even believe he has a problem. Majek still lives under the illusion that he is still great. That makes it difficult for him to know that he has a problem. Nonetheless, it is possible for him to stage a comeback. After all, when did Carlos Santana win his Grammy? Majek's fans are still there. His music is still there.
Hopelessness of his sorry state
Majek has an American citizenship since 1998. He took his wife and his three children to America. His eldest son, Randy, was born in Benin in August 1980. The young man is now 31 years old. But right now, Majek is not living with his family; he is separated from his wife, Rita. Most probably, the woman couldn't cope with him any longer. Now a group of people use him as a cash cow. Majek is a chronic alcoholic. Wave a bottle of brandy in his face and he is ready to do your biddings. And people are taking advantage of him. Yes, there is a facebook account with phone number and email to book plays and concerts - it's not Majek doing all that. We have talked to him severally, all to no avail. Right now, all we owe him is prayers for God's intervention.