I wooed my husband, so what? – Evangelist Akpabio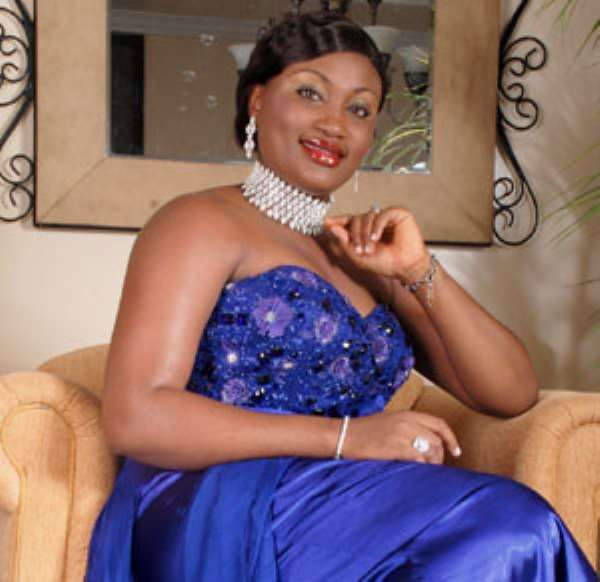 She could pass for a beauty queen or a model but she is none of the two. She holds a degree in Micro Nutrition obtained from the Georgia State University in Atlanta Georgia, United States of America.
Strongly willed and a determined woman, Evangelist Pat Akpabio represents a generation of singers that blossom in the midst of adversity.
Brought up by a step mother who showed her no love as a child, the Akwa-Ibom State born woman, found solace and support in a father who would not compromise a daughter's joy and love for education.
Once a reject and cast off, the young mother of two boys and a girl who openly confessed to have wooed her husband, has since risen to become a pillar of sort to her family.
"Today when I look back at my beginning, I thank God for giving me the strength and courage to forgive" she told Ogbonna Amadi our Entertainment Editor.
This is her story
"I'm the only child of my mother and the fifth in a polygamous home. My father had another wife who bore him other children.
He didn't marry both wives at the same time but at different times. Being a new convert of Jehovah Witness, it required that he lived with his first wife. So my mother had to leave because she was the second".
And she couldn't take you along with her?
No, she left me behind because my father didn't want her to raise me.
Was your step mother nice to you?
I don't like talking about it because it got to a point in my life when I prayed that God should heal my heart.
Is she(step mother) still alive?
Oh yes, she's alive. My father used to tell her to take care of me but she didn't know that a day will come when I'd be the one to take care of her and her children. But it's all in the past now and I have forgiven her.
What were your challenges while growing up?
I got to know about God at very tender age because of my Jehovah Witness background. But my mother a member of the Church of Christ also taught me about the Bible.
Religious conflicts rages regularly between my parents-as my father wanted me to come to his church, my mother also wanted me to follow her. And I didn't want the conflict to go on because as a child, it wasn't healthy for me.
God gave me a will power to tell both of them that I wasn't interested in any of their churches even if they beat me up. So, I started going to Chapel of Redemption in Calabar and that's where I developed my religious believes.
Before my father passed on, I was the only one who cared about his welfare-I'd cook and wash for him. And I dare say my father liked women a lot and it caused problems between him and my step mother.
Fights between the couple was a regular thing and every time it happened I'd talk to my dad to stop. There was a particular day he got into a fight with his wife and I told him to stop beating his wife because it was wrong to do so in front of his grown kids And that was the last time he hit her and I'd say that was the time both started to enjoy marriage. Then he died.
Did your father die before you left to US?
No, he died after I left.
How did the experience affect you as a woman?
I want to say that leaders are actually born and not made. If the made ones are successful, they don't really leave lasting legacies that the world would remember. But the reverse is the case of the ones ordained by God as leaders.
I believe that God deposited something in me which made me chose the man I married. As much as my father had all the attributes which I wanted in a man, I wanted a husband who didn't have to hit me.
I wanted an intelligent man who will be able to stimulate my intellectual mind. So, for me, I didn't experience a happy home living with my father and his wife. I wanted a home of love, joy and happiness for myself and I worked towards it.
So you eventually left home?
Yes and he died six months after I left.
Did you see him after his death?
I didn't and what really got to me was that he called me February 19th and died
March 25th. He'd promised to call back but he never did. And he died but I didn't know about his death until April
Why?
They knew that my father and I were close and if I heard about his death I'd have come home. So, my grand-mother was scared to tell me because he didn't die a natural death.
How did he die?
He died in a car accident.
What happened after you graduated from school?
Like I said, I'm a woman of big dreams. And I had said that I'd be married before leaving college. And yes, I was married before leaving college.
Where did you meet him?
Laughs, the man I married was my cousin's best friend. He used to come to my father's compound in the village. And he was always looking at me whenever he came around. So, he always teased my cousin that he'd marry me. But my cousin would tell him to leave me alone. So, when I got to the US, he gave me a contact where I could write him.
I wrote him letters and he would reply because he love to write. So, one day, his ex-girlfriend and I, she gave me his phone number.
Where they still lovers at that time?
No but they became good friends. One day I called him but he didn't even remember who I was. And I had to tell him my father's name and nick name. I then told him about my cousin. That was how remembered. He then said that he'd call me later because he was on his way to Abuja.
And you wanted him?
Yes. Sometimes, women who know what they want play the tune and the men dance to it without even knowing. So, the rest is history. We have three children and we're happily married.
So you played the tune?
Yes. But you know what…? When he asked me to come to Nigeria and I came, he never believed that I'd marry him because having lived in the States, my lifestyle was different. But what shocked me about him was that he just embraced the change in me and we got married.
But you wooed him?
Yes, I wouldn't deny that I wooed him. In fact, I got the drum, played it and had him do what I wanted.
So how did he propose?
I was at home and he came around. I was a bit sleepy and everyone had already gone to bed. He called everybody together including his brothers. To me, I told him that if he'd wanted to propose; I'd like to record it for my mother.
And he said that I shouldn't worry. He brought champaign…
I recorded the after-scene for my mother, to show her that he has finally proposed because she was in the US, and wanted to see how it all happens.
Oh, you told her about the plan before it happened?
Laughs, she knew that I was coming home and that I wasn't going to come back single. One thing about me is that, regardless of all the nice and exotic things I like about life, I'm still very down to earth, humble and laid back. I never discriminated their food, I ate anything that his mother cooked.
I was waiting for him to say "will you marry me?" instead he said, "Do me the honour and take charge of my life me." And that was what I wanted.
For you, how did music start?
As a child, I always wanted to sing because when I was young, my father used to dance Kokokpa and my mother danced Abang( traditional dances). And when they dance, I begged to be taught because we were close.
When I told my father that I wanted to sing, he insisted I go to school and on graduation, I could become whatever I wanted to be.
He loved education and wanted all of us to go to school. And when made good grades, he enrolled us into the best private schools.
When I got to the US and he died, I stopped going to Church because I was angry at God. My father went through a lot in the hands of my step-mother because of me. And I was looking forward to the time when I'd be able to pay him back for those times. When my step-mother would say negative words to me, he'd counter them by saying positive words.
And before I left for the US, he gave me the blessings of the right and the left hand out of his nine children-that means that he emptied everything inside of him inside me alone.
So, after my university because I picked my courses myself and I chose an elective in Music and Performing Art and I enjoyed it.
In 2002, I rededicated my life to God because my mother prayed that God should have mercy on me and bring me back to knowing him the way I used to. And God answered. So, I went to my pastor, Chuzzy Udenwa a former journalist and a mentor. And in 2009, I came out with my first album, Glad On Time.
Why didn't you go into R & B?
Well, being with a man like Pastor Udenwa, I learnt of the ministry that'll never pass away, which was the ministry of praise and worship of God. Wjen I first met him, I told him that I wanted to sing like Whitney Houston. But he told me that God had something bigger. And I chose gospel music. But if you listen to my music, it has everything in
Have you ever thought of taking acting as a profession?
I've thought about it but I have to talk with my husband first. Because, someday, I'm looking at writing a book about my true life story and how people can hold on to their dreams. So yes, I'm thinking about acting and having my TV talk show called Change Your Mind, Change Your Attitude. I'm also working towards having my TV and radio station called Gospel Entertainment (GET)-it's total gospel where we can talk about God.
What do you hope to contribute to the Nigerian gospel music scene that differ from the norm?
If you look at my video, they are different, the qualities are good too. When I'm on set, I have my make-up artiste, stylist and wardrobe manager with me. Whenever the secular artistes shoot their videos, they shoot in part and do it in a way that'll make it interesting to the people. Their packaging is good. So, why can't I do that as a child of God.
So, I want to say that there's nothing wrong in talking about God and still looking sexy and beautiful.