My challenges, life, successes as a film maker -Tunde Kelani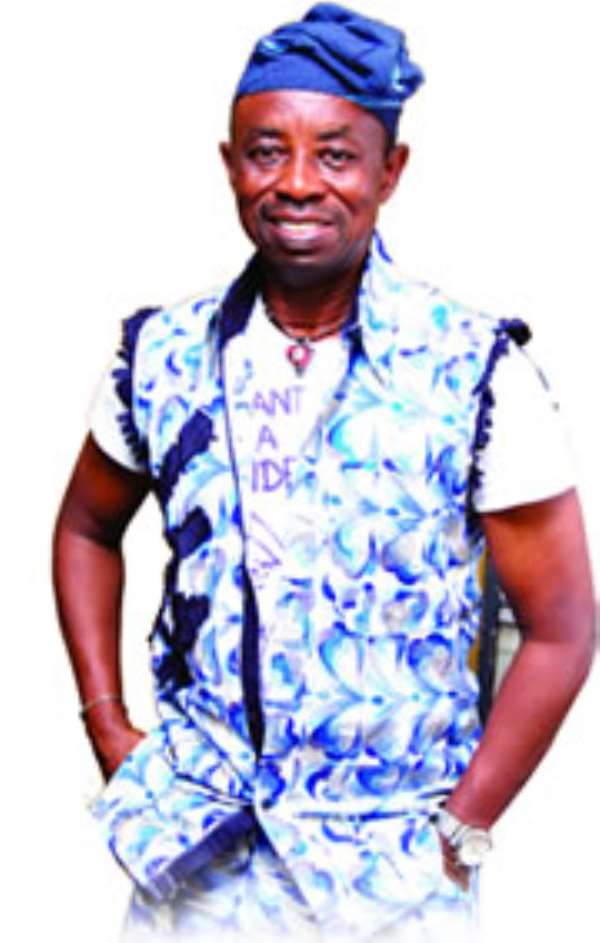 Tunde Kelani is an accomplished cinematographer, producer and director, who has over the years proved to be a force to be reckon with as far movie is concerned in the industry. TK, as he is fondly called in this interview with SEGUN ADEBAYO speaks on his passion for cinematography, growing up, challenges and other issues. Excerpts:
NO matter the theme of your movie, you always try to concentrate more on the socio-political sector of the country, why have you developed so much interest in this?
Let me put it to you this way, I am a product of the society and I respond to the society. I am inspired by my cultural environment. These are stories about what I read in the newspapers or somebody told me. So, my work is basically influenced by the happenings in the society and the people around me. The society is enmeshed in a lot of activities that can tell a good story, it only depends on your professionalism. Whether you like it or not, you're going to be confronted with societal challenges. I believe that everything is a natural progress that develops into becoming a story. The country is developing everyday; it would be irresponsible of me to focus majorly on entertainment . When I go out everyday, I see the travails of the people; it is part of my way of telling what I see out there in a story that will be easy to understand. My work is actually part of life.
When did you conceive the idea of cinematography?
I did not start as a cinematographer; I started as a photographer and that was over thirty years ago. I started from my primary and secondary school days. When I finished from secondary, I knew I was not going to do anything else except photography. So, I got apprenticed as a photographer and later was trained by the former Western Television Station as a camera man and benefitted from more than fifty years of successful fifty years of televison broadcasting in Nigeria. I was employed as a trainee by the former Western Nigerian Television Authority in Ibadan in 1973, I left for London training school in 1976, came back in 1978 and I have been In the industry since then.
How has it been since then?
It has been very interesting, when you talk about technology, I have used every known technology of motion pictures, from black and white to colour, 35mm black and white and colour. I have benefitted from virtually all the technologies in existence.
Did you at any point contemplate quitting the scene owing to challenges?
There are enough reasons for you to stop and find something else to do, but the passion has kept me going and the conviction that one has the maturity and the experience. The challenges of having to work with limited resources to achieve a lot. I was watching a documentary on TV sometime ago, and I saw a particular project that will cost 60 million dollars, but here in Nigeria, I have to work with hundred thousand dollars. But I have been lucky with the little I have been able to achieve.
What makes your latest flick 'Maami' different from other films you have done?
The movie was made from professor Femi Osofisan's book, and that is part of our tradition in Mainframe production. We do a lot of collaborations with the arts people. If you could remember, Kosegbe was adapted from Akinwumi Ishola's work, Thunder Bolt from Faleti and 'Narrow Part' from Bayo Adebowale's work. I can relate the story to the characters in 'Maami' with my humble beginning. My parents had to struggle to ensure that things get better for us.
As one of the pioneers of film making, what are the essentials of film making?
I started as a photographer and one of the essentials of film making is the motion picture photography. I started from the strong technical position which a lot of people have missed today. It is very logical, for somebody like me who has fallen in love with literature from day one, I have read all the story books on literature during my secondary school days and I have seen the great American films when I was growing up.
You started as a photographer, at what point did the thought of producing movies start?
Like I said earlier, I have always been fascinated by literature and stories, but I needed a medium to show the world what I have got. After secondary school, I decided that I wanted to be a photographer and I told my parents about it.
What was their reaction to this?
In my own case, it was very clear that I wanted to be a photographer.
Don't you think they allowed you because they couldn't afford sending you to school to further your studies?
It was not like that, and that is why I am always grateful to my father. When I wanted to start as an apprentice at a studio in Lagos, the owner wanted me to bring my father to be a witness that he was not going to pay me a dime, and I told my father about it; to my surprise, my father followed me, and that was how my professional career started.
Which studio was that?
Dotun Okubanjo studio in Broad Street in Lagos in the early 70s. I started without any salary. I'm grateful to God that I am still doing what I love to do, my work is fun and I have never regretted my action.
Why do you prefer screening your movies at the cinema before considering the home audience?
It is simple, I was primarily trained as a film maker, remember I said that I attended London Film School and I did a Diploma course titled: The Arts and Technique of film making. I am a student of the cinema; I am always excited when I present my work to the physical cinema audience.
Are you saying this has got nothing to do with money?
The cinema is a medium that is very powerful, when I was young, I saw all the good American films that were brought to Lagos . Another fact is that, there were more cinemas in the entire neighborhood when I was growing up in Ebute Metta, there were more than five cinemas where you can watch films. This actually changed my idea of motion picture of photography, I was excited by the advancement when the picture can move and talk to tell a story. It's exciting because I just want to get into the minds of the people directly. I want them to have a feel of what motion picture is all about.
With the everyday change in technology, particularly as the world moves towards global digitisation, how do you manage to marry these with your world view that appears to be deep in traditions to tell your stories?
Modern time and tradition move side by side, it is our way of life. The Yorubas have a way of doing everything, children are born, people get married .These are traditional things that we do day in day out. There has been an impact of other cultures on us, but it has not totally obliterated us as human beings. We have a rich cultural heritage which is of great interest to me, our ways of life is threatened but it is my responsibility is to document as much as I can before they fade away. I am using my medium to communicate and document the happenings around us which others don't take cognisance of. And, like I use to tell some of your colleagues, the Yoruba culture is rich and can stand against any other culture any day.
Is that why you write your stories in Yoruba?
I am born into the culture and culture is me. It has been part of me since I started my career and it will continue to reflect in anything I do. This is one basic thing that I have found pleasure in doing and I am not going to stop doing films that will show the richness and beauty of the yoruba culture and tradition.
Looking at all the films you have produced, which one would you say is most challenging and rewarding?
All the movies I have done were very challenging, because at every point, I could have access to so many resources, in terms of technology and money. So, each presents its own challenges. I had to work with a different technology to make a film anytime. Everything is changing and most of the tools we use in making quality movie these days are in Information Technology and you have to keep upgrading or else you become obsolete. I have had exciting challenges and the film making medium itself is about problem solving, so every one of them has been challenging in its own way but I am just excited by the new tools that are available.
When you pick up a script, what is the first thing that comes to your mind?
It has to be a story; I naturally fall in love with written materials. Once I have convinced my self that this is a story I'll love to share with as many people as possible, there is a possibility of turning it into motion picture. When I come across a good story, I am always happy because it makes your job easier. Once I know there's a story in it, I know there's an audience for it. I pay a lot of attention to the story first.
Is it true that you don't write your scripts but buy?
Usually I don't write the stories, but I have learnt over the years to work with writers. The training I had has prepared me to be at home with every process of making a film. I have a smooth relationship with writers but when the occasion demands, I do write stories myself. I have to put the story into filmable portions.
Once the scripts are ready, how do you choose the casts that suit your style?
It is very interesting because I am not rigid to styles. So, when you read the story, it will suggest certain characters and attributes.lf, so, I throw the rest into auditions. I have a mix of formally trained; the traditional thearter and those who have never acted before. I actually cast Funke Akindele in my latest movie because I have monitored her closely over the years since she was on 'I Need to Know' and she has also acted sub-roles in two of our movies. She has this extra-ordinary talent and because the role in Maami was extra ordinarily challenging, so I felt it was time for Funke to come in, when you see the film you will tell if she had actually interpreted the role very well.
Some people have argued that you are one of the millionaires in the industry, how true is this?
I don't have a million, why would I have that kind of money when I am a film maker? I am owing people and as a matter of fact I have not paid all the casts on my new flick. All the movies I have done over the years have been successful because of my sacrifice and support. It is more difficult now to make your money back on movies you produce. We lost all our money on Arugba, because the film was massively pirated and we still have sixty thousand copies unsold. The movie was pirated the third day of its release and everything we have done was rubbished. I could not have been able to raise money on my own after the massive piracy that greeted Arugba, but for the intervention of the Lagos State government, we were able to raise money to produce 'Maami'. I wrote a proposal to the Lagos state government and it was considered favourably.
What has kept you moving despite all these challenges?
I think it is the madness, passion, support from friends and the Nigerian audience. They have given me the strength to continue.
What has the country benefited from your thirty years of experience?
The fact is that we have been able to do a lot for this country by empowering youths who would have been roaming the streets doing nothing. We have been able to give voice to Nigerians by making our moves a brand for the whole world to see.
Have you had reasons to run into problems with people who – maybe do not understand why you're telling your stories the way you do?
No, the films are so simple that people do respond positively to them, most universities are using my movies as point of reference. It has been fun everyday because of the kind of responses we receive.
Is there an experience you will never forget?
We launched our mobile cinema project at Muson centre in the year 2000, the Lagos State government sent its representatives and other prominent people were there for the event and there was a ribbon that needed to be cut to declare the mobile cinema project opened, we have done everything to perfection , but unfortunately , we forgot a pair of scissors. It was just at that point that we discovered that we didn't have it but there was a lady who knew something was wrong that helped us with a very small scissors.
Why do you think the industry is finding it so hard to get to that level that will be internationally recognised and acceptable?
We are very lucky in this country, because if the economy had not collapsed, if we had not had threat to security, if Nigerians are not fenced in their homes, if there had not been the new trend of technology, we would not have had a serious discussion today, because before all these, Nigeria was written off in terms of film making. Don't forget that our industry is still very young, we can not compare with America, but with time, we will get there, provided we can have a stable governance, electricity, employment and many other social amenities. I am excited by the possibilities the industry is enjoying today compared to what we used to have those days.
I've noticed how extensively you have used subtitling in your movies, how have you been able to attain this height and why has it become almost impossible for some of your colleagues to do same?
I think I just try to do a little bit of extra work and in some cases I spend more money than any other person in the industry. Any opportunity to make a film, for me, is a chance to do something great. I work with university dons and in fact, Arugba was subtitled in the University of Ibadan. I celebrate and respect our writers because of their support. My extra efforts at getting my work distinct makes me different.