MUSIC IS NO TEA PARTY-ANITA JOSEPH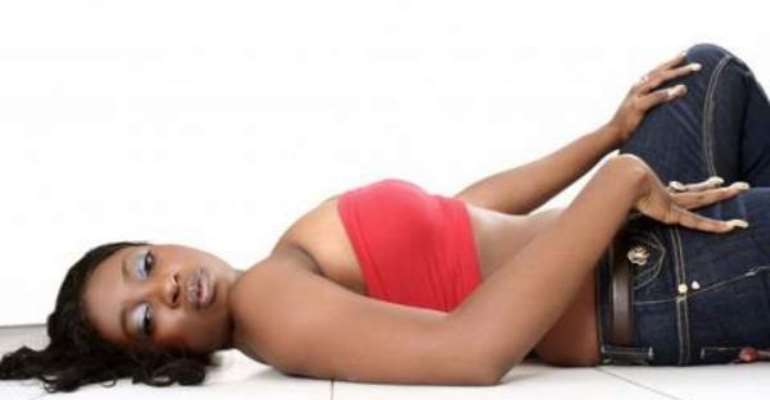 Nollywood beauty, Anita Joseph has overcome many storms in her career as as an actress. But her adventure into the world of music is one task her fans are waiting to see if she can overcome it. In this interview with ODU BLACK of Nigeriiafilms.com, the Anambra State born beauty tell us how she hopes to overcome the challenges of music and hit it big time.
You just got back from South Africa what did you go to do there?
Well , I have an elder brother in South Africa and I pay them a visit once in a while. I just needed to spend time with him that is why I stayed with them in South Africa for a while.

Movies to music how has the journey been?
It has been fun fun and more fun. I think I should make this confession to you; music business is no tea party. It has been time taking and demanding I am giving it my best to ensure every one who spends time and \money to buy and listen to my music does not regret. I am presently pushing two top singles "yem something" and "money".

Your face book account was hacked recently how did you sort it out?
Yeah, my brother; that was a crazy period, I had heard of some female celebrities complaining about people opening facebook account with their names and pictures but I never paid attention to it. In my case, I started believing it when a younger actress called me and said she tried sending me a friend request on facebook but the account she sent to had only 50 friends and she started talking to the person on facebook when she asked for my number the impersonator gave her a UK number; that was when she became suspicious because according to her there is no way Anita will have only 50 friends on face\book and be using a UK number. To cut a long story short, I added the young actress on my real facebook account and collected the UK guys number spoke to him and boom, the account was off.
What has been keeping you busy lately?
I have been very busy but at the same time very choosy, so far this year I have done movies like "place scandal", "open and close", "Under my bed", "million love", "festival of madness", "prince and Princess" , "the kingdom is mine", "I am the king" "Best dancer" and a lot more. I have had a blesses and busy year so \ to speak.

What has been the most challenging movie role you have been presented with?
That will be "titanic Battle ", because I almost lost my life when we were trying to achieve a stunt.

What kind of movie script will make you put in your best on set?
Any script I accept has my best efforts as an actress. The point is this, any thing worth doing is worth doing well. If I can not give my best, then I will not accept the script.

Is it true that you consider your buttocks as your greatest asset?
That interview is getting wired now, yes I am a pretty woman, I love and cherish every part of my body. If I should loose an arm today the so call beautiful buttocks won't be attractive again. So, I cherish my voice and my body because they are the biggest asserts a performer has got. With no healty body what will you use to showcase the talent in you.

How much will it cost to get you on set?
It is absolutely priceless, because the first thing that gets me on set is the quality of creativity that gives birth to a good story, and no one can be for creative intelligence.
What am I saying I earnest, give me a good story; and maybe a the right amount of money that will get me going and I am all yours on set. And don't ask me how much gets me going if you want to know that you better call my management company.

Would you term yourself as an accomplished actress?
Even the stars with the biggest pay and awards are still striving, so I do not really know what you mean by accomplish; all I can say is this I am working hard the future is bright and I am contented with the much God has blesses me with. Anita is a happy girl.

As an actress with close to a decade of experience in the movie industry, have you ever been sexually harassed?
There is nothing like that. Asking this question or holding such thoughts, is an insult to the noble men and women whose great ideas have brought this Nollywood phenomenon this far. I have not experience or seen it not exist.

Is it true that you almost lost your life on the set of 'Titanic Hustle' while trying to get your neck on the hangers noose during a scene in the movie?
It is very true but I thank God who said Anita, it is not something I have seen.

It was also reported that you considered quitting your acting profession after that incident; is that true?
Yeah, of a truth I almost did quite, I gave it a re-think because I know the passion inside of me is stronger than that little set back

What would make you reject a movie script?
Bad story line and un professionalism are the two things that gets my no no always.

Have you ever dated Kelly Handsome?
I have never and I am not dating him

What really made you plunge into Nollywood; was it for the money or fame?
The hunger to explore my God given talent, to be the person I am destined to be. Fate, God and Destiny are what brought Anita to Nollywood. I did not come for the money, although I need money.

Would you embrace movie production in the near-future like your other colleagues in the industry?
Time will tell. For now, I am busying myself with giving my present job my best, and that job is called acting.

Have you had any major setback as an actress?
Not really except for the funny stories some journalist write and label me different things and different names but I am glad everything is fine.

At the last edition of the AMAA awards held in Yenagoa Nigerian movies really didn't do well; do you think Nollywood is gradually losing its grip as Africa 's leading movie making industry?
I thank God for AMAA because, the award has become the watch dog of the industry. No doubt Nollywood set standards in African cinema, but we easily get carried away, like my father will say, we get high on our own spoke and forget we need to work hard.
The poor showing at AMAA lat year is a blessing because it made all of us understand that, in other to maintain the top spot in Africa we need to work.
Yes we had a bad night AMAA doesn't mean we are losing grip, we are still number one in Africa .
© 2011 Nollywoodgists.com. All rights reserved. This material may not be published, broadcast, rewritten or redistributed without the express written consent of the publisher