EFCC rearrests former bank chiefs, directors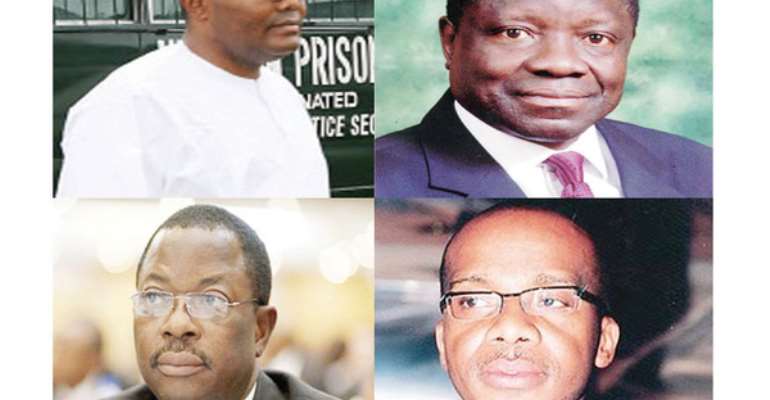 The Economic and Financial Crimes Commission (EFCC) yesterday rearrested the former chief executive officers of AfriBank, Finbank, Union and Intercontinental banks and eight other directors in Lagos. According to Femi Babafemi, the commission's spokesperson, the arrests were based on fresh discoveries. While confirming the arrest of Erastus Akingbola, the former managing director of Intercontinental Bank who was out on bail after a series of court appearances, Mr Babafemi said: "These are fresh charges but they are related — not only him, but three other former MDs (managing directors) and eight other directors; about eleven of them are arrested."
Mr Babafemi, however, did not give details of the names of the eight directors that were arrested and when they might be charged to court.
"I know Akingbola will be charged to court tomorrow," he said.
Mr Babafemi also confirmed that Sebastian Adigwe of Afribank, Bartholomew Ebong of Union Bank and Okey Nwosu of Finbank who were also rearrested would soon be charged to court.
Lamido Sanusi, governor of the Central Bank of Nigeria, had been in office for barely two months when he sacked the CEOs on August 14, 2009 and replaced them with new management. Mr Sanusi said that in building public confidence in the Nigerian banking system, the CBN would exercise zero tolerance on professional and unethical conduct.
"We will not allow any bank to fail," Mr Sanusi said that Friday morning while announcing the sacking of the bank chiefs and the injection of about N420 billion into the rescued banks. "However, we will also ensure that officers of banks and debtors who contribute to bank failures are brought to book to the full extent of the law and that all proceeds of infraction are confiscated where legally feasible."
Mr Sanusi also released the banks' bad debt numbers which totalled over N716 billion. Oceanic Bank was owed N278.204 billion in nonperforming loans; Intercontinental, N210.903 billion; Afribank, N141.856 billion; Union N73.582 billion; and FinBank, N42.445 billion.
Plea bargaining
Sacked managing director of Oceanic Bank, Cecilia Ibru, has already pleaded guilty to the charges and forfeited N191 billion worth of assets and bagged an 18-month suspended jail sentence in the process. Mrs Ibru was released after six months due to poor health. The remaining suspects have been on trial since their sack. They were charged for various offenses including conspiracy to grant unsecured credit facilities, conspiracy to manipulate share prices, reckless consideration of credit facilities without adequate security and failure to present their monthly statements of account to the Central Bank. The anti-graft agency said then that the charges could still be amended as the trial progressed. Mr Nwosu of Finbank was arraigned on an 11-count charge. Mr Akingbola was on the run for over a year before his return last year. Other directors of Intercontinental Bank that have been arraigned include Raymond Obieri, Samuel Adegbite, Christopher Adebayo, Olusegun Ajibola, Sunny Adams, Isiyaku Umar and Bayo Dada who were all remanded in EFCC custody before they were eventually granted bail. They were arraigned on a 27-count charge.