I'm scandal free because my life is so boring- Mo'Cheddah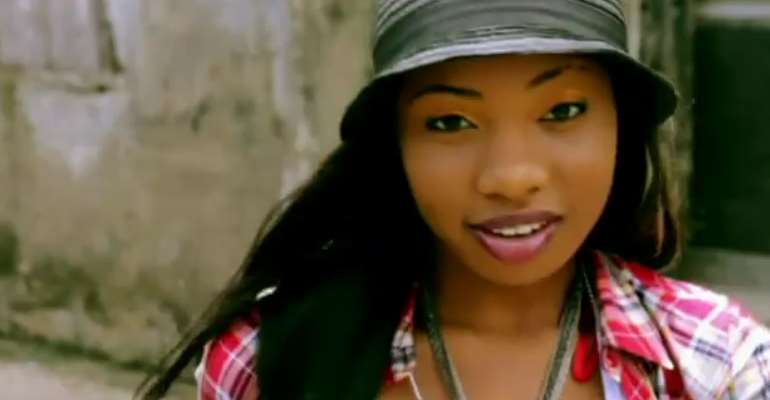 Modupe Ola, better known as Mo'Cheddah, came into the music industry in Nigeria not too long ago but has already made an impact. She shares her aspirations with 'NONYE BEN-NWANKWO
You have gone international now; you even performed at the recently held Big Brother grand finale. How did you get the opportunity?
I just got a call to come and perform at the show. I was scheduled to perform during one of the evictions, but I got another call that I had been moved to perform at the grand finale. But I had been to South Africa before. I performed at the Channel O Awards last year.
Could it have been because you won a Channel O Award that they invited you back to SA?
I don't know. But then, as an artiste, the more titles and awards you get, the more you become known. I think the award may have something to do with it. But then again, there were artistes that performed that day who hadn't won any award. I don't think it is necessarily about awards.
How have you managed to rise this fast in the music industry?
I think, no, I know it is God. God works wonders in my life. I can't even explain. There are some things I see happening in my life and I simply say only God could have done such things. I always got called up out of the blues. Out of the blues, I was nominated for an award, just like that. I am in school and I am graduating very soon.
Don't you find it difficult combining your career with your studies?
It's so hard. But I have to go to school. There is no compromise on it. I know some other people would have decided to dump school and face their career. But I didn't think of doing that. This is something I have to do. It is a total struggle. Remember I have to travel all the time. But I read my books everywhere I go. I read inside the plane. This is a life I have chosen to live. I also have to be in school because I wouldn't want people to think I am a celebrity who is dumb upstairs. You know how people behave to you when they know they have an advantage over you? They will want to be rude to you. I will never allow that. I try to keep up in school and I also try to keep up in music as well. It is hard work but hard work doesn't kill, it can only make you stronger. I always love to be the best in whatever I set out to do. God has seen me through. I have been doing this for a long time and I think God has decided to bless me and tell me this is my time.
What are you studying?
Theatre arts at the University of Lagos, Akoka.
Will you eventually go into drama?
I do want to act. I have done so many stage performances. I will like to see what I will do with acting.
When did you get the big break?
It was in 2009. It was just one song that I did with my record label. We were working on a compilation album in Nigeria, where different artistes come and do different songs and everybody features everybody. It was basically a Knighthouse project. Knighthouse is my record label. I did a single with Sauce Kid. It was on TV and the whole of Nigeria was screaming when it came out. I would just say the break happened overnight.
Now that you are on top of your game, are you taking steps to ensure you don't end up as a one, hit artiste?
You know it is not really easy. Talent doesn't fade but people change. It is not easy to top your game especially when you came with a bang. It is not magic. It is you. It is like a relationship that has gone bad. I don't really blame any artiste. What we do is really hard work and it also takes the grace of God to take you to a higher level. Sometimes, you work so hard but if you don't have the grace of God, nothing will come out of the hard work.
But some allow the fame to get to their head and before they see it coming, they are already flat again…
I know. I know a lot of them allow the fame to rule their heads and they start doing drugs and they become lazy and they don't think straight any more. I know there are people like that although I don't know them personally.
How has it been for you since you joined the league of celebrities?
It has been smooth and it has been rough. People talk to you anyhow. Because you are a public figure, they believe you have to behave in a certain way. Some people would just want to make life difficult for you just because you are a celebrity. They want to see the nasty side of you. They forget that we are human beings. I should react to stuff the way every other human should react to it. But then again, celebrity status is not a bad thing after all. You get things done for you. You don't have to stay in a queue for too long. Some people are so nice to you and are willing to give you stuff. But really, it is not easy. Your life is no longer yours.
You have managed to stay off scandals?
I am a very boring person. Seriously, I am a very boring person. My life is so boring apart from music. If you really know me, you will know what I am doing at every point in time. If I am not at home, I am at the studio or I am out of town, working. My life is scandal free. There is nothing about me that would excite anybody, nothing.
Where did the name, Mo'Cheddah, come from?
It actually means 'more money.' It was my nickname when I was growing up. I got the name when I was about 14. I was very business oriented even at that age. I was money conscious. I always found a way around things. Actually, my nickname was Mo but because of my love for money, people added 'Cheddah' to it. I didn't like the name initially. But somehow, I started liking it. Now I am stuck with it. I love the name.
What do you have in the pipeline?
I want to change the face of music in Nigeria. My style of music is different from the norm. I make good music. I want to show Nigerians that you don't have to sing bla bla bla before you are considered as a good artiste. You don't have to talk trash to sell. I want to send a message. I want to stand for a change. I want to stand for international music. I don't want to be vocally abusive. I want to be clean. There is a barrier that female artistes have. I want to break that barrier. People don't even look at me as just a female any more. I am always with guys. I want to open the way for more female artistes.
How do you really relate with the other female artistes since you are mainly with the guys?
I am everybody's baby. We have few females in the industry and when there is a new face, she is shown so much love. And because I was the youngest female artiste, everybody wanted to be my mum or dad. Everybody wanted to coach me because I was still very new. They were so sweet and they had something to offer. I would go on stage with a big artiste and the person would commend me and offer advices. Some other artistes might quarrel with each other when they see. But I am not like that. If I see a celebrity, I will scream. I don't carry airs around me.
Do you also sing?
I sing and I also rap. I'm an artiste. I have to see music as music. Music is in me and I'm still very young. I have so many ideas in me. I want to mix different cultures. I want to bring so many stars together. I want to do so many things. It is my time. I have time for mistakes. I can make a mistake and move to something else. I am finding myself gradually and from last year to this year, I am a new person. I always get different ideas when I wake up each morning. I am enjoying life.
Did you see yourself becoming this big?
I have been doing this for a very long time. I have been spending nights in the studio for over eight years of my life. I started this at a very young age. When people my age were more interested in movies, I was more interested in going into the studios. I never used to go on holidays because those were times I had to be in the studio. I wanted to be a celebrity. I was so optimistic. Every year, I thought it was my year.
You keep saying you are young. Are you too young for marriage as well?
No way. I am not getting married now. It is not on my list
Do you have a boyfriend?
I really don't like talking about my private life. I am so serious. I have told you I am so boring. Even if I have a boyfriend, what is next? There is no drama around it.
But are you in a relationship?
I'm in a relationship with you. I am in a relationship with my family. I am in a relationship with a lot of people.
What are you doing after now?
I'm working on my album. I still rap. Rap is a beautiful part of me. I like the fact that I can sing and rap. It is a beautiful thing.
How did your parents take it when you told them you were going to be a singer?
They have always known. They were worried at first asking what if I didn't achieve what I set out to achieve. I come from a family that allows you to do whatever you feel like doing. You ought to have fun, believe in your dreams and God and be free spirited. They were so glad when I got my breakthrough