I Can't Be Sexually Harassed 'Cos My Body Is Not For Sale —Bukola Arugba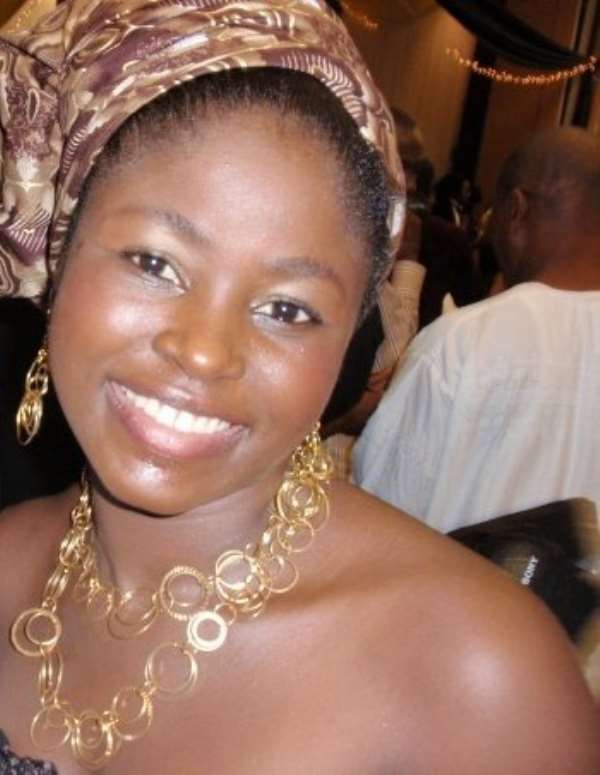 The name and face of Bukola Awoyemi, a 2005 graduate of Performing Arts from the University of Ilorin, may not be an instant hit with movie lovers, but her character as
Adetutu in the film, Arugba, was, to say the least, demanding as she had to combine her role as Arugba, with her studies in the University.
Despite all of these, Bukola came out with what could best be described as an A-rated performance.
This, she believes is due to the quality of people she had to work with on the set of Arugba. "Working with Tunde Kelani is a privilege and I can confidently say he is the best director I ever worked with.
"He was never in a rush as he always worked with artistes' psychology and I think that is why I was able to carry out the role well. He is such a pleasant person to work with and I must confess that it was a great experience for me," Bukola said.
Tracing the journey to Arugba, Bukola, who is the second in the family of two males and two females, said she was always dreaming of working with Tunde Kelani and with this in mind, she went to his office in 2004 to introduce herself to him while still in school.
According to her, TK was too busy when she got to the office to properly attend to her, but she was happy that at least a contact was made and she returned there much latter.
"After my youth service in 2007, I went back to TK's office, specifically on the 19th of December which happens to be my birthday and TK insisted he had not seen me before.
After a while, he told me he has a Job he is working on but said it may be a bit difficult for me because I will have to speak Yoruba all through without any trace of English. I told him I could do it. He took my photographs and phone number," she said.
What followed thereafter came as a surprise to Bukola, who never thought things happen that easily with the man she has always wanted to work with over the years, as TK called the following day, asking her to come over to his office.
"When I got there, he asked me some questions. On my third visit, he gave me the script to read and I think he was impressed with my performance and he asked me to go with the script and study it over the Christmas holidays," she added.
"Though a lot of people might have expected me to have challenges with speaking Yoruba all through, but I did not find it difficult because I made sure I concentrated on it.
Concentration helped me a great deal and my experience with the stage production of Efunsetan Aniwura that we did in school also came handy," she noted.
Tracing her journey into the world of movies, Bukola said she has always had the passion for entertainment. According to her, she grew up as a child who will gather friends around her and entertain them with songs and drama.
"I was into drama and singing as a young girl so much that my mother will always impress it on me that I have to be in arts class in secondary school.
So, when I got admission to study Performing Arts, I felt more at home with it because what I am doing today is what I have always dreamt of. Back in school, I told myself that I will practice my profession and that it does not matter what I do, I will always end up a performing artiste. It is not a case of me coming into the movie industry by accident. It is for me, a passion," Bukola stated.
Apart from Arugba, Bukola has featured in a number of movies, most of which were in lead or sub-lead roles. Her movie credits include, Away From The Father, Mama Mi, Posisonous Affair, Ocean Deep, Church on Fire, Apoti Orogun, Iro Funfun and Bird Flu and a couple of soaps. It is easy to conclude that she is having an easy ride in Nollywood, but Bukola is quick to debunk that, as she said she has had to go through some rough moments just like any other up and coming actor in the industry.
"When I came to Lagos, I did not know anybody in the movie industry; I was like a lost soul looking for direction. But my first movie, immediately I left school was Away From The Father, which I did in Ilorin and it helped me greatly. I played the lead and also did the sound track.
A producer in Lagos saw it and invited me to be in his production through the producer of my first production. That was how I got started. But before I could start properly, I wandered into the National Theatre looking for a link and I was fortunate to meet a woman who told me they were about to do a stage production.
"I was auditioned and I did well and was included in the cast. I had the opportunity of continuing with stage performance but my passion is motion picture and that was what I set my mind on," she enthused.
Speaking on what people believe is a major hurdle for new female entrants into Nollywood, sex for roles; Bukola believes it is not really a problem as people tend to believe. To her, those who see it as a problem are those who are considering doing it.
"For me, sexual harassment is not a problem because I see those who say it is a problem as ladies who consider doing it. If you can't give me a job on the basis of my talent, then I have no business being around you.
"And the truth is that you will be the one losing if I walk out on you because others will appreciate what I have to offer and give me a Job.
"My body is not for sale! I have been in a situation like that before. Then I have already scaled through the audition and negotiated the fee, but the producer called to tell me that I have to do this and that but I told him no.
"I later went to pick my script but he told me I have no script with him. I just said okay and left. Nobody can force you to do what you do not want to do. It can only happen through mutual consent," she said.