Having babies out of wedlock is no big deal-Bose Olubo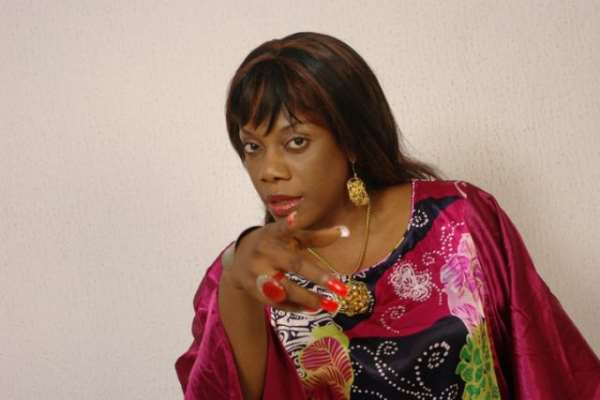 Bose Olubo is a quintessential bundle of talents, a singer, dancer, actress, television presenter and poet. This fair-complexioned lady who has acquitted herself since veering into the entertainment industry in this no-holds barred interview with BAYO ADEOYE opened up on her shortlived romance with Juju maestro, King Sunny Ade, the man in her life, career, etc. Excerpts.
I know you actually began to taste motherhood at a rather very old age. So, how is it like having your baby at that age?
But I am just a young lady; I am not old. Well, it is a little bit late, but it is okay.
Okay, what were your fears before you had the baby, given your age?
The only thing I have always feared in my life is poverty.
Could you explain better?
Yes, thank you very much. As I said, the only thing I fear is poverty and that is why I work so hard. I fear poverty because I cannot afford to be without money at any given time. I am not somebody who goes about with men for money.
Maybe you have once tasted poverty.
No, I have never tasted poverty.
So, why do you fear poverty?
Thank you very much. The only reason I fear poverty is because I have been in the midst of people who were suffering. And I happened to be the one supplying everything to them, though they were not my family members. I have been in that kind of a situation for about 10 or 15 times. Then, I used to sit down and imagine what life would be like if I was in that situation too. We are not very rich in my family, but we are very comfortable. My mum is a nurse and my father was a naval officer. So, we went to good schools. And even after my father had passed on, I did not suffer because my grandfather took us up. When I was starting my business life in 1992, I had to go and rent a room. At that time, I would see a man and a woman who had nothing to feed their six children with. You see, the woman had to wait until the man would come back to give them money or food. And sometimes, they would come to knock at my door. So, I got scared. In truth, I fear God and poverty.
When did your dad die?
He died in 1974.
In what circumstance?
I was very young then. He was ill.
What did you miss most after his death?
Naturally, when the head of a family dies, there will definitely be some changes. The only thing I know is that before my dad died, my mother was a full-time housewife. So, it was after his death that my mother had to go to school of nursing. Again, after his death, my grandmother came in and some of us had to go with her. So, my mother was not so much available for us the way she used to be because she had to go to school and that was what we missed most.
Are you from a polygamous home?
No, we are six in the family.
Could you tell me a little about your background?
I was born into the family of Akinola and Florence Olubo. My dad hailed from Akure and my mother is from Efon Alaye. I attended both my primary and secondary schools in Efon Alaye. I later attended the Yaba College of Technology where I obtained a National Diploma in Computer Science. But before then, I had always been involved in acting, cultural dance and so on during my school days.
What really appealed to you most in your growing up days?
Ha! I would say it was the television; I wanted to be a private detective. Whenever I saw ladies jumping, carrying guns and arresting thieves in films, I always wished to be a private detective. I used to think it was real. Also, I wanted to be a newscaster. I remember I would stay in the bathroom and read newspapers.
When did you become a professional artiste?
It was in 1991 when I started backing up musicians and doing sound tracks and jingles. I released my first album, My Roots, in 1995 and my first movie, Omo Oko, in 1996.
You are into a lot of creative efforts, so how does one describe you?
To me, they are all the same thing. I can script a film now and use the theme to compose some songs. I can sit down, watch a film and write six songs out of the movie. So, to me, if I present on TV or act, it is still the same thing. But the only other thing I do, which is different, is my business.
Has any experience moved you to tears in recent times?
It was when I was in the US and I called the late Alade Aromire's phone number without realizing he was dead. It was while I was making the call that I remembered and I broke down in tears. At that moment, people turned towards me. I saw a machine which he had wanted to buy for use in his TV station; so, when I saw it, I said, machine ti oga mi de ni awon fe ra ni yi o (This is the machine that my boss wanted to buy). So, I was calling him to find out if I could buy the machine for him.
If you were to write your memoirs, what particular event will take a prominent chapter?
It is the birth of my child. I documented everything when I was pregnant: all the scan tests, visits to the hospital, labour pains and so on. I even documented my baby shower, a big one, in the US.
How did you feel the day you learnt you were pregnant?
I was very happy. But before I was told, I had already known due to the way I was feeling.
Was your husband with you, as some people would want, when you went into labour?
No, I wasn't married then and I am not yet married. At that time, my fiancé was in Nigeria, while I was in the US.
How did you meet?
We met in Ketu, Lagos State and we became friends. I parked my car and was heading for a salon where I wanted to do some manicure. He saw me and stopped me. So, he collected my phone number and I went inside. But after some minutes, he came back and said he had lost the number. I said I would not give him my number and everybody started looking at me. I then began to speak in my dialect. I was, however, forced to give him.
Did anything strike your mind when you sighted him?
Nothing at all! I thought he was just one of my fans. But he kept calling me; and at a time, he said he wanted to see me. So, that was how it all started.
How long did the courtship last?
It lasted about three years.
What was the greatest lesson you learnt while the courtship lasted?
That wasn't my first or second courtship, so… (pauses)
Are you saying he was just like any other man you had met in life?
Initially, I took him for just one of my fans. But during our courtship, I saw some pampering from him.
Since you met him, has anything changed about your lifestyle?
If anything has changed at all, it may just be the fact that I am now a mother. When you have a child, there are some things you have to consider. I came back with the baby and I couldn't start working immediately. So, now, my baby is my priority, unlike before.
Is your husband much older than you are?
He is not much older. I think there's just about five or seven years' difference between us. And I think it is better that way.
What edge did he have over the other men you had met before him?
The only edge is that it is fated that he would be my husband.
What does he do for a living?
He is a banker.
You had your baby before your proposed wedding. But does it bother you that you had your child out of wedlock?
I don't attach any importance to it. I can decide to get married when I want.
How soon will that be?
When I am ready, you will know. I don't have a date yet.
Are you his first wife?
I am not married to a polygamous man and I can't. To me, marriage is an institution; so, for instance, you can decide to go to the Yaba College of Technology when you are 50, nobody will stop you if you have your result; and you can decide to go at 16, no one can stop you. I knew all this when I was in school. Marriage is an institution, so you have to decide when you want to go into it. No one will decide that for you.
Okay, were you under any pressure to get married?
No, there wasn't because I was working so much and I wasn't considering getting married.
Given the engaging nature of your job, how do you create time to unwind?
I sleep and when I wake up, I am another person entirely. But if you want to kill me, don't let me sleep; then, you will know I don't have any strength. Now, the only person that has the right to wake me up when I am sleeping is my baby, Oluwanifemi Toluwani.
Have you ever had any close shave with death?
Yes, I have. Somebody once came to edit a film in my studio. After the job had been done, one of the students in the studio was now using the rushes in the computer to learn editing. Then, he copied it on a video cassette. Later, he took it home and while he was playing it, someone saw it. But the film had not been released. It caused a lot of problems. The owner of the film came and said he saw his film somewhere. The guy actually confessed that he dubbed it and played it for his brother that sent him for the training. So, we were sued for it. And then, I had to see my lawyer. His office is somewhere in Lagos. And we had to use the lift. But we were trapped in it. We (my studio manager and I) were just fortunate that one of the boys who worked overnight was still there. He noticed that the lift was making some sound and he then used a big stick to raise it. We spent about 30 minutes there. There was also a pregnant woman there. Honestly, I wasn't thinking about myself. I was just fanning the pregnant woman. They got us outside and by the time we came out, there were a lot of people outside. I was just concerned about the pregnant woman. My manager was crying, but I was just fanning the woman.
Let's talk about your relationship with King Sunny Ade
I don't have any comment when it comes to my relationship with King Sunny Ade. I have told a few pressmen several times in the past. This is not the first time somebody would be in a relationship with somebody. So, I don't have any comment when it comes to my relationship with King Sunny Ade
So, you regret going into the relationship?
Whatever you like, you can quote yourself. But I know what I told you in the interview. The only thing I told you is that I don't have any comment about it. So, you can quote yourself. Anything that has to do with King Sunny Ade, I don't have any comment to make. This is not the first time two people would date and will not be dating any longer.
Maybe the experience left some scars in your heart?
I don't have any comment and I don't care what you think.
I guess you are now wiser?
(Cuts in) I do not have any comment. If it is about my career, we can go ahead with the interview.
If there is anything you would like to change about yourself, what will it be?
I have some friends who have 20-year-old children; so, if there is anything I would like to change about myself when I come to this world next time, I will like to get married earlier. If it is possible to change that, maybe I will get married when I am 20 years. By the time I was 20, I was already out of school and working. If I had a son when I was 20, you can imagine how old the child would be now. Very early in life, I had a house and a car. I was working, so I wasn't thinking of getting married.
Bose Olubo .jpg
Bose Olubo .jpg