THERE WERE A WHOLE LOT OF UNTALENTED FEMALE ACTRESSES IN NOLLYWOOD.ACTRESS MERCY AIGBE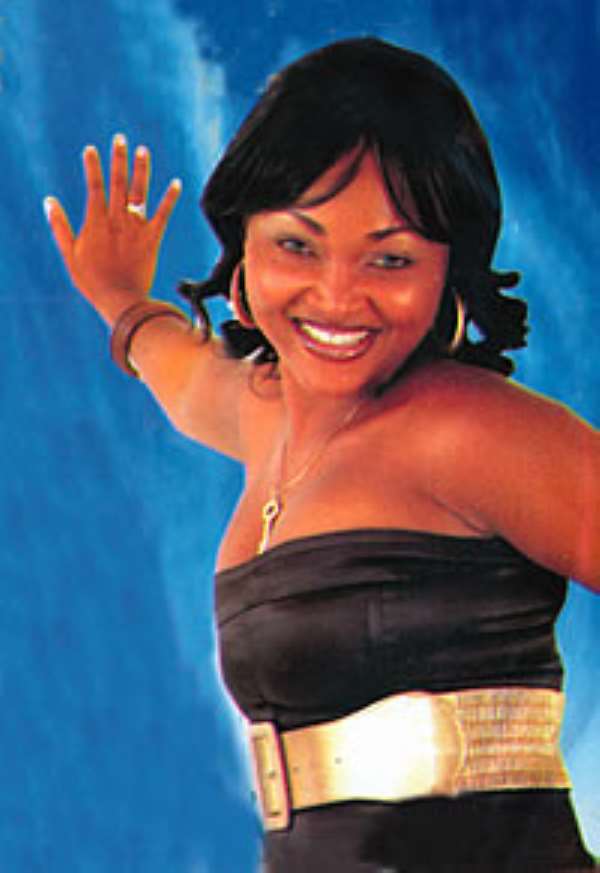 Mercy Aigbe is not a new face in the movie industry, particular in the Yoruba genre. She recently speaks with ADUNOLA FASUYI on her life, the movie industry and other matters. Excerpts:
What did you do to make it to the top in your career?
I will say it's the grace of God because the Bible says that your talent shall make way for you. And I believe that acting is the talent God gave me, so I stood upon that word and put God first in everything I do. Part of the things that shot me into limelight is prayer and hardwork. Though everybody prays, but when the good things start coming, we tend to lay back, but my own case is different. I kept on praying and I made sure I took every little thing I was doing seriously.
Some actresses had to sleep with movie producers to…..
(Cuts in)……. sincerely, I didn't have to do any of those things. That was why I said once you're favoured, you're favoured. When you're favoured, doors open. Things you don't expect start to work together for your good because the Lord has distinguished you from everybody else.
So, I didn't have to do those things. Some people might do all those things and still not get where they are going. I just believe it's the grace of God and hardwork.
So, what were the major challenges you faced while coming up as an actress?
I think the major challenge I can say I faced was trying to let people believe in me, because there were a whole lot of untalented female actresses. I'm sorry to say this, most of them are not focused, they just come into the industry because they feel it's a way out of poverty, that it's a greener pasture for them and all that.
They don't really have that knowledge of acting, so when you are coming into the industry and you're a girl with a beautiful face and all that, it is not easy to convince people that you really have the talent and you want to make an impact in the industry, especially if it is what you studied at the university.
And it is not as if I studied acting because I wanted to make a mark, I studied it because I wanted to be more knowledgeable in the field because I knew I have the talent right from when I was in the Polytechnic. So , after leaving the university and had to go for auditions and some people wanted to put me down, so, I think that's one of the major challenges that I faced when I just came into the movie industry.
What was your background like, are you from a rich family?
I have a great family. We are not very rich, though quite comfortable and not poor. My father has a poultry and it's doing well. It's in Badagry where he has a huge farm. He always said when he retired, he'll be a farmer. He has a piggery and fish ponds. My mother is a businesswoman. My sisters are all doing well.
So, you were comfortable. Probably the reason why you were not desperate and didn't have to sleep around for roles?
The fact is that my father is a very strict man. He's a disciplinarian to the core. You know Benin men believe they just have to train their kids well. So, it's his training that helped me not to be desperate. I also knew deep down that I would make it and that nobody could stop me. The thing is that I'm very spiritual. I believe in God, that whatever happens to you is God.
Is there any role that your husband is not comfortable with?
Not really, my husband supports what I do 100 per cent because he loves me and he knows that I love my profession very much. My job makes me happy and he wants me to be happy all the time and that is why he supports me all the way. The only thing is that, because I'm a married woman, I try as much as possible to be conscious of what I do because of my status and I know our culture and I also know that I'm not married to my husband alone. I'm married to my husband's family, especially his parents.
Despite your status as a married woman, do you still get advances from men?
Sure of course.
How do you manage it?
I always know when to draw the line because if you are a male fan and you appreciate my movies and all that, I will appreciate the fact that you are buying what I do and you appreciate me but if it is going beyond that, I just politely turn you down because I know I'm married.
What if the man presses on?
I won't even give him the opportunity to ask me out because I won't get closer to him. Meanwhile, I don't get close to any of my male fans like that.
Can you share the experience of your first kiss with us?
It wasn't that good because I didn't know what a kiss was all about then. Though, I've seen it in the movies and I never thought of it. I had my first kiss when I was in the Polytechnic, it took me time to have my first kiss because my father was a very strict person.
Was it the same time that you had the chance to taste the forbidden fruit?
Yes, because I believed I was already an adult.
What will you personally consider your major achievement in life?
I think being a mother, because children are priceless.
Were you a mother before you came into the industry?
Yes, I was a mother before I came into the movie industry.
What is your regret in life?
I think my only regret, I can say sincerely, is that my first marriage did not work out. I can't really say it's a regret because I'm better off where I am right now. So, the regret should have been that, I would have had the two kids for him now.
How did it happen; do you want to tell us?
Sure why not. I had someone I was dating and he came to pick me up a day before the Valentine's Day. I was so happy that I was with him and somehow he kissed me and one thing led to another.
Then he went below the belt and you got deflowered, how painful was it?
Laughs! You guys, na wa for you. It was painful; are you not a woman, you know how it feels now? Pain and pleasure you know. Laughs.
When is it going to be on cinema?
We are looking at October this year because we are going to be showing it in the UK , USA , Dublin and Italy.