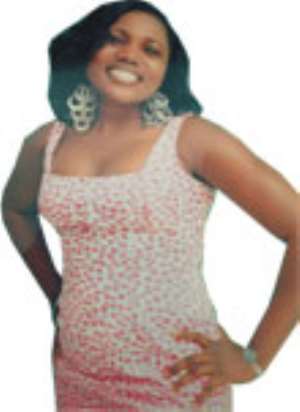 One of the fast rising actresses in the Yoruba movie genre is Bisi Komolafe.Her sojourn in the movie world dates back to 2005, when her mother introduced her to Ogogo(Taiwo Hassan).The pretty actress in a recent interview spoke on all the controversies surrounding her.
Excerpts from the interview;
It is alleged that your mother introduced you to Yinka Quadri, while a version say that it was Ogogo your mother introduced you to. Which is correct?
Yinka Quadri is my boss. My mum introduced me to Ogogo.
Ogogo's uncle's wife is my aunt. That was how I met Ogogo but when I got to Odunfa caucus,I met Yinka Quadri.He has always been a father, a boss. He has been so good to me.It was Ogogo that brought me to the movie industry.
People alleged that you are dating Yinka Quadri, is it true?
Thank God you know Yinka Quadri.He is not my uncle, neither is he my father or brother. If I date him is it wrong?
I worked for Yinka Quadri, I am still working for him, even after my graduation. I am still working for him. Now that I am whatever people call me; I am still working for him. He calls me once and I answered 10 times.
He is my boss. He is not just a boss; he is a very good person. The truth is that we are so close but I am not sleeping with him. I am not dating him.
It was still alleged that he got you an apartment in Ikorodu?
A whole lot of actors and actresses know my house because they shoot in my house; I entertain them in my house.
Yinka Quadri did not get the house for me.
The tale also has it that you and Yinka Quadri parted ways because you met a rich man who impregnated you?
I want to tell you this, if I get pregnant for my fiancé is it a big deal? Right now, I am not pregnant. It was last year they said I was pregnant. Is it possible for me to be pregnant since last year and I have not delivered the baby? If I meet any rich man today, it does not stop me from respecting my boss; it also doesn't stop me from getting married.
Yinka has grown up children who are married and well settled, he wouldn't wish me anything negative. He wants the best for me; he always prays that I get a good husband.
It was even alleged that the rich man got you apartment that is why you moved from the apartment Yinka got for you?
Oh my God, I am still living in my apartment. Everybody knows my house because they shoot there.So,it is not true.
Why do you think all these tales are flying around about you?
What I will say is that, it is normal. But people that say things like these are jobless. Imagine someone who is very busy would not have time for rubbish! You need to find out the truth. We all have our shortcomings, so it is not a big deal.
We are all human. Some people call you their friend, yet they keep on spreading rumours about you. They even said I walked up to Yinka and we had a shouting match.
How on earth will I stand before him and do that. Even if I smoked marijuana, I shouldn't be as bad as that.
The press is also not helping matters, they just write anything about you. My sister-in-law called me after reading the headline of a magazine to find out what was going on. Funny enough, when she opened the magazine, it was a different thing entirely they wrote.