I DON'T SEE ANYTHING WRONG IN WOMAN TO WOMAN RELATIONSHIP.CONFIDENCE HAUGEN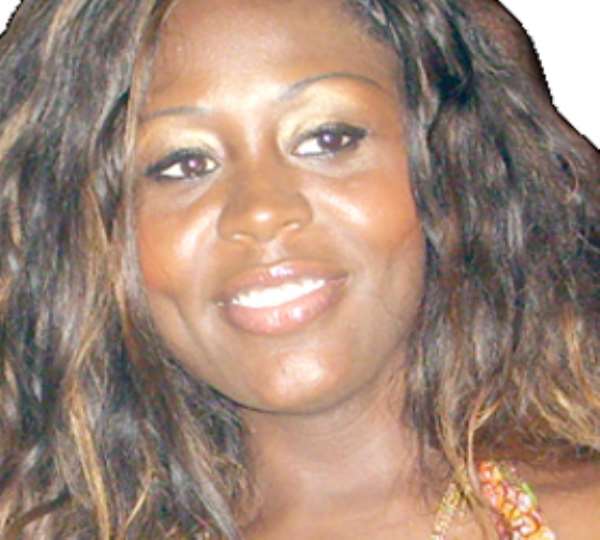 Confidence Haugen,the Super Big Babe who represented Ghana at the ongoing Big Brother Amplified reality show is not your typical everyday babe one can just talk or write about.
She has been a big name in the Ghanaian society/showbiz scene even before her participation in Big Brother .Confidence ,who is from the Volta Region of Ghana however, has become more popular with her going into the Big Brother House this year.
The down to earth, who is seen by many as one of the most controversial persons in Ghana, was not just a participant in the Big Brother Amplified show, she made a mark in the house, until she was evicted 3 Sundays back.
One of her popular moments in the house was a photo shoot she had in a bath tub with one of the male housemates holding her boobs, which made headlines across Africa. She was also the oldest housemate that took part in the show this year.
In a recent interview, she opens up on her experience in the Big Brother Amplified House among some other issues, a way she has never done before.
How can you describe Confidence?
I am just a down to earth person.
Sometimes I go crazy but truly I am a nice girl. I am proud of where I am coming from and where I have gotten to.
Not a lot of people will have gotten to this place from where I am coming from with my background. So I just think that I am very humble, lucky and I want more.
Now that you are have become so popular, people want to know if you are in any relationship?
It is just complicated.
I try not to talk about my private life and it is bad for business. But I have a son called 'Troy'. And he is just seven years, a mixed blood but he is fine.
How old are you and why did you go into the house?
I am just 37.Age to me doesn't matter but the achievements counts a lot.
In the house, I was with people less my my age. First of all, I got a bit tired of all the negative press I got from the media so I wanted the masses to see that I wasn't what the press had been talking about.Secondly,I wanted the world to see Ghana in a positive way.
We are better off in this continent than others in their world.
Let us talk about the controversies like the profane pictures of you in the house, where your boobs were exposed?
(Laughs) I heard that some people even used the picture of my 'whatever" as their profile pictures on face book and that it was all over the internet.
Let me use this opportunity to explain what actually happened. Big Brother gives you a task and with that you have to hit it up by winning your swager so that you get some money to buy your stuffs like meat, alcohol, cigarettes and so on; coming to me now the task for that week was to take some pictures for Big Brother for 'A Big Brother Calendar; and we divided ourselves into five team, three groups.
The different groups had different tasks and ours was discreet in nude, so that was how our group was asked to take 48 pictures for Big Brother.
But in the bath, what viewers saw was just the process of which Big Brother was taking his own pictures and I was only trying to protect my nipples from showing. If you look at that picture again and again you will see that there was someone in the picture, so how will I have wanted to just show off? It was my task that I wanted to win and I won the task.
Remember that there were five of us and everyone did take nude pictures. That is Big Brother for you. I am not mad at it; I am not going to say I'm sorry for it because I needed to do what it takes to win that task.
At a point in time, you were discussing with some housemates concerning you being a lesbian with some notable celebrities. How true is that?
It was one night we were playing in the house and I did say that my best friend is Nadia Buari.I don't know why people think I was talking about her. I feel as a person I have my right to talk about who is my best friend, what I do and what I don't do.
But I must confess that some media do write what I don't do or know about. What I was explaining that night in the house was that I had once been with a woman before but that was when I was young. And I think if you will find love in a man or a woman, please take it dearly because true love is really rare.
You don't see anything wrong in woman to woman relationship?
I don't see anything wrong in it. I have friends who are whatever they want to be but that it's their private life and I see no wrong in their conscience.
What is most important really as far as I am concerned is where you find love, the other details are not important to me.
You said Nadia Buari is your best friend. Can you clear the air as regards your relationship with her. Some people are saying maybe she is your lesbian partner?
Can we just leave the lady out of this? I think I don't want to talk about that. Remember she is a celebrity and her integrity is something I can't just be toying with. All I can say is she is a good girl.
Since you returned to Ghana, what have you been working on?
I'm currently working on something like a reality TV show, which will border basically on my everyday life. One of the reasons I chose to go to Big Brother was to let people see the real me.So when I left the house, I thought I could do something more to achieve that aim.
So, currently we are doing the filming and very soon, it will start airing on TV stations. Basically it is going to be about me and how I live. I can't really say much about it now.