Even my hubby believes the press that I'm dating Bayowa-----Busola Oke aka Eleyele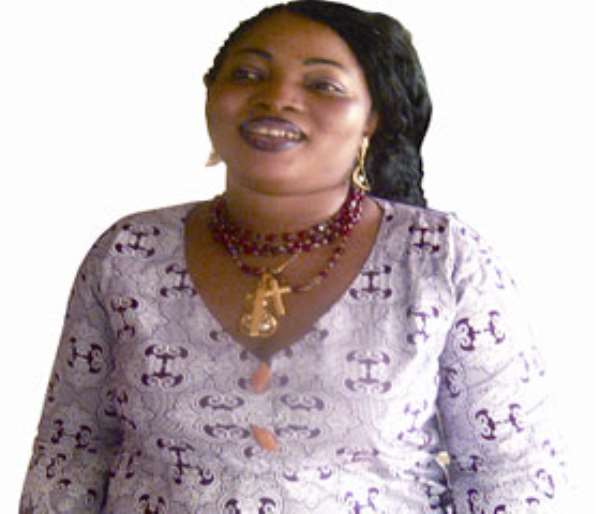 The Eleyele sound track thrust Busola Oke into the limelight, but the stories of her alleged escapades with men are tearing her marriage apart. The singer tells 'NONYE BEN-NWANKWO about it all
You are known as Eleyele. How did it come about?
Eleyele is a movie that I did the sound track. It was Rachel Oniga's movie. You know how people can tag somebody with something. That sound track thrust me into the limelight. People liked it a lot. Ever since then, people have been calling me Eleyele.
Did you do the sound track before you started your music career?
No. It was after. I have been in the music industry for a long time, but my first album came out in 1998. I had done three albums before Eleyele.
Why did you choose to be a gospel artiste?
I'm not a gospel artiste. But I cannot deny the gospel. People misquote me when I say I'm a gospel singer. They also misquote me when I say I'm not a gospel singer.
So, what genre of music do you do?
I'm an inspirational singer. I created my own inspirational songs, which I called Inspirational Togba. I created my own beats. My songs can be love songs. I can sing about morals. I do sing the gospel as well. I cannot joke with gospel songs. I love praising the Lord.
You have been in the industry for a long time; do you have anything new for now?
I just recorded my new single, music wise. I'll start distributing it after my birthday. I'll launch it on my birthday coming up in July.
Do you still do sound tracks?
No. A lot of people cannot pay for it. When you give them the bill, they always believe it is expensive. I can't go to any mushroom studio to record a song. Anything worth doing is worth doing well. I go to a standard studio and I know some people won't be able to afford it. But there are some people I still do sound tracks for. Murphy Afolabi pays good money. I do his sound tracks.
Can you remember why you decided to become a singer?
Music is in me. It is in my system. I don't know how it came about. It is a gift from God. I've been singing since I was six years old. I was in the choir. Even when I was in the university, I was always singing. I love composing songs. I'm used to music. I found out that I couldn't do anything without music.
What did you study in school?
I read mass communication. I went to the University of Lagos. I was supposed to read law. My father is a professor. He was a lecturer, but he is retired now. I insisted on Mass Communication, but he insisted on law. However, I didn't get to the cut off point for law, so I had to settle for Mass Communication eventually.
Since your father was a don; how did he feel when you decided to become a singer?
That is another story entirely. It was hell. It wasn't easy at all. It was like a war in my family. My uncles came and were appealing to him. He said no. He disowned me for some time. But we eventually made up.
He disowned you and you still went ahead to do what he didn't want you to do?
Oh yes. Music is my calling. I told my uncles that if truly he was my father and his love flowed in me and my gift came from God, then my father and I would make up. It was this gift that brought us back together. I did a track for fathers. He heard it and loved it. He called my mother and told her to tell me to come back home. I was living with my aunty then. So, I came back home and we reconciled. We're good friends now.
You were out of the country for some time. Where were you?
I was in the UK. Some people thought I went to the UK to have my baby. That is true, but I didn't really go there only because of the baby. I was doing a music course. I had to go back to the UK to complete it. I stayed back to have my baby after the programme.
Are you married?
Hmmm… by the grace of God, I'm married.
You sound as if you are not sure you are married…
It is just that lately we have been having some problems in my marriage. But I'm still in the marriage.
Where is your husband?
He is not in Nigeria. He lives in America. I've two kids.
Many controversies surround you…
A lot of things have been written about me. There are some people who write true stories and some others just write to sell their magazines. Controversy is part of our profession. I'm not surprised. A lot of stuff has been written about me and most of them are not true.
But you were sleeping around during your tour in the US.
I didn't have any tour in the US. I was in the US, but my trip was 'coded.' I didn't go as an artiste. I didn't go to perform.
Father U-Turn, in an interview, once said that Bayowa (Gbenga Adewusi of Bayowa International Films and Records) stole you, his girlfriend, from him…
I'm short of words. Anyway, this is very funny. I'll just say that I'm not going to comment. It's not important. That guy wants attention. It's not real.
What is not real? You being Father U-Turn's girlfriend or Bayowa being your boyfriend?
I was neither his girlfriend nor Bayowa's girlfriend. I'm used to these stories. I'm used to all these assumptions. People don't believe you when you are saying the truth. Before God and man, there is nothing between me and Bayowa other than the father/daughter relationship that we have. That man is tired of listening to these stories. I'm tired of the stories. We're fed up. This same story has separated us. People should just leave me alone and leave this man alone as well. This man is not like that. I worked with this man for six years or more and he never asked me out. I never saw him sleeping around. He had just one girlfriend and he is still dating that girl.
Who is the girl?
You don't expect me to mention her name. He is still dating that girl. He is a decent man. All the rumour people have been peddling about us have finally separated us. I decided to leave him alone. You can imagine that my spouse doesn't even believe that I'm not dating Bayowa.
Really?
Oh yes. That is one of the issues I'm facing now. People want me to be single. They will soon achieve it. I'm having problems already in my marriage. They keep saying I'm dating this person or that person. I don't understand. I don't go out much, yet they talk about me. They should just leave me alone and leave Bayowa alone as well. The father of my kids believes that when I'm in Nigeria, I'm sleeping with Bayowa. Now, the marriage is having issues. They have achieved what they wanted. I don't know Bayowa or any U-Turn or Roundabout.
But Father U-Turn claimed you were his girlfriend.
In his dreams. I don't want to talk about him. If I do, he will think he is important. He is seeking attention and I don't want to give him. When I saw his picture in a magazine, it occurred to me that I might have seen him once in Bayowa's studio. I think he knows he is not relevant anymore and he is seeking attention.
Maybe he is in love with you.
Can we please talk about something else?
In your sober moments, do you wish you are not associated with scandals?
Before, I used to bother. I used to cry a lot when I heard bad stories. I even went as far as leaving the country immediately I saw a bad story written about me. But now, those negative stories have been giving me good songs. Now I write good songs. Let them continue saying rubbish about me. It will inspire me to do good music and my pockets will be full. Promoters will sell and sell and marketers will sell. Let them say I'm sleeping with men in Aso Rock. That will make me sing another great song. That is my new style.
We learnt you were dating a Christ Apostolic Church pastor; that you stayed in his house when you went to the US…
Na wa o. I told you earlier I don't go to the US to perform. My spouse doesn't want to be identified. I don't understand this story. If anybody is bold enough to face me or feels he knows everything about him, let him come out. I dare the person to come out and say it. I don't know any CAC pastor.
They said it was the pastor that caused a rift between you and Bayowa…
I don't have any problem with Bayowa. I'll call him now and put him on speaker phone. The man is the best thing that has happened to me in this industry. We don't have any problem apart from these rumours that we're dating. It got to a time that his girlfriend didn't even believe that we're not dating. But she did her findings and got to know the truth. Bayowa is still like a father to me. I left him because of these rumours because I still want to keep my marriage.
Going back to your career, how long do you think you will sing?
If my legs are able and I can talk, I'll sing till the end of time.
Tell us about this new single…
It is sort of hip hop. It has techno beats. It's not as if I'm shifting base. But I'm in this world to make a statement. I don't want to make an impact only in the Yoruba sector. I think it is better I sing in other languages, especially English. I go for tours and people tell me they love my music, but they don't understand what I sing. That is why I decided to do something different.
Have you thought of going into the movies?
I'm not an actress and I don't want to be. I've produced one movie anyway. I want to remain a producer. I'll come out with my second movie soon.
Do you think you would have had these scandals if you weren't a singer?
I don't think I would have had them. It's just because I'm in the public eye. But I'm still a natural person. I don't pretend. I still stop on the road and buy boli (roasted plantain) or akara (bean cake) Osu. Being a celebrity doesn't go to my head.
Would it be right to say that it was this showbiz that affected your marriage?
I think so. In fact, I don't even think, I know so. If they didn't talk about me and say I was dating this person or that, my marriage would have been intact.
Are you making any efforts to fix your marriage?
Well, it is not broken down completely. We're just having some issues. To God be the glory, I thank God for where I'm today and where I'm going. Everything that happens is the will of God. I believe in God. What will be will be.