'My size distinguishes me'-----Lepacious Bose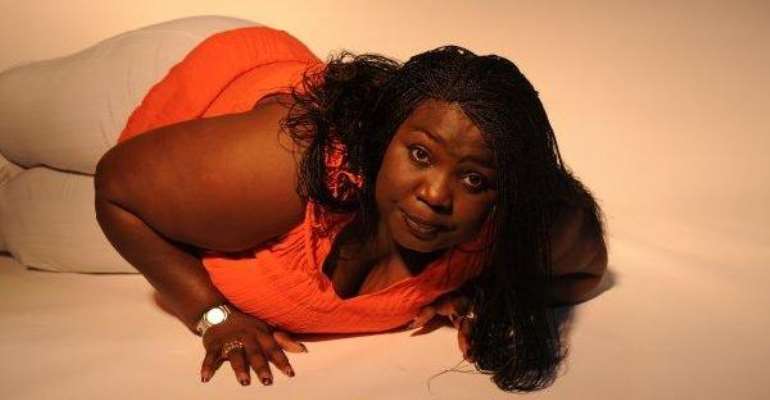 Lepacious Bose Big, bold and brainy best describes Bose Ogunboye, the famous comedienne popularly known as Lepacious Bose. The queen of laughter was her characteristic rib-cracking self when she spoke to KAZEEM POPOOLA about life and love. "I always describe love as the most glorious turmoil of your life. When you wake up; you find out it's over," she quipped.
You are now in the mainstream of the Nigerian comedy business, what is the magic?
Na God you go ask that one o (laughs). God's time is the best.
Your stage name actually contradicts your size, how did you get the name?
That is the idea, because whenever they introduce me on stage, people always expect somebody that is skinny. Moreover, when somebody as big as I am comes on the stage, the comedy has started.
How did you come about the comedy thing?
I would not say that I was born into comedy like other people will tell you. I actually belong to a group called Afromedia Organisation when I was in the University, and when the anchor person graduated, they approached me to be the next anchor person.
Not that you chose comedy out of frustration...
I am not frustrated. I am a graduate of Theatre-Arts, University of Ibadan, and I went back to study law. I can be anything I want to be, but I love comedy.
How did your parents react when you joined the laughter trade?
My parents are retired teachers, you can imagine their reactions. "We sent you to school to study law, you want to start making people laugh up and down. They did not like it. But they realise this is what I want to do. They see that I am good at it, and I am not disgracing the family.
How was your first time on stage?
That was explosive. It was during one of the campus shows. I was so excited, as if I took cocaine. The more people laughed, the happier I was.
How much was your first performance fees?
Five hundred naira.
What did you do with it?
I took my friends out, to eat at the Student Union block of University of Ibadan. That was a long time ago.
How much do you charge per show these days?
You know say armed robbers don plenty for town now, so person must be very careful how he dey talk. I am not too expensive, but you have to be rich to afford me.
Let us talk about your own style of delivery...
My style is quite different, because it is about me. My kind of comedy is about my life experiences, where I am coming from, and where I am going. I don't 'yab' or insult people with my lines of comedy. I say things as they are.
Apart from your extra large size, is there any other thing that distinguishes you from other female stand-up comedians?
(Laughs) Is my size alone not enough? It's enough.
Are you okay with your size or planning to trim down in future?
Watch out for the new Lepacious Bose.
Have you ever been heartbroken?
Is there any woman above thirty who has not been heart-broken?
Is that why you've been keeping away from men?
No! It just makes me more careful.
How was your first time in love?
I always describe love as the most glorious turmoil of your life. When you wake up; you find out it's over.
Do you have particular qualities which you search for in men?
Honestly, dependability, high-level of spiritually and must be romantic.
How old is Lepacious Bose?
A lady never says her age, but Lepacious Bose is above thirty and less than forty.
When are you settling down?
When God says it's time.
What if a guy walks up to you and asks if you can marry him?
People ask me that every day. But the point is, are they the kind of people that I want? Or are they really serious? People now feel that they can propose to me just because I am now making money, they think I can be their next meal ticket. I am going to listen with my heart, to know if he's the kind of person I really want to settle down with.
What makes a good comedian?
Someone who can think on his feet.
What makes a joke funny?
I don't know what makes a joke funny, but I have some friends who are not funny. They don't laugh easily at jokes. Therefore, when I create a new joke, I try it out on them.
Have you ever been yanked off the stage ?
God has been faithful to me. That has never happened to me, because I have a rule. I leave the stage when the ovation is loudest.
If you were opportuned to change things, what would that be?
I would change the way people marginalise women. They feel that women cannot do it, and it is not that they've tried them and found them wanting. They won't even give them a chance.