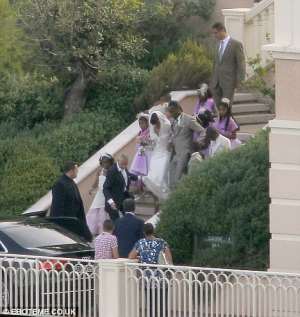 His royal hotness Didier Drogba – the Chelsea star married his long-term partner this weekend in a private ceremony minus the opulence commonly associated with the world of millionaire footballers
Drogba, 33, tied the knot with the stunning Lalla Diakite at the Marie de Monaco in Monaco.
Dream wedding: The Chelsea star pulled out all the stops to make sure that the ceremony was a special day for his new wife
Here's a little tidbit for you, Drogba and his bride have been together since 1999 have three children together and hey they did not sell their story to the tabloid! That tells you he is an African man to the core! As one commenter put it,??
That's because he is from Africa and he appreciates the wealth he has gained. He does lots of charity work and seems like a thoroughly nice bloke. Shame the same can't be said for probably 50% of the other premiership footballers.
Not bad ugh now how about Osaze?
Click the link below to go to ...
J-MARTINS AND FALLY IPUPA DAZZLES AT DIDIER DROGBA'S WEDDING