African Weddings: Top 10 Dos and Don'ts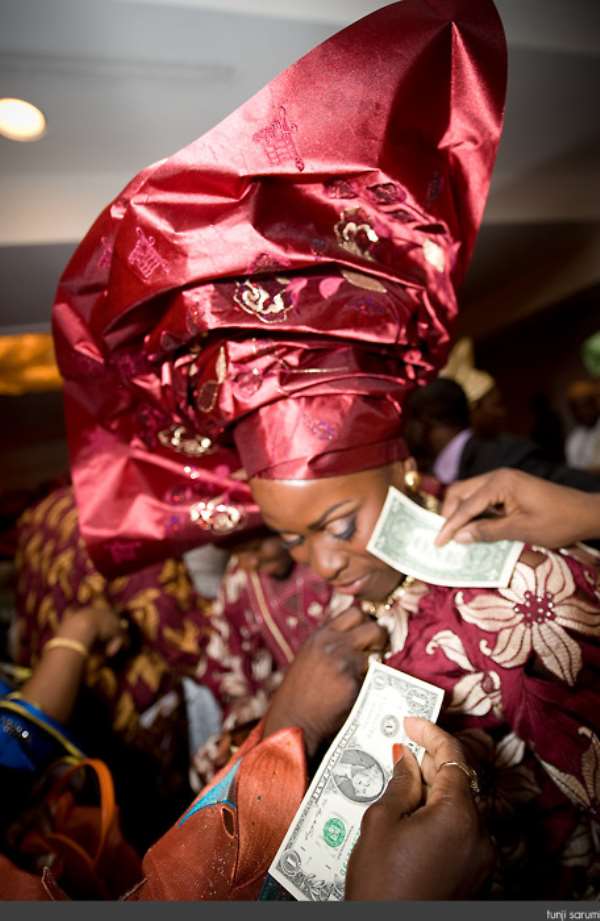 With William & Kate jumping the proverbial broom and 'wedding season' upon us, I really think some things should be said to guide us through this summer. Now for the average American couple wedding events consist of the following a bachelor/bachelorette party, the white wedding followed by a reception. Now for the average African couple, it consists of traditional weddings, engagement ceremonies, introductions and the list can go on, literally. As in the events leading up to an African wedding can fill up an entire week. Now with that said, I have some guidelines for the couples looking to get married and the guests that plan to attend these weddings.
TOP TEN THINGS TO DO AND NOT DO AT AN AFRICAN/NIGERIAN WEDDING:
10. GUESTS: Do be prepared to spend money! I do not care if you are not blood relatives to the couple getting married; whether you are collecting aso ebi, buying the couple a gift or spraying the them with dollars that one auntie helped you change, just know that money will be spent. Even if you decide not to spray the couple, if you are anything like me, you will probably end up spraying the lead singer in the live band for praising you.
9. LADIES & GENTS: Throwing the bouquet and garter are ways for the guests to participate in the festivities so, all my single ladies, when the bride tosses the bouquet, do not punch,slap and/or kick the girl beside you out of the way to catch the bouquet because you feel you are next in line to march to the altar. IS IT BY FORCE?! Then awon guys, please do not act as if catching the garter is a death wish, we all know deep down inside you really want to catch that garter. STOP FRONTING and participate a little!
7. COUPLES: When planning on how you will feed your guests, please do consider serving your guests rather than having them line up buffet style. We are not at the school cafeteria! To top it off, Africans can be a bit rough when it comes to lines (meaning they usually do not form one) so why would you want to see a crowd of people surrounding tables, ultimately taking the focus off of you two, THE COUPLE. SAY NO TO BUFFETS!.jpg
>
6. COUPLES (and in some cases THE BRIDAL PARTY): The reception is usually the favorite part for most couples because then and only then can they really let loose. But wait oh, remember this is not the club where you two first met each other so do not grind up on each other. We do not want a peep show of how you will be throwing down during your honeymoon. Yes, you are married now but please let's keep the dance off PG-13.
5. LADIES (particularly girlfriends of the bride): Seeing your friend get hitched is not a small thing so I can understand you would feel the need to be dressed to KILL. You get dressed in your freshly sown aso ebi and now its time for you to tie your gele. But wait, do not tie your gele into a satellite dish just because you are so 'happy' for your friend. I do not care if you are the maid of honor or bridesmaid, if you are not the mother of either the bride or groom, think smaller. You do not want to upstage the bride or the immediate family so in this case abeg use your church mind..jpg
>
4. GUESTS: If the wedding ceremony and reception is invite only please do RSVP and do so in time. The days of just showing up to that your uncle's daughter's friend's brother's wedding are (almost) gone. I, for one, am all for invite only weddings, it saves the couple tons of money, having less mouths to feed.
3. COUPLES: When the Pastor announces 'you may now kiss the bride'… do not proceed in slobbering down your new husband/wife. This is not the ' SHOW-US-HOW-MUCH-YOU-LOVE-YOUR-SPOUSE COMPETITION' so keep the tongue wrestling for later 'cause there is no million dollar cash prize waiting..jpg
>
2. GUESTS: *twitter input* When the time comes to spray the couple and the money is flowing like the dollars at your favorite strip club PLEASE do hold your children back from collecting the cash off the floor. I've 'reprimanded' thieving little kids before and I have no problem doing it again. Plus there is nothing more annoying than watching the video of your wedding reception and seeing little Junior pocketing a fistful of singles.
1. COUPLES (especially the BRIDES): Do not stress yourself too much and have fun. I have worked with plenty of brides to know that most of them were two steps away from having an anxiety/panic attack. I understand it is a lot to plan and think about but I honestly feel that's what wedding planners are for, don't be afraid to use them.
BONUS: Africans love to DANCE! I mean in the program we even have a whole section, after the vote of thanks, dedicated to DANCE! DANCE!! DANCE!!! So on that note, do hire a banging DJ and/or a live band that will have your guests literally flock to the dance floor. The last thing you want is for people to complain about the music. Next to food, music can make of break the experience for your guests.jpg
>
Well those are my top ten! I'm sure there are many more but with time I feel we have grown leaps and bounds when it comes to the quality of our weddings. What are some things you think should be addressed when it comes to African/Nigerian weddings?
(Visited 551 times, 199 visits today.jpg