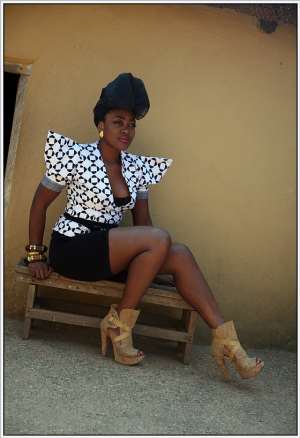 ABINAonline is an African, fashion and lifestyle website that showcases the beauty of Africa from a fashion & lifestyle angle and it strikingly seems to draw the attention of many more than expected. The founder and editor-in-chief is Augustina Austin, Dutch based, 24-year old singer/songwriter and presenter who started ABINAonline as a hobby, but is now running ABINAonline as an international go-to-guide, with a readers base from more than 70 countries and a team of skillful writers from African heritage. From visiting African fashion weeks to covering inspirational success stories from young entrepreneurial Africans, ABINA Online serves the world with quality information about African fashion and lifestyle focused on the younger generation.
From a blog to a business
'As a fashion-lover I got tired of barely seeing black women on the cover of the magazines'. The magazines that have a great reach don't often celebrate the woman of color, especially not in the Netherlands. When Glamour magazine Netherlands celebrated their 25th edition, I noticed that not a single black/colored woman had been on the cover, I was quiet offended by it and I wrote the editor-in-chief about how shameful I think it is. In the response to my letter, she admitted the lack of black women on the covers of the magazines. To me it was a reality check. This motivated me to start my own platform. ABINA might not be a Glamour Magazine today, but it will be some day. It is yet to expand to producing fashion videos and a magazine on the long-run. The world needs more of Africa', says Augustina.
Augustina developed a love for writing in 2010. She started working freelance for This is Africa[http://www.thisisafrica.me] (partner of The Guardian Africa). 'The response I received to the blog was how innovative and unique people find it. I did research to how to expand my blog and ABINAonline.com was born. The younger generation is very active online and we're a visual generation. Therefore a website was the best answer to what I feel is a current problem,' Augustina continues to say.
Why the name ABINA
The name ABINA comes from Abena, the female name given when born on Tuesday. 'As a Ghanaian, I have a Ghanaian name and an English name. I wanted to use a Ghanaian name to give the ABINA name an African personality. Popular magazines are called Elle, Vogue and ABINA is my voice and I felt like that name fits the place perfectly. ABINA also stands for a young confident fashionable lady who loves her African culture. The content is edited and co-written by me. We have 3 skilled contributors who keep the site updated'.
Passion for fashion
'I love how African-Americans have created their own platforms wherein they celebrate their culture, like BET, Essence, EBONY magazine etc. I feel like African immigrants should do the same with the goal to inspire each other and to celebrate our heritage and fashion here in Europe and elsewhere in the world. We possess such great qualities and if we don't celebrate, who will? Younger ladies should grow up knowing that everything African about them is beautiful, like their Afro hair, their curves and the way we move. You may notice the way Azonto brings Africans together. So also there are major things taking place on the fashion & lifestyle fields. I intend to refresh the world's image of Africa with all positive attributes of which we are made of.' Augustina shares with us.
Watch The Beginning, ABINAOnline's promo video on their website[http://www.abinaonline.com]
Stay updated and follow ABINA on Facebook[, Twitter[http://www.twitter.com/abinaonline], Youtube[http://www.youtube.com/user/AbinaOnline?feature=watch] and INstagram[http://www.instagram.com/abinaonline]
KOFI BAFFO.