Yakubu Is A Nigerian -Nigerian paper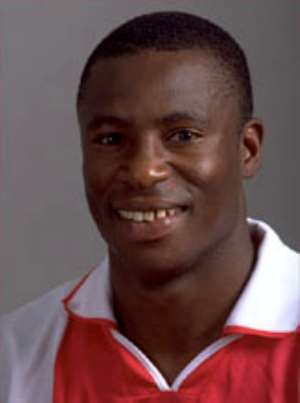 According to a Nigerian newspaper Abubakari Yakubu, the number 22 player for Ajax listed, as a Ghanaian is a Nigerian.
Reminds me of when a Ghanaian man claimed he was the father of Yekini and thus Yekini was a Ghanaian..... READ ON
Yakubu played a key role in the young Ajax team that nearly shocked AC Milan in the first leg of the UEFA Champion League quarterfinals at the Amsterdam ArenA.
The 21 year-old tall player was very effective in front of the back four battling against the likes of Genero Gattuso and Clarence Seedorf (before his exit) in Milan's midfield.
Listed as a defender, Yakubu is rated below Tunisia's Hatem Trabelsi in the pecking order of the club's full backs, a development that initially reduced his place in the club.
His versatility has, however, meant he could still file out in the defensive midfield position and with such displays as he put up against Milan, Ajax manager Ronald Koeman couldn't have asked for more.
Sources close to the player have, however intimated the Boy's from Nigeria of his nationality.
He is said to be a Nigerian who travelled to Holland with a Ghanaian passport.
The pertinent question is why Ghanaian instead of Nigerian passport?
Our source's reply would link the development to the player's Ghanaian manager, the same person responsible for Chievo's Daniel Ola's movement to Europe.
Ola had a similar problem when in 1999, after becoming the first black player in four years to wear Lazio's shirt, he craved for a national team invitation but ran into a brick wall as many questioned his nationality.
The young defender had to travel home to clear the air and pledge his international future to Nigeria.
Being a Ghanaian, the manager (name not available at the time of going to press) found it easier having these boys leave the continent through Ghana.
Said our source: "I cannot tell which part of the country Yakubu hails from now but I know he is a Nigerian. I have this on good authority. If you doubt me, you can contact Daniel".
All efforts to get Ola attest to this proved abortive.
During his visit to Nigeria in 2001, Daniel had confessed travelling to Italy via Ghana hence the mix-up in his nationality.
"I am a Nigerian... I hail from Kwara but I only travelled to Europe as a Ghanaian," Ola had said.
But why all these "Ghananisation" of Nigerian players? Some would ask.
In the Italian Serie A, Obodo is listed as a Ghanaian. If the former junior international was never seen in national colours back in his days as a Flying Eagle, maybe like Ola, his nationality would still have been in doubt.
Despite the fact that some took notice of Obodo as a left back in Plateau United's colours, there are testimonies from those who did it the grassroot way with him in Warri.
These were the words of NITEL's giant defender, Theophilus Adisi: "I played against Obodo in youth tournaments in Warri. He was one of the most skilful left sided defenders I had seen at that time".
This lends credence to the fact that Obodo is a Nigerian but why the Ghanaian link? How did Obodo leave the shores of the country? Did he equally pass through Ghana's "Golden Gates"?
The Obodo and Ola case studies mean there could be some element of truth in Yakubu's link to Nigeria.
After making eight starts and one sub appearance in the Dutch Eredivisie as well as two starts and five sub appearances in the Champions League, Yakubu may not be the most regular player at Ajax, but if he plays the way he did last Wednesday, he could start making his choice of matches.
But is this a boy from Nigeria? May be Yakubu will toe the line of Ola and pledge to Nigeria his "fatherland".