Apr 22, 2020
Covid-19: Ghana Conducts Over 80,000 Individual Tests — Noguchi Clarifies
Professor William Ampofo, Head of Virology Department, Noguchi Memorial Institute for Medical Research (NMIMR), explaining the procedures involved in testing samples for COVID-19 at a media briefing in Accra on Wednesday, indicated that each individual's samples were grouped into four pools in the laboratory.
He said they often took four specimen or samples- throat swab, nasal swab, sputum and nasal lavage- from each person for testing, in order to enhance the accuracy of the test result.

---
Apr 22, 2020
Covid-19: Presidential Advisor Dismisses Reports That 15,000 Ghanaians Will Die
It was also not true that three million Ghanaians would be infected with the novel Coronavirus, according to Presidential Advisor on Health.
These projections were attributed to him following an interview he granted to a media house in Accra on Tuesday night, during which he was asked to project Ghana's pre-peak case scenario based on some developed models.

---
Apr 22, 2020
3.8 Magnitude Earthquake Hit US Amid Coronavirus Scare
The United States has suffered an earthquake amid the coronavirus scare.
A 3.8 magnitude earthquake shook Los Angeles, California, US.

---
Apr 22, 2020
Covid-19: 810 Persons Arrested During Lockdown – Police
A total of 810 people were arrested by the Ghana Police Service during the partial lockdown.
These suspects were picked up across the country for violating the restrictions on movement.

---
Apr 22, 2020
Ahead Of Ramadan: Muslims Will Respect COVID-19 Safety Protocols – Chief Imam Assures Akufo-Addo
The Chief Imam of Ghana, Sheikh Osmanu Nuhu Sharubutu, has assured President Akufo-Addo that the Muslim community will respect all existing protocols put in place to prevent the spread of the novel Coronavirus in Ghana as they begin their annual Ramadan, the holy month of fasting.
The Chief Imam made the commitment at a meeting with Muslim leaders called at the instance of the President at the Jubilee House today, Wednesday, 22 April 2020, to discuss modalities ahead of the revered annual Muslim time of spiritual reflection, self-improvement and heightened devotion and worship.

---
Apr 22, 2020
Madagascar Discovers Local Herb For Coronavirus
Amid the medical race to find an effective vaccine for the coronavirus that is currently spreading around the world, Madagascar, a southern Africa, could possibly process a tea from a local plant to cure the disease.
The coronavirus disease appeared first in 2019 in Wuhan city in China. The disease was, first identified in Wuhan and Hubei, both in China early December 2019. The original cause still unknown, it remains a puzzle and an enigma for the world scientific community.

---
Apr 22, 2020
Covid-19: Kpone Residents Disappointed In Akufo-Addo For Lifting Partial Lockdown
Some of the residents in Kpone in Accra said Ghana was at a critical stage in the fight against COVID-19 therefore lifting the restriction on movement could derail the progress made so far.
They explained that areas which were locked down could have remained in isolation from the rest of the country to test if the case count had stabilized.

---
Apr 22, 2020
COVID-19: Noguchi Explains Ghana's Enhanced Testing Capacity
The Noguchi Memorial Institute for Medical Research (NMIMR) has explained how the country has been able to increase its testing capacity of samples for the novel coronavirus.
The Head of Virology at Noguchi, Professor William Ampofo, speaking at a press briefing on Wednesday, April 22, 2020, said testing labs had resorted to pooling samples to become more efficient.

---
Apr 22, 2020
COVID-19: I Stood Up And Acted Like A Man To Protect The People — Akufo-Addo Laments Effect Of Ongoing Ban
Following the outbreak of the novel coronavirus in the country, President Akufo-Addo says he will continue to take tough and difficult decisions that will protect Ghanaians until the deadly bug is kicked out completely.
The President noted that although some of the decisions may be unbearable to many, there will be joy in the end.

---
Apr 22, 2020
Covid-19: ECOWAS Leaders Holds Virtual Summit Tomorrow To Intensify Fight
West African leaders will tomorrow, April 23 hold an extraordinary session through video conference to discuss the Coronavirus situation and the impact of the pandemic on countries under the Economic Community of West African States (ECOWAS).
Before this extraordinary summit, the Ministers in charge of finance and the governors of central banks from the region have also held a virtual extraordinary session on Tuesday, April 21, 2020, on the COVID-19 situation.

---
Apr 22, 2020
Covid-19: Stop The Baseless Discrediting Of Experts' Work - Oppong Nkrumah Fire Critics
The Information Minister Kojo Oppong Nkrumah said casting a slur on the reputation of these individuals and their institutions was harmful to their reputation and the national image.
He was briefing the media on COVID-19, on Wednesday, during which some of the experts involved in the testing and case management of the disease took turns to clarify some controversies over the national testing capacity and projection figures for pre-peak scenarios.

---
Apr 22, 2020
'We've Not Contracted Covid-19'; Patients Threaten To Leave Tamale Quarantine Center
Some seven Guineans who tested positive for Covid-19 at the Tamale Teaching Hospital in the Northern region , have threatened to leave the hotel where they are being to quarantined.
They claim they have not contracted the Covid-19 virus as speculated.

The law enforment agent at the quarantine cente
---
Apr 22, 2020
Covid-19: UK Deaths Hits 18,100
The UK has announced 759 more hospital deaths from the novel Coronavirus taking Britain's total number of victims to 18,100.
"As of 5 pm on 21 April, of those hospitalized in the UK who tested for Coronavirus 18,100 have sadly died," the UK Department of Health and Social Care said in a tweet.

---
Apr 22, 2020
Upper East:: BM Donates PPEs To Key Stakeholders To Fight COVID-19
The Bolgatanga Municipal Assembly has donated Personal Protection Equipment PPE to some key stakeholders in the fight against COVID-19.
The key stakeholders include; the Public Health and Emergency Team, Assembly Members, Revenue Collectors, Task Force, and Sanitation Workers.

---
Apr 22, 2020
Ugandan Security Personnel Enforcing COVID-19 Measures Assault Journalists
Nairobi, April 22, 2020 -- Ugandan authorities must investigate security forces' recent attacks against journalists and hold those responsible to account, the Committee to Protect Journalists said today.
Since March 19, security forces have harassed or assaulted at least six journalists in the country while enforcing restrictions to curb the spread of COVID-19, according to the journalists, who spoke to CPJ, and a statement by the Human Rights Network for Journalists-Uganda, a local press rights group.

---
Apr 22, 2020
First US death came weeks earlier than thought
By BBC News
A post-mortem in California has revealed the first US death related to the coronavirus came weeks earlier than previously thought.
A death in Seattle, Washington state, on 26 February was originally believed to be the first in the country.
But two people who died on 6 and 17 February in Santa Clara Country, California, have now been shown to have had Covid-19.
At the time, national criteria restricted testing only to people with a known travel history and who were showing specific symptoms.
The county coroner's statement said "we anticipate additional deaths from Covid-19 will be identified" as investigations continue.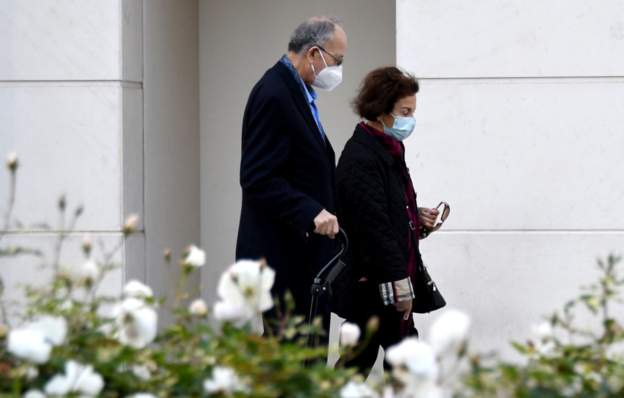 Getty Images
---
Apr 22, 2020
BREAKING

All German states back face mask use

By BBC News

All 16 German states have announced plans to make face masks compulsory, as the country slowly reduces its lockdown restrictions.

The rules will differ slightly from state to state. Mask use will however be mandatory on public transport throughout the country, and nearly all states will also make people wear face coverings when shopping.

Germany's Robert Koch Institute (RKI) has confirmed 145,694 cases and recorded 4,879 deaths in total.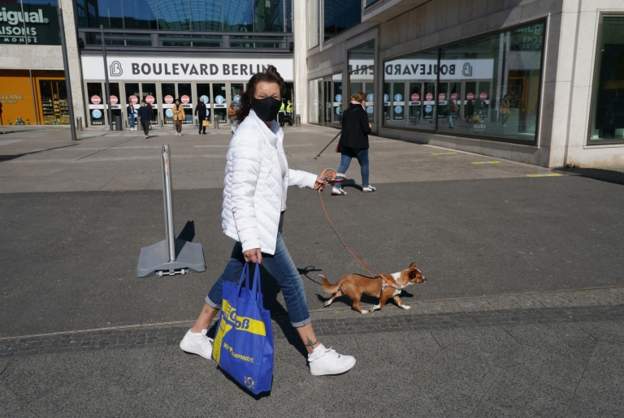 Getty Images
---
Apr 22, 2020
Virus will be with us a long time - WHO boss
By BBC News
At the World Health Organization's briefing, its head has warned that although epidemics in Western Europe "appear to be stable or declining", there are still "worrying upward trends in Africa, Central and South America, and Eastern Europe".
"Make no mistake - we have a long way to go, this virus will be with us for a long time," director-general Dr Tedros Adhanom Ghebreyesus said.
He said that while people are "understandably frustrated" with stay-at-home orders, "one of the greatest dangers we face now is complacency".
"The world will not and cannot go back to the way things were," Dr Tedros added. "There must be a new normal, a world that's healthier, safer and better prepared."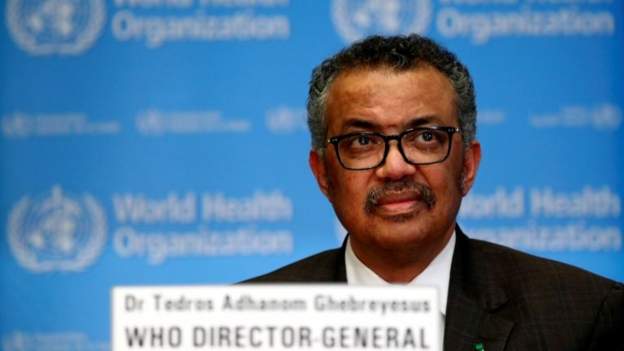 Reuters
---
Apr 22, 2020
COVID-19: Gov't Sued To Akufo-Addo, NCA From Requesting Subscriber Details From Telcos
A private legal practitioner, Francis Kwarteng Arthur, has instituted a court action against the government seeking to stop the President, KelniGVG and the National Communication Authority (NCA) from relying on Executive Instrument (EI 63) to procure his personal information from Vodafone Ghana and MTN Ghana for purposes of contact tracing in the COVID-19 pandemic fight.
It is the contention of Mr Kwarteng Arthur, that the Executive Instrument issued by President Akufo-Addo on the 23rd of March 2020 directing MTN and Vodafone to make available to Government the details of their subscribers including his, based on powers vested in the President under provisions in the Electronic Communications Act, 2008, (Act 775), will amount to a breach of his fundamental human rights and his right to privacy in his personal information which is in the possession of Vodafone and MTN.

---
Apr 22, 2020
Covid-19 roundup: Extra S.Africa troops, Kenyan abuses and Ethiopian Airlines fights for survival
South African authorities plan to deploy tens of thousands of additional soldiers to help enforce a nationwide Covid-19 lockdown, as some officials have come under fire for flouting measures designed to contain the coronavirus.
Meanwhile, Kenyan security forces have been criticised by human rights groups for abuses carried out enforcing a Covid-19 curfew and Africa's largest airline is fighting for its survival as coronavirus shutdowns strangle air traffic across the continent. 

© AFP - Marco Longari
---