Apr 20, 2020
BREAKING

Ventilators Across Selected African Countries

The table below shows the number of ventilators for selected countries in Africa (ref NYT/JHU). Quality health system cannot be achieved overnight or through increased healthcare spending during pandemic. Investment in healthcare is essential to the economic and social development of a nation.

Unfortunately, healthcare financing across the continent has not been overly remarkable. There is a school of thought that believes that since the political elites have an alternative by flying out to Europe, North America and Asia for treatment, the public healthcare has been left under-funded to a large extent.
---
Apr 20, 2020
Lifting Of Lockdown Is By Careful Balance Of Many Factors – Akufo-Addo
President Akufo-Addo, says the decision to lift the partial lockdown of Accra, Kumasi, Tema, and Kasoa, was taken after careful consideration of a number of factors.
According to President Akufo-Addo, the country's current capacity "to trace victims of this disease, being able to test, being able to isolate and quarantine those people so that we take them out of the population, and, of course, the treatment", are some of the factors that led to the decision to lift the partial lockdown.

---
Apr 20, 2020
Mistrust and black market flourish in Nigeria as virus spreads
A black market in coronavirus test kits is flourishing in Nigeria, spurred in part by negligible faith in the country's health system to defeat an emerging threat.
Testing is a crucial weapon in combatting COVID-19. It not only identifies where the stealthy virus has invaded -- it also helps to prevent frontline workers, in health care and the economy, from falling sick in turn.

Open wide: A health worker takes a swab during a coronavirus test campaign in the Nigerian capital Abuja. By Kola Sulaimon (AFP)
---
Apr 20, 2020
Joy or fear? Mixed feelings as Ghana ends virus lockdown
While some Ghanaians were relieved to get back to work Monday, others were left fretting after the country became the first in Africa to lift a coronavirus lockdown.
The streets of Accra buzzed with life following President Nana Akufo-Addo's announcement of the end to a three-week restriction on movement around the capital and second region Kumasi.

Workers sew personal protective equipment in Ghana, which has lifted a coronavirus lockdown that hit the poor hard. By Nipah Dennis (AFP)
---
Apr 20, 2020
The Plight Of Africans In China
It is the duty of Africans everywhere to make Africa livable. In each decade, the time has come and gone for true African independence but there is still hope. In recent news, Chinese officials are accusing African immigrants of being the culprits for the spread of COVID-19. In times of turmoil, it appears that everyone is looking for someone else to blame. China is not taking any accountability for their discrepancy and mishandling of this virus.
The fact that Africans are being chased out of their homes, and not allowed to enter hotels are symptoms of a bigger issue. That issue is overstaying one's welcome, Assuming, there was an invitation from the host country and an acceptance from the guest. China is a hegemonic society just like its neighbouring countries.

---
Apr 20, 2020
Akufo-Addo Lifting Of Covid-19 Lockdown Premature, Dangerous – NDC COVID-19 Team
The National Democratic Congress (NDC) Technical Team on COVID-19 has joined the growing number of groups and individuals who have criticised President Nana Akufo-Addo's decision to lift the partial lockdown on some parts of the country.
In a statement, the Team said the lifting of the restrictions is "premature and dangerous and would most likely result in a significant escalation in the numbers of cases."

---
Apr 20, 2020
You Have One Month To Retrieve Bodies From Morgues — Okyenhene To Families
The Okyenhene, Osagyefo Amoatia Ofori Panin, has given families of deceased persons at Akyem Abuakwa a one-month ultimatum to retrieve remains of their relatives for private burial.
This is to avoid "the unhealthy situation where corpses that are not retrieved before the stated period are buried in mass graves," a statement from Osagyefo's office said.

---
Apr 20, 2020
TUC Backs Akufo-Addo Lifting Of Lockdown
The Secretary-General of the Trades Union Congress (TUC), Dr. Anthony Yaw Baah, is hailing the decision taken by President Akufo-Addo, to lift the 3-week restrictions imposed on some cities.
According to the TUC boss, the lifting of the partial lockdown of Accra, Kumasi, Tema and Kasoa was a right decision taken by the President.

Dr. Anthony Yaw Baah
---
Apr 20, 2020
COVID-19: Mahama Presents Food Items To Households In Koluedor, Borteiman
Former President John Dramani Mahama on Sunday, April 19, 2020, visited Koluedor and Borteiman, both in the Greater Accra Region to personally hand over food items to some 200 households in the two communities.
According to the former President, the move is part of his presentation of relief items to 20,000 households in Accra, Kumasi, Tema and Kasoa areas.

---
Apr 20, 2020
Covid-19: 449 More People Die In UK
An estimated 449 more people died from the novel coronavirus in the UK as of 5pm on April 19.
This was made known by the UK Department of Health and Social Care in a tweet on Monday April 20.

---
Apr 20, 2020
Denkyira Hemaa Supports Coronavirus Fight With Donation Of PPEs
Denkyira Hemaa, Nana Ama AYENSUA SAARA III has donated PPEs to some selected Health Facilities in her kingdom, made up of Upper and Lower Denkyira in the Central Region.
The donation was done on her behalf by Okyeame Kwabena Adu at Jukwa in the Hemang-Lower Denkyira District

---
Apr 20, 2020
US, Canada, Mexico borders shut for another 30 days
By BBC News
The borders between the US, Canada and Mexico will stay closed for another 30 days to all but essential travellers, Acting US Secretary of State Chad Wolf has said.
The borders first closed on 21 March.
The US has expelled at least 6,300 undocumented migrants on its Mexico border, using emergency powers designed to curb the spread of coronavirus. Critics say the powers are being used to control immigration rather than just as a public health measure.
---
Apr 20, 2020
UK death toll increases by 449
By BBC News
A further 449 coronavirus related deaths were recorded in UK hospitals over a 24 hour period, according to government figures published on Monday.
That takes the total number of recorded hospital deaths to 16,509 as of 17:00 BST on Sunday.
The UK's daily figures do not include deaths in the community, in places like care homes.
---
Apr 20, 2020
BREAKING

Italy sees first decline in active infections

By BBC News

Italian authorities say the number of people officially identified as infected with coronavirus has fallen for the first time since the country's outbreak began.

"For the first time, we have seen a new positive development: the number of currently positive has declined," civil protection agency chief Angelo Borrelli told reporters.

As of Monday, there were 108,237 people either being treated in hospital or recovering at home after testing positive, 20 fewer than the previous day - a small but symbolic drop.

On Sunday, the increase of active positive cases was 486.

Italy has the third-highest number of Covid-19 cases in the world after Spain and the US. However, as people who die at home or in care facilities are not included in its figures, many doctors believe its actual death and infection rates may be higher than the official tallies.
---
Apr 20, 2020
BREAKING

Deaths rise above 20,000 in France

By BBC News

France has become the latest country to record more than 20,000 deaths related to coronavirus, a toll its director of health has called "symbolic and painful".

As of Monday, there have been 20,265 virus-related deaths in France - 12,513 of them in hospitals and 7,752 in nursing homes, Jérôme Salomon said.

"Tonight, our country is crossing a painful symbolic milestone," he said.

Three other countries have so far recorded more than 20,000 deaths - Spain, Italy and the US.
---
Apr 20, 2020
'We don't have secrets at the WHO'
By BBC News
In an emotional briefing amid rising tensions with the US, World Health Organization Director-General Tedros Adhanom Ghebreyesus insisted his agency had not withheld information about the coronavirus from any nation.
The WHO's handling of the pandemic has been criticised by US President Donald Trump, who suspended funding to the UN's global health body last week, saying it had failed to manage the outbreak properly and been too trusting of China.
At the televised briefing, Dr Tedros said about 15 representatives of the US Centers for Disease Control and Prevention (CDC) had been seconded to the WHO since January and had been kept informed as the situation developed.
"We don't have secrets in WHO, and as soon as we get information we pass it on - because it's about lives," Dr Tedros told the news conference.
He then warned that political disagreements could hamper efforts to save lives.
"You know where I come from - I know war. I know poverty. I know disease. I know how people suffer in all conditions. I know how people are killed because of poverty," Dr Tedros, who is Ethiopian, said.
"Maybe people who don't know all this... maybe they've had an easy ride in life. Maybe they don't know what war means, what poverty means. That's why I'm emotional."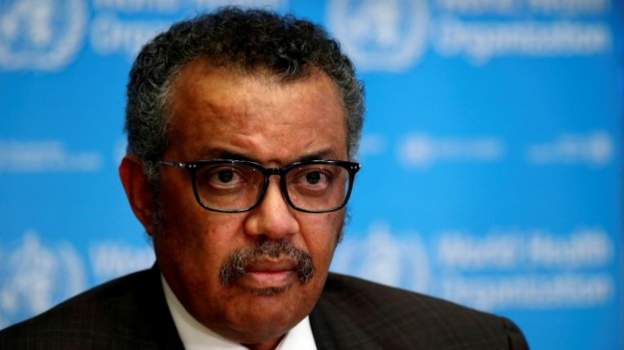 Reuters
---
Apr 20, 2020
Nigerians Predict 'Doom' For Ghana Over Early Lifting Of Covid-19 Lockdown
Some Nigerians have expressed disappointment in Ghana after President Akufo-Addo lifted the ban on the restriction of movement in Accra, Kumasi and Tema.
According to them, the nation could be in great trouble when people from the hot spot areas begin to live their normal life.

---
Apr 20, 2020
Northern Nigeria health worker first Covid-19 case in the region as Tanzanians pray
The medical charity Doctors Without Borders (MSF) reported on Monday that a Nigerian nurse in Borno state died from Covid-19, raising concerns that the contagious virus is now present in the northeastern region.
"He had no travel history outside of Borno State and made the ultimate sacrifice," said UN Humanitarian Coordinator in Nigeria Edward Kallon.

AFP
---
Apr 20, 2020
Covid-19: Bolga Municipality Goes Tough On Drinking Spots, Gaming Centers
Information reaching the Ghana News Agency in Bolgatanga from a source close to the Assembly said in spite of the constant reminders of residents to take steps to avoid the spread of the virus, drinking spots have become safe haven for meetings over bottles.
The region has recorded eight cases of the COVID-19 and one death with majority of the cases coming from the Bolgatanga Municipality, hence, the urgency in the need to take steps to close some key crowd gathering activities, including closure of markets on market days and complete or partial closure of drinking spots in the Municipality.

---
Apr 20, 2020
Akufo-Addo Outlines Sharing Method For COVID-19 Fund
"I know the effects of the measures to contain the virus have been difficult for many, and that is why I mandated the creation of the GH¢1.2 billion Coronavirus Alleviation Programme to support households and businesses," President Nana Akufo-Addo stated.
In the seventh COVID-19 Presidential broadcast to the nation, which focused on Ghana's enhanced response to the COVID-19 pandemic, President Akufo-Addo said out of the amount, GH¢280 million was being used to provide food for the vulnerable and free water for all Ghanaians for three months.

---