Apr 19, 2020
[Full Text] Akufo-Addo's Seventh Update On Covid-19 Measures
ADDRESS TO THE NATION BY PRESIDENT OF THE REPUBLIC, NANA ADDO DANKWA AKUFO-ADDO, ON UPDATES TO GHANA'S ENHANCED RESPONSE TO THE CORONAVIRUS PANDEMIC, ON SUNDAY, 19TH APRIL, 2020.
Fellow Ghanaians, good evening,
Today, Sunday, 19th April, 2020, is exactly three (3) weeks since I came to you and announced the imposition of restrictions to movement in the Greater Accra Metropolitan Area and Kasoa, and the Greater Kumasi Metropolitan Area and its contiguous districts. I explained, at the time, that the decision was taken to give Government the opportunity to try to contain the spread of the virus, scale-up effectively the tracing of persons who had come into contact with infected persons, test them for the virus, and, if necessary, quarantine and isolate them for treatment, should they prove to be positive for the virus.

---
Apr 19, 2020
Covid-19: Cases Hit 1042
Ghana count of the novel Coronavirus cases have ballooned to 1,042.
President Akufo-Addo has announced during his seventh address to the nation on the outbreak today, Sunday, April 19.

---
Apr 19, 2020
Europe, New York see progress in coronavirus battle
European nations hard hit by the coronavirus and the US epicenter New York reported headway Sunday in their battle against the deadly pandemic.
Governments across the world are now debating how and when to ease lockdowns that have kept more than half of humanity -- 4.5 billion people -- confined to their homes and crippled the global economy.

The global death toll from the new coronavirus is now more than 160,000. By CESAR MANSO (AFP)
---
Apr 19, 2020
Liberia imposes 60-days state of emergency to contain coronavirus
With 76 confirmed cases of Covid-19 and seven deaths, the Liberian legislature has approved President George Weah's request to declare a state of emergency to contain the further spread of the virus. But MPs insisted on provisions to ensure transparency of the money earmarked to help Liberians.  
Weah had earlier written to the legislature requesting its concurrence to impose a state of emergency and declare a 21-day lockdown.

© Darlington Porkpa
---
Apr 19, 2020
Ato Forson Support 193 Communities, Institutions In Covid 19 Fight
The communications officer for the opposition National Democratic Congress [NDC], Ajumako constituency, Mr. Galahad Andoh, has expressed his disapproval at calls by people for a total lockdown in the fight against the novel coronavirus.
The materials donated are, 500 veronica buckets, over 3,000 hand sanitizer, nose masks, gloves, liquid soaps and others.

---
Apr 19, 2020
Attenborough: Humans 'certainly' victims of their own success
By BBC News
Sir David Attenborough has agreed that humans are victims of their own success, as he faced questions about the coronavirus pandemic.
In an interview with the BBC's Andrew Marr, the environmentalist and veteran TV broadcaster said: "Anybody who knows anything about keeping animals of any kind, the more dense population you keep, the quicker the disease will spread.
"And there's never been a denser population of human species until this moment."
When asked whether humans were victims of their own success, he replied: "Certainly."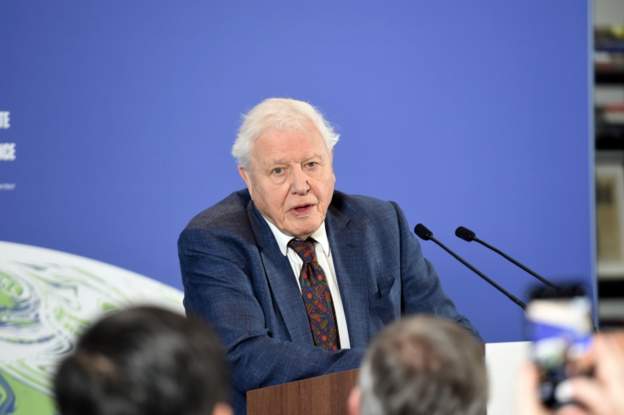 Copyright: Reuters
---
Apr 19, 2020
BREAKING

UK deaths pass 16,000

By BBC News

The number of covid-19 patients who died in UK hospitals has risen to 16,060 as of 17:00 BST on Saturday, the Department of Health and Social Care say.

That is an increase of 596 in 24 hours - down from the previous daily death toll of 888.

As of 09:00 BST on Sunday, 482,063 tests have been conducted, with 21,626 tests carried out on Saturday.

A total of 372,967 people have been tested of which 120,067 tested positive.
---
Apr 19, 2020
Germany and UK 'at different phases'
By BBC News
Responding to criticism of the UK's lack of testing, Dr Jenny Harries says the focus is currently on managing the condition of people who are sick.
On comparisons with Germany - which has far greater testing and far fewer deaths - she says it is "very important that we learn from other countries" but stresses that the UK and Germany are "still at different phases".
---
Apr 19, 2020
New York governor urges caution as state infections slow
By BBC News
New York Governor Andrew Cuomo has said his state is "past the high point" of the virus outbreak but he urged caution as the death toll rose.
"Whether or not the descent continues depends on what we do," Cuomo said at his daily briefing. "This is only halftime in this entire situation."
"The outbreak is slowing, not growing," he said. But, he added, "We have a very small margin of error here."
New York recorded 507 coronavirus deaths in the past 24 hours, continuing its downward trend. It's good news, Cuomo said, "only compared to the terrible news we were living with: the constant increase".
"We still have more to do," the governor said. And for local officials facing pressure over shuttering of schools, parks and businesses, he said, "Blame me."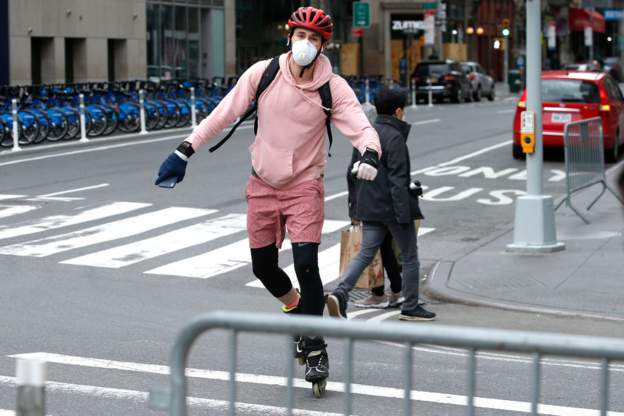 New York's infection rate is now slowing - Cuomo (Getty Images)
---
Apr 19, 2020
Businessman Donates To Anlo NDC PC to Combat COVID-19
An Accra based businessman, Joseph Agbeko Kpogo, has donated some items to Parliamentary Candidate on the ticket of the National Democratic Congress (NDC) Richard Kwame Sefe, in the Anlo Constituency to combat the spread of coronavirus.
The items include Veronica buckets, hand sanitizers, Tissues and other items and Personal Protective Equipment (PPEs).

---
Apr 19, 2020
COVID-19: Nigeria Records 19 Deaths
Nigeria has recorded 19 covid-19 related deaths, says the Nigeria Centre for Disease Control (NCDC).
The Centre made this known in a tweet, saying the deaths were recorded as at Saturday, April 18.

---
Apr 19, 2020
Zimbabwe universities show innovation to help fight Covid-19
Like the rest of southern Africa, Zimbabwe is bracing for Covid-19 cases to climb. But there's been an unexpected publicity boost for its universities, which are producing face masks, hand sanitiser, and even a prototype ventilator, to help fight the pandemic when it really hits.
Zimbabwe has 20 universities and a number of polytechnics. Once well-reputed, the quality of education they offer has been called into question, not least when former president Robert Mugabe's wife Grace was improperly awarded a PhD by the flagship University of Zimbabwe seven years ago.

© HIT / facebook
---
Apr 19, 2020
Kenya activists demand education on safe disposal of Covid-19 waste
Environmentalists in Kenya have raised concerns over exacerbating the spread of Covid-19 due to improper disposal of personal protective equipment (PPE), such as face masks and gloves, during the epidemic. The alarm comes days after the government made it compulsory for people to wear face masks in public, or face arrest.  
Hamisa Zaja, secretary general of the United Green Movement, said poor disposal of contaminated PPE could see the virus spread further throughout the population.

© Joseph Jira
---
Apr 19, 2020
Wuhan lab boss says 'no way coronavirus came from us'
The head of a research laboratory in the Chinese city of Wuhan, ground zero of the coronavirus, has broken his silence to reject claims the facility could be the source of the pandemic.
In comments published in Chinese state media Saturday, Yuan Zhiming, director of the Wuhan Institute of Virology, said the accusations were a "conspiracy theory", adding "there's no way this virus came from us".

AFP
---
Apr 19, 2020
Experimental Drug, Opaganib Shows Potency In COVID-19 Patients
Experimental drugs 'Opaganib' by the Israeli biopharmaceutical RedHill Biopharma Ltd. has shown potency in a clinical trial on Coronavirus patients.
Opaganib is a new chemical entity administered orally to patients with COVID-19 and it performs "anticancer, anti-viral and anti-inflammatory activities."

---
Apr 19, 2020
COVID-19: Keta Municipal Hospital Begs For PPEs, Other Logistics
The Keta Municipal Hospital is appealing to benevolent individuals for support in terms of protective clothing and other logistics to enable it carry out its duty effectively in the face of the Coronavirus pandemic.
In a circular issued on Friday, the hospital said such support was "urgent."

---
Apr 19, 2020
National COVID-19 Fund Gathers Over GH¢12million
A total of 19 organisations and individuals have donated cheques, a vehicle and other items valued over Ghc12.6 million to the COVID-19 Trust Fund to support efforts at ameliorating the negative effect of the Coronavirus pandemic on Ghanaians.
They include the Bank of Ghana, that presented a cheque for GH¢10 million; the Petroleum Commission, GH¢1 million; the Ghana Insurers Association, GH¢500,000; Insurance Brokers Association of Ghana, GH¢200,000; National Insurance Commission (NIC), GH¢200,000; Cenpower Generation Company Limited, GH¢200,000 and Auto Parts Limited (APL Nissan), that presented Nissan NP 300 Hardbody Pick-Up Truck, worth GH¢144,000.

---
Apr 19, 2020
COVID-19: White House Petition To Investigate Bill Gates For "Medical Malpractice", "Crimes Against Humanity" Gains Momentum
A petition to investigate Bill Gates for "crimes against humanity" and "medical malpractice" has gained a staggering 289,000 signatures from concerned citizens, almost tripling the number required to get a response from the White House.
The "We the People" petition asks the federal government to call on Congress to investigate the Bill and Melinda Gates Foundation , stating that "Congress and all other governing bodies are derelict in duty until a thorough and public inquiry is complete."

---
Apr 19, 2020
COVID-19: Use Pandemic To Spur Radical Change – African Intellectuals To Leaders
THE TIME TO ACT IS NOW:
Letter Addressed to African Leaders Concerning the COVID-19 Crisis
The threats that are hanging over the African continent with regards to the spread of COVID-19 demand our individual and collective attention. The situation is critical. Yet this is not about mitigating another 'African' humanitarian crisis but to diffuse the potentially damaging effects of a virus that has shaken the global order and put under question the bases of our living-together.

---
Apr 19, 2020
Covid-19: Kpando MP Donates More Items To Margret Marquart Hospital
The Member of Parliament for the Kpando constituency, Hon-Della Sowah has donated more items to the Margret Marquart hospital as part of efforts to fight the novel Coronavirus.
Her donations came at the back of reported COVID-19 cases in Volta Region. As part of her efforts to reach out to all people in and out of Kpando constituency, she donated some medical facilities to the Margret Marquart hospital.

---