Apr 16, 2020
Covid-19: Maltiti Foundation Donates Sanitizers To Nima Residents
A Non-Governmental Organization, Maltiti Foundation donated boxes of locally made alcoholic based hand sanitizers to the people of Nima in Accra.
The initiative according to the founder, Madam Hajj Fawzie is to equip the less privileged against the spread of the deadly COVID-19 fight.

---
Apr 16, 2020
I'll Build Stronger MoH Teams To Fight COVID-19 – Okoe Boye
A Deputy Minister of Health-designate, Dr. Bernard Okoe Boye says he will focus on improving the efficiency of the various teams under the Ministry to kick out COVID-19 if approved.
President Akufo-Addo nominated Bernard Okoe Boye as a Deputy Minister of Health-designate on April 6, 2020.

---
Apr 16, 2020
Covid-19: Papa Owusu Ankomah Condition Stable – Ghana's Mission In UK
Ghana's High Commissioner to the United Kingdom and Ireland, Papa Owusu Ankomah is in "stable condition" after contracting the deadly virus.
This is captured in a statement issued by the Ghana High Commission in London.

---
Apr 16, 2020
Germany Lifting Some Restrictions, Death Toll Tops 131,000
Germany on Wednesday unveiled plans to lift some restrictions imposed because of the coronavirus pandemic, becoming the first major European nation to take on the delicate task of reopening without triggering a new wave of infections.
As US President Donald Trump came under increasing fire for ordering a freeze on American funding for the World Health Organization, the Group of 20 (G20) announced a one-year debt moratorium for the world's poorest nations.

German Chancellor Angela Merkel announced plans to lift some of the restrictions imposed because of the coronavirus pandemic. By Bernd von Jutrczenka (POOL/AFP)
---
Apr 15, 2020
Global backlash after Trump orders funding freeze on WHO
Criticism was heaped on US President Donald Trump on Wednesday after he ordered a freeze on funding for the World Health Organization, with friends and foes of the United States calling for solidarity in the fight against the coronavirus and its crushing economic impact.
The pandemic is entering a new and uncertain phase as governments debate how to reboot commerce without triggering new waves of infections of a virus that has killed more than 125,000 people.

A full-scale return to normality still appears a long way off in countries including Italy. By Miguel MEDINA (AFP)
---
Apr 15, 2020
China denies criticising France's coronavirus response
China has downplayed a diplomatic spat between Paris and Beijing over a Chinese embassy report implying that France abandoned elderly patients infected with the coronavirus, leaving them to die. 
Beijing dismissed the incident as a "malentendu", with a spokesperson for China's foreign ministry saying Beijing had never given any negative criticism of France's handling of the Covid-19 pandemic and had no intention of doing so.

AFP
---
Apr 15, 2020
G20 suspends debt repayments for poorest nations fighting Covid-19
The world's richest countries have agreed to freeze poor nations' debt obligations, shortly after nearly 20 European and African leaders made a joint appeal for a massive international effort to boost Africa's coronavirus response. "Only a global victory that fully includes Africa can bring this pandemic to an end," they said. 
Finance ministers of the G20 group of major economies, which includes the US, China, India and others, said they will immediately put on hold poorer countries' obligations to service debt they owe.

AFP/File
---
Apr 15, 2020
In the time of Covid-19, African leaders must put their people's health first
A group of 88 African intellectuals has come together to sign an open letter to African leaders, calling for them to re-think health as an essential public need in light of the Covid-19 crisis.
Among those who penned the initiative were Lionel Zevounou, a Paris Nanterre law professor, political scientist Amy Niang from Wits University, South Africa, and Senegalese development economist Ndongo Samba Sylla, who drummed up the support of like-minded colleagues, including in the Arab-speaking and Lusophone parts of the continent.

REUTERS - SEUN SANNI
---
Apr 15, 2020
French government boosts Covid-19 emergency fund to 110 billion euros
The French government has expanded its coronavirus rescue package to include bonuses for health workers, funds for poor families and additional aid for the unemployed to assist them through the Covid-19 lockdown that was extended by President Emmanuel Macron by four weeks. 
Two days after President Macron extended confinement until 11 May, French Prime Minister Edouard Philippe said the government had agreed to boost a 45-billion-euro fund to support the economy through the epidemic to 110 billion euros.

REUTERS - POOL
---
Apr 15, 2020
BREAKING

Global cases reach two million

By BBC News

Another day and another grim statistic, as the number of confirmed cases across the world reaches two million.

That's according to figures from Johns Hopkins University, which has been tracking infections and deaths around the world.

More than 600,000 cases have been recorded in the US alone, while 128,000 people have died globally.

The true number of infections is likely to be much higher, as levels of testing varies by country.

It's less than two weeks since the world reach a million confirmed cases.
---
Apr 15, 2020
BREAKING

WHO chief 'regrets' Trump halting funding

By BBC News

In the past few minutes the World Health Organization's chief, Dr Tedros Adhanom Ghebreyesus, has been speaking about US President Donald Trump's decision to halt funding for the organisation.

He said the WHO regretted the move, but added: "Our commitment to public health, science, and to serving all the people of the world without fear or favour remains absolute."

Dr Tedros said the agency was "reviewing" the impact of the withdrawal of US funds to "ensure our work continues uninterpreted".
---
Apr 15, 2020
Death toll in Italy rises by 578
The death toll in Italy rose by 578 on Wednesday bringing the total to 21,645, the country's civil protection agency said.
2,667 cases were reported, down from 2,972. The number of new reported cases is the lowest since 13 March.
The number of people currently in intensive care is 3,079. The number has been declining for the past 12 consecutive days.
Of those infected, 38,092 people have now recovered.
Italy's death toll is the second highest in the world after the US.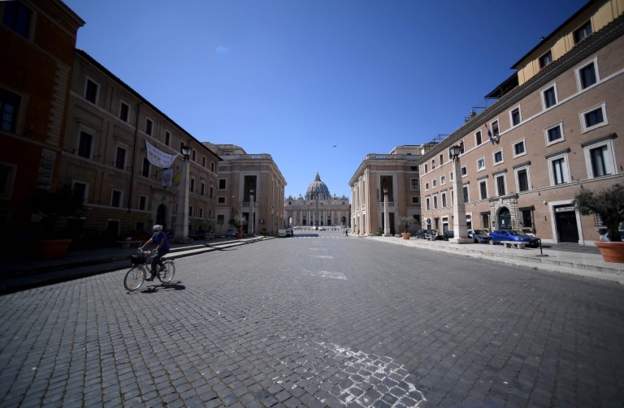 AFP
---
Apr 15, 2020
BREAKING

Merkel eases lockdown measures

German Chancellor Angela Merkel has announced plans to ease the country's lockdown.

Social distancing measures will remain in place until 3 May, and Ms Merkel recommended people wear face masks on public transport and in shops.

But from next week shops under 800 square metres will be allowed to open. Children will start to return to class from 4 May.

According to Germany's Robert Koch Institute (RKI), the country has 127,584 confirmed cases and has reported 3,254 deaths
---
Apr 15, 2020
WHO 'regrets' US funding cut
The head of the World Health Organisation said he regretted the decision by the US to withdraw funding.
Tedros Adhanom Ghebreyesus said: "The US has been a long standing and generous friend to the WHO."
His comments come after President Trump's announcement on Tuesday.
Mr Trump's decision has been criticised by philanthropist Bill Gates who described the de-funding as being "as dangerous as it sounds".
---
Apr 15, 2020
Canada economy takes major hit from Covid-19
By BBC News
Canada's economy has taken a big hit because of Covid-19, and is expected to get worse.
Statistics Canada reports that GDP declined by 9% in March. One million jobs were lost.
The Bank of Canada said today it would keep the overnight rate interest rate at 0.25%, after cutting it at the end of March.
The bank reported that in the first quarter, which included March, economic activity declined by 1-2%. It is estimating declines of 15-30% for the second quarter.
On Wednesday Prime Minister Justin Trudeau said he would be expanding the Canada Emergency Response Benefit to part-time and seasonal employees. Six million Canadians have already filed for the income support programme.
When asked what Canada would do now that Donald Trump has pulled funding from the World Health Organization, he said: "The path through this pandemic is for us to base ourselves on science and the recommendations of experts."
---
Apr 15, 2020
Suhum MP Donates To Orphanages Amid COVID-19
"Do things for people not because of who they are or what they do in return, but because of who you are." Harold S. Kushner.
The member of Parliament for Suhum, Hon. Frederick Opare-Ansah donated assorted items to all the orphanage facilities under his county.

---
Apr 15, 2020
COVID-19: No Case At Bono, Bono East And Ahafo Regions
The Ghana Health Service has dispelled rumours that some people have tested positive for the novel coronavirus in Bono, Bono East and Ahafo regions.
The Service has therefore asked the public to discard that information.

---
Apr 15, 2020
Covid-19 Lockdown Extension: Kasapreko Donates To Manhyia Palace
Africa's leading beverage manufacturing giant, Kasapreko Company Limited has donated to Manhyia Palace assorted drinks, water and hand sanitizers to complement the efforts of Asantene Otumfour Osei Tutu II in providing support to the vulnerable groups in the lockdown areas in Greater Kumasi.
The total value of the donation was GHC 40,000.00 and it included packs of Awake purified drinking water, assorted quantities of Royal soft drinks, 10/10 drinks, Veraldo drinks and cartons of KCL Hand Sanitizers.

---
Apr 15, 2020
Covid-19: Come And Remove Your Quarantined Guinean Patients From The Hotel — Scared Tamale Residents Demand
Some residents sharing a wall with the hotel where the eight ladies who tested positive for the Coronavirus are being quarantined in Tamale have called for their evacuation from the area.
The residents want them to be sent to an infectious disease treatment centre established at the Tamale Teaching Hospital (TTH).

---
Apr 15, 2020
Ghanaians Still Smuggling COVID-19 Patient Into Ghana – Oppong Nkrumah
Information Minister, Kojo Oppong Nkrumah, has disclosed that despite the closure of the country's borders, some Ghanaians continue to smuggle into the country, persons infected with the Coronavirus.
"Our focus is limiting and containing the spread [of COVID-19] because we can't say our real target is zero and we will have some occurrences so it's your ability to early contain and limit the spread that you have look at as a measure of success. In this instance, you noticed that the early efforts limited the importation of cases into the country. Even with the closure of the borders, we have Ghanaians still smuggling in positive cases into our borders but by closing the borders, we have massively reduced the risk," the Information Minister said in an interview on the Citi Breakfast Show on Wednesday.

---