12 October 2017
|
Career & Money
Surviving The Challenges Of Entrepreneurship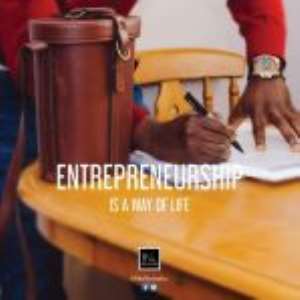 I have taken a challenging stand to live a life of an entrepreneur, sacrificing relevance to making essence and difference in others life.
Entrepreneurship is a way of life. It hard to teach someone. It rather teaches you as you journey through it, making you understand life as a journey of highs and lows.
It takes a bold and resolute decision to take this challenging but rewarding journey as an entrepreneur.
Its a journey of emotional and mental battle.
Without sacrifices you can't be a successful entrepreneur.
I have lived it , I have experienced it and I have come to believe that most businesses fail because their owners gave up in times of challenges.
So the big question is this.
What should startup entrepreneurs do to stand and survive the challenging times of their businesses?
Ans: Renew Your Energy
The energy of every startup entrepreneur emerges from inspiration and motivation.
That's why, stories and books of other successful entrepreneurs keeps us alive and renew our strength at all the time.
That's why awards nominations sometimes renew our effort to do more.
Most importantly, If you are not purpose driven, you often struggle to renew your energy in hard times.
You must understand, failure is part of success
Negative minds always fail. Be positive and hold your grounds.
The pains and suffering will surely come your way. Prepare for it and as you overcome them , you shall surely mature into a real entrepreneur ready for success and history.
The mentality of a successful entrepreneur is Possibility & Persistence'
I felt giving up, at my early stage of my startup business, no money, no investors and nobody to motivate me. I had just my faith in God.
My faith kept diminishing as the day goes by.
But I kept pushing , soaking my mind in the stories , books & journeys of successful entrepreneur. This i strongly believe renewed my energy to turn the story around.
Real startup entrepreneurs in Africa go through a lot that will blow your mind if you get to hear them.
The Legacy Train:
Entrepreneurs live and sacrifice their all just for their business and people they serve.
Putting them first ,putting ourselves last.
I don't remember paying myself salaries as a startup since I started my business. We often do this in order to pay our workers, making them our priority to help PUSH the mission and vision of the company.
In my world , there are two categories of entrepreneurs; the Legacy Entrepreneurs and the Lifestyle Entrepreneurs.
The Legacy Entrepreneurs Are driven by hard real purpose and thus enable them to survive in times of failures and challenges. They will sacrifice every good to make their business thrive , grow and expand beyond boundaries.
Lifestyle entrepreneurs are driven by what they will materially buy with the gains of their businesses and often not driven by purpose or real business based vision.
The trials of entrepreneurship are inevitable and entrepreneurs must get prepared for them.
Ghana's employment has come to halt ; Job Creation has converged with the Emergence of graduates from our Schools at a rate far below standard and its alarming. This is same in the entire continent of Africa.
The revolution of job creation that abound in the 19th century of industrialization and service provision Has been overwhelmed by the uncontrollable and inevitable emergence of graduates in the 21st century.
For this narrative to change in Ghana ,Africa and the World, Legacy entrepreneurs must emerge with businesses that have the potential to grow and expand to employ many for another duration of century.
The very reason , the startup businesses like Sikadan MONEY Lending, Srf Loans , WEAR GHANA, Stepklair SHOES, Asabea Ayisi, ASPA Footwear, Nimed Capital, etc must be supported to grow and nurtured into industries and commercial service providers.
I'm a proud legacy entrepreneur ,soaring selflessly to contribute to the change of this narrative and with your support we can make Africa a better world.