Surviving the Phone Interview.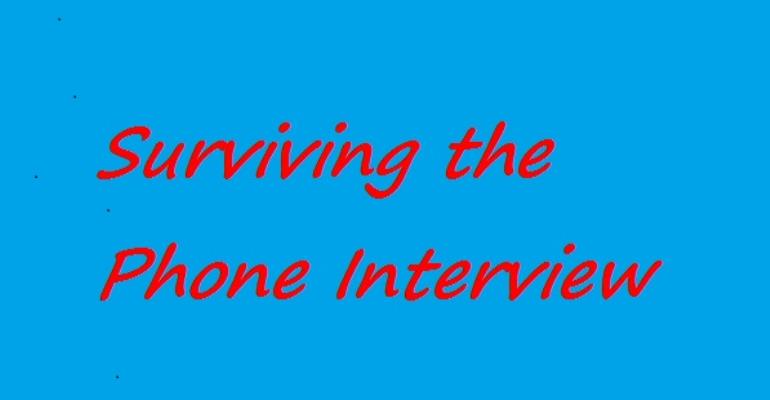 As an active recruiter (I am the owner of HIREghana, www.HIREgh.com ), my associates and I come daily through several candidates' CVs that we might need to prescreen for a given role.
A lot of time we (or any other Recruiter/ Headhunter) will call a candidate to get a quick first impression and possibly gut- feeling as to who you are and whether you can be a fit for that vacancy.
So, kindly allow me to offer some brief ' insider's' information and tips about the Phone Pre-screening Interviews.
.
Why even a Phone Screening Interview?
Whenever we are hiring, we (all recruiters) need to optimize the time required to interview all candidates for that role. And yes, it is our time and efficiency issues- we time is money for us, but it is also equally important to find a candidate as soon as possible because there is an employer missing 'those hands' (brains too) needed to perform a job. So, it is not our greed- it is a working reality for our employer- clients.
Obviously, one way that we can expedite that pre- screening process, is to make phone screening interviews, when applicable, so we could faster identify the most promising candidates before we proceed to a face- to- face pre- screening (set of) activities.
FYI: your answers and attitude to a quick phone chat, does tell us a lot about whether you have the right interpersonal/ social skills and whether you are really likely to have the right mix of skills and experience for the position and be the right cultural fit for the new employer. Enough for us to want to invite you to a personal meeting so we really get to know you better.
Btw, having a strong CV does not guarantee no Phone Screening Interview- so please do not argue with the caller (the interviewer) that you don't need this call since you have an excellent CV.
.
Here is a list of what we expect from you
We want to hear a little bit about yourself.
Yes, the first thing we want to know is who you are and get a feeling about your social skills. So, beware of your manners, especially when talking to a female recruiter (unfortunately, we women do occasionally get treated as 'little ignorant girls').
This is also the equivalent of the 'elevator pitch': basically, you need to tell the caller within 2-3 minutes who you are and what you have accomplished as a professional.
Btw, don't use slang – there is nothing causal about a phone interview. Thus obviously no 'bro' or 'sister' callings during that conversation- that might keep the interview on the spot.
Please, also refrain from replying: 'it's all in my CV'. Or most of us that might be the end of your application.
Why did you really apply for this job?
We would like to hear why you really want this job.
Simply put convince us. We do not want to match any candidate – whoever excellent- with a role which they will abandon a few months from now.
We 'need' to know the logic behind your desire for that role – and -sorry- it can't be to just make more money
What is a typical day in your current job?
You don't need to be a psychologist or a truth- detection specialist, to really understand whether this description really fits to what is reflected on the candidate's CV. And no candidate can 'prepare' for it, to trick an experienced recruiter. This is not a casual question.
Why are you looking for a new job?
Be honest and let us know the real 'why'. And it is ok if you have been fired. It is part of the professional lifecycle.
What new skills have you acquired/ got/ learned recently?
This provide an indication as to whether you are seriously keeping your career up-to-date or you are just up to another job- hoping opportunity.
Where do you want to be in 3/5/10 years?
Basically, are you after a job or a career and why.
Is there anything else I would need to know about yourself?
Basically, we are asking you how do you thing that you can add value to this role/company if you get hired.
This is an opportunity for you to tell us things that they did not fit in your 2-page CV (please stop that craziness of long multi-paged CVs – 2 pages are more than enough)
Do you have any questions?
Any conversation, whether in-person or over the phone, is a dialog between two people. May we assume that it would be fair from us to expect questions from you, if you are really interested on that particular role.
Also, your kind/type of questions, it is another opportunity for us to get a better insight on how you are as a candidate.
Show appreciation – Active Listening too.
Even when we call you and we really caught completely off guard, make us feel that we are welcomed and makes us here your enthusiasm, warmth and smile in your voice – even if you need to reschedule our phone-call.
Also, show that you are an active listener; otherwise, besides been really weird talking to someone and not receiving any acknowledgement, it also displays lack of appreciation of our call and time.
How to 'close' that interview- call
As the conversation wraps up, thank the interviewer for his or her time.
You also need to make sure that you do understand the next step(s) in the hiring process- but do not push the interviewer for any commitment, nor action- nor time- wise.
A warning: Accomplishments -not tasks, please
Sometimes, the answers to all of the above, if a description of duties (at best a recitation of various job descriptions). We know what the job descriptions are for most roles – we want to hear your quantifiable accomplishments for every employment period.
It's the equivalent of the old expectation of for example telling me that you did it using a screwdriver and a hammer (so what tools or methodologies or Best Practices did you use) to accomplish what, at what given time frame, as what level of participation (did you do it yourself or part or a team? Did you manage that team?), etc.
.
How-to tell if it's a 'fake interview'?
Simple... when the recruiter/ interviewer inquires about empty vacancies in your current company or asks you for names of people in your company (like HR or hiring managers, etc) or phone-numbers of references who are in senior roles. Basically you are used for the business development and personal income opportunities of that recruiter. Yes, it's unethical.
Another equally unethical practice, if when you are called for a 'role' and it turns into a discussion where the caller is trying to sell you something e.g. cv- or interviewing- skills services (however excellent these might be), so that you could 'better fit' for the role. Yeap- that's unethical too!
I am also worry of interviewers who invite you to their office for a generic interview when there is no specific role. Why will they do it, besides trying to 'fish' information from you? I know that all Recruiting Agencies are paid by the client, meaning that they make money when they interview potential candidates for a specific role or when they do business development. So what will be their motivation to put all that on-hold so that they can have a great long chat with you?
.
Can you help us?
Sure there are times that after a few minutes, it is clear that you are not the right fit for that role, or you have no interest in that role. A great networker, will always propose someone else / a 'replacement candidate' from his/her network who can be a better- fit or more appropriate candidate. Be sure that if you do help us, we do remember it and when there is a new role that is a fit for your skills, we will be calling you first.
In general in life, going the extra mile to help, it is really not that hard and it always pays off. And believe me, when you are in that 'extra mile', it is never crowded with traffic.
.
In Conclusion.
This is by no means an exhaustive list, but I hope that now you have an idea as to what to expect. The interviewer can also ask you for example about:
Whether you have a car and a clean driving license
Your availability/ termination notice
Your current net and gross salary; your salary expectations too
What are your greatest strengths?
What is your greatest weakness? (we are tired of hearing candidates telling us tat they are perfect- we are searching for humans)
What is your biggest professional mistake and how do you wish that you had handled it differently?
Who was your worst supervisor?
What is wrong with your current/ last employer?
Whether you have a criminal record
……
It's basically about helping the caller (the interviewer) decide whether and how to proceed with your candidacy for that role. It Is not a casual call, so watch your manners and your way of answering.
So, please help us help you. Be nice and provide us with honest answers please.
Being well prepared for a preliminary screen can provide you with a significant advantage in the hiring process. Although it isn't a replacement for a face-to-face interview, making a good impression over the telephone can increase your chance of being asked to an in-person meeting and ultimately to landing the job.
.
Thank you and Good Luck please.
Irene
.
About the Author: Irene Gloria Addison is the owner of HIREghana [Human Intelligence Recruitment], a Leader Recruitment Agency and HRM & OD Consultancy. Irene -who has a LinkedIn footprint of 30.000+ connections- and her team have also been constantly mentoring and coaching candidates on how to improve their job-hunting & career- planning skills.
Irene also writes a semi-regular weekend job-advice column at https://www.modernghana.com/editor/IreneWorkplace
Irene welcomes your feedback/ comments/ remarks/ suggestions via your email message to [email protected]
Our website is http://www.hiregh.com/
© 2017 Irene Gloria Addison and © 2017 Human Intelligence Recruitment