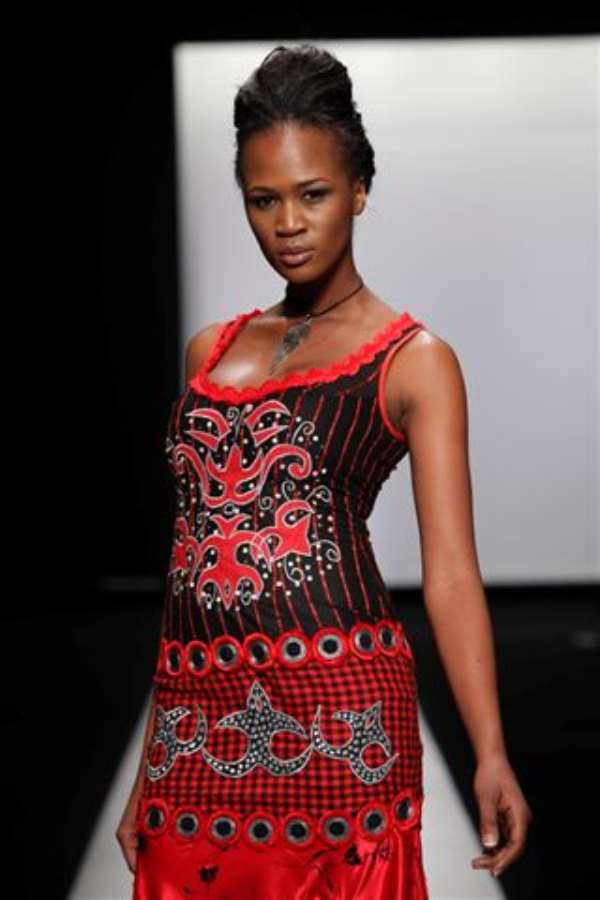 Ben Nonterah's new independent label, NONTERAH, represented Ghana at this prestigious Arise Africa Fashion Week, in Johannesburg South Africa. The designs of Nonterah captured the audience's attention with its exquisite tailoring, interesting vibrant prints and unique detailing. Working with mainly natural fabrics, each item was hand made, ensuring that no two items of clothing is the same.
All the garments are made in Ghana, using a mix of local and other natural fabrics, African motifs such as Ashanti adinkra symbols and accessories, Nonterah creates his designs to stand out as well as be stylish and wearable anywhere in the world. His designs therefore reflect the brands by-line of being African and yet globally urban. Ben also incorporates fabrics from the north of Ghana into his designs in order to give back economically to that region.Nonterah's creations are patronized and worn by musicians, athletes, politicians and other personalities across the globe.
The Nonterah logo depicts the circle of life and an arrow that points to the ground, representing being grounded. The Nonterah brand has been showcased in countries such the UK, the USA, South Africa, Ethiopia, Germany, Cameroon, France and Ouagadougou. Some of the events have been the Kora Awards 2001 in Sun City (where he and his then business partner won the Kora Award for Fashion), the Afric Collection in Cameroun, FESPACO and SIAO in Bourkina Faso, Africanmosaique Fashion Show in Ethiopia and the Met Face of Africa 2008 in South Africa.
The brand also won the Most Innovative Exhibitor in garments at the Ghana International Trade Fair in Accra in 2000.Ghana was also represented by the young talent Aisha Obuobi who designs Dutch wax outfits under the label Christie Brown. The Christie Brown label designed by Aisha Obuobi is wax prints sewn in simple modern, elegant styles that work for all body types. Other Ghanaians designers showcased were Tina Atiemo and Sika Designs, both based in the UK.