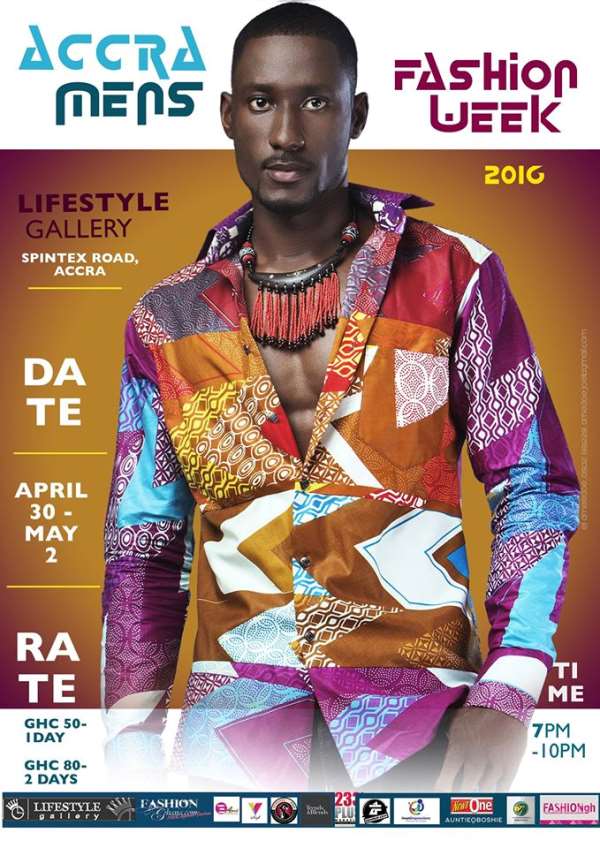 All is set for Ghana's first ever Mens Fashion and Accessories Week (AMFW) from April 30 and May 1, 2016 at the Lifestyle Gallery on the Spintex road in Accra. The event put together by Fame Model Management will gather the best of Ghanaian and International designers to showcase the latest trends in the menswear segment.
Confirmed designers for the two (2) day event includes Marie Val Hagan, Bri Wireduah, Quofi Akotuah, Sir Mac Clothing, FKSY, Dublife Clothing, Jay Ray Clothing, Bushai Weave Collection, among others, all from Ghana and Samara, Theo style, Barros Coulibally, Moustapha Traore, Yale Woody (Ivory Coast), Team Onction Clothing, Fenu Style (Benin), FKK Fashion (Togo), Soulman Bonfils (Cameroon).
According to the C.E.O. of Accra Mens Fashion Week, Nana Mensah, the event, first of its kind in West Africa and second in Africa will sell Ghanaian fashion to the international community to help promote made in Ghana products and boost tourism through fashion with special awards for 'Best emerging and established designers and models'.
'We have invited the crème de la crème of the fashion and entertainment industries as special guests with a special appearance by Miss Malaika Ghana 2015 winner as well as over thirty (30) Ghanaian and International Male Models' and we are expecting to stage a fun show 'he stated.
Limited tickets for the two nights show are available at Airport Shell, Silverbird Cinemas, www.ticketdoug.com or via 0208821908. The event is supported by Lifestyle Gallery Africa, Imani Impressionz, FASHIONgh, Eapril PR, Ebony and Ivory productions, TV7, www.fashionghana.com , www.auntieoboshie.com , www.ellisgh.com, Keelson Studios, 2CP Photography, www.akwaabagh.com , www.trendsnblendsgh.com, www.braperruci.com , events guide, plus233 magazine, Newsone, Style Muse, Usher Safari