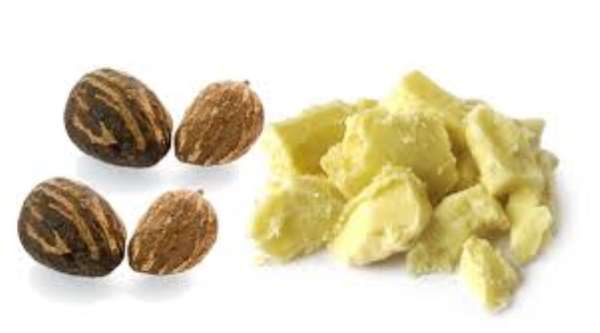 Shea Butter or Vitellaria paradoxa (formerly Butyrospermum parkii), commonly known as shea tree, shi tree, or vitellaria is a tree of the Sapotaceae family. It is the only species in genus Vitellaria, and is indigenous to the continent of Africa. The shea fruit consists of a thin, tart, nutritious pulp that surrounds an oil-rich seed from which the shea butter is extracted.
Lately, there's been a lot of buzz over whether or not Yellow Shea Butter is the real deal. So what's the difference? Though both butters come from the seed of the Karite Tree, a root from another magnificent African tree, the Borututu Tree, is added during the milling process of the Yellow Shea Butter. This natural wonder, found deep in the jungles of Africa, is reknown for its cleansing and detoxifying properties.
The shea tree is a traditional African food plant. It has many nutritional benefits. The fruit resembles a large plum and takes approximately 4 to 6 months to ripen. The tree starts bearing when it is 10 to 15 years of age, and full production starts between 20 and 30 years of age. It then produces nuts on average for about 200 years.
Shea butter is composed of five (5) fatty acids.
Palmitic, stearic, oleic, linoleic, and arachidic. Roughly 85 to 90 percent of the fatty acid stearic and oleic content. The stearic acid gives it a solid consistency, which the oleic acid influences how soft or hard the shea butter is, depending on ambient (surrounding area or environment) temperature.
The shea tree grows naturally in the wild in the dry savannah belt of West Africa from Senegal in the west to the Sudan in the east. This area covers nineteen (19) countries on the continent of Africa.