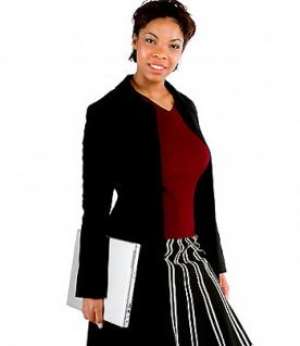 Many of us work in industries that allow us to wear business casual attire. But it has become an almost impossible task to dress for work during the warm months when so many of us do not understand what exactly "business casual" means. The term business casual has been interpreted by some . daring fashionistas to include flip flops as office attire and by other more conservative dressers to simply be a suit minus the tie! It seems as though we have all committed a fashion faux pas or a business no-no at some point in time all under the mistaken belief that we were dressing in a.business casual mode. You can usually get by with simply observing what the rest of your office mates are wearing ... but even that can lead you astray. Your best bet is to check with your company's Human Resources department to see what the policies are.on what is considered acceptable office attire.
In case you're still stuck, feel comfortable and look profess- ional this summer by following these tips.
Shorts: There are various lengths that can be appropriate for the office. Capri's when worn with a shirt or short jacket can look casual yet professional in a less conservative office environment. Save your short shorts for the beach..
Shoes: In a conservative office any shoes you wear must cover the toes and heel. In a less conservative office, sandals are likely appropriate. Sandals should be stylish and tasteful and of course you should keep your toes groomed and manicured. Flip flops are not sandals and should not be worn to any office.
Tank Tops/ Halter Tops: They are tight, with a hint of cleavage, they hug your body quite right and are nice when worn with your cute jeans. Get it, when worn with those jeans; however you may wear them under a jacket.
Elaborate Necklaces: The beads were cute when you went to the Angelique Kidjo concert, and they expressed your individualism. By all means be you, but keep it subtle, one necklace is cute, but five is very distracting.
Sheer Material: Thin wisps of lace and feathery chiffon are hot this summer but not so hot for the office environment. I know that you are stylish and you are the type of woman who will match her bra with her see through blouse. Enough said: it's still going too far. Wear a tank top under the sheer top or save it for a date.
Jeans: There are so many types and brand names of jeans that it is almost impossible not to find appropriate pair for work. But only wear jeans to the office if you are given an explicit go ahead in the dress code (such as having weekly casual Fridays). Ripped, low-rise, skintight or grungy jeans have no business in any place of business.
Advertisement
Graphic T-Shirts: "My Boyfriend Is Out Of Town" or "Kiss Me"... should the entire office know about your social status, political beliefs, and romantic attachment simply by the words on your tee-shirt? Avoid tee-shirts but if you wear them (example, paired with a skirt) then stick to plain well tailored tee-shirts.
Skirts: How short is too short? How tight is too tight? This is not the time to negotiate these questions. Skirt length should be appropriate for office or for your job, this means below the knee if you are working in a conservative environment and an inch above the knee max if you're working in a less conservative environment. The key is to keep your skirt easy to move around in. If you have to tug at your skirt all the time, it's a good sign that it's not the right fit.
Sleeveless Tops: Armpits are a rare and wonderful human part and deserve to be celebrated, just don't do it in the office. It is, however, appropriate to wear sleeveless tops under a jacket
Floral Print Sundresses: Yes there are comfortable, but can you be taken seriously looking like you are off to a picnic. Control the flowers and control your career.
The most important tip is to use your common sense. There is nothing more inappropriate than a fidgety uncomfortable person who is tugging at her skirt to keep it at the right length or adjusting the straps of her tank top because they keep slipping off her shoulders. Just remember if you are unsure about whether an outfit is appropriate for the office, it's better to change into something you feel more confident about. After all, unless you're a runway model, your job is not to be in vogue