Woman's Stomach Ache was Really a Surprise 9-Pound Baby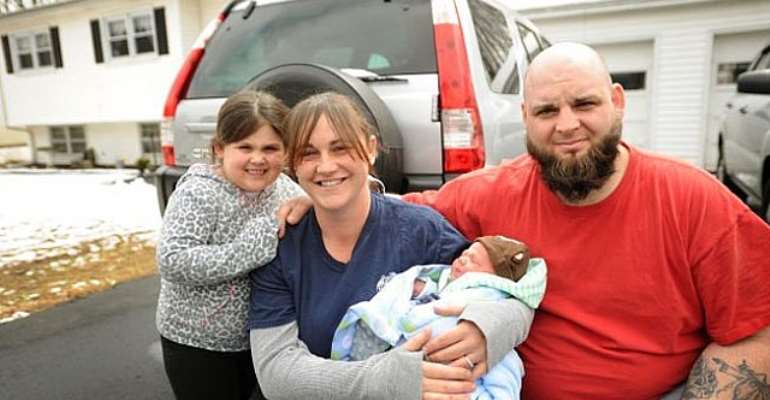 Jennifer Scollin hadn't been feeling well lately and chalked it up to a stomach bug that was going around. But when the Connecticut woman woke up Saturday morning with bad stomach pains, she called her boyfriend to come home-and minutes after he did, her water broke. They called 911, and she ended up delivering their second child in an ambulance parked in her driveway.
"We didn't know at first it was a baby coming, but once we did it happened fast," she tells theConnecticut Post. "Two pushes and he was out." Scollin says she never suspected she might be pregnant: "I had been feeling fine until the past few days and I had been getting my 'womanly thing' every month until last month," she says.
And the 9-pound, 3-ounce Cole Michael Thomas Dillman is Scollin's second child, so she is well versed in what pregnancy (usually) feels like. Scollin and her son are both doing well and were discharged from the hospital yesterday. Notes a hospital rep, "This sort of situation is uncommon, but we are always prepared for anything."
Indeed: A similar situation played out Feb. 28 in Indiana, where a mother-of-two went to the hospital (after putting in an 8-hour shift on her feet at her assembly line job) with what she feared was a burst appendix; Mandy Batchelor gave birth to a full-term baby boy, report the Banner-Graphic and WLS. (In this recent case, a woman knew she was pregnant but received a big surprise during delivery