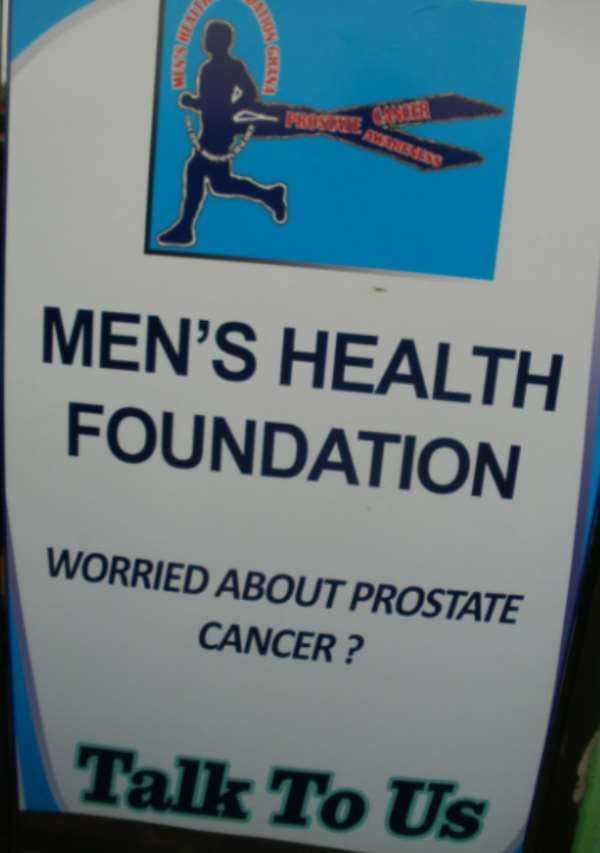 The worldwide incidence of prostate cancer is higher among black men than any other male group. Black ancestry is a key risk factor. There is the need for awareness and better treatment for black men.
Prostate cancer is the most common cancer in men after hepatocellular carcinoma in Africa (Parkin et al 2003), but in the United States and Northwestern Europe, it is the most common cancer and the second common cause of cancer deaths (Jemal et al 2002).
Very often you find elderly male patients in Ghana above 40years complaining of a feeble urinary stream, hesitancy, dribbling, having to urinate frequently and urgently, feeling that they can't empty their bladder completely and loss of libido.
These observations are usually on the increase whilst little or no effort is made to raise awareness for early detection and treatment. Eventually in Ghana, persons who retire with prostate problems spend a significant amount of their time and money on care that may be terminal or more expensive. Prostate cancer (especially in the early stages) is often asymptomatic.
The issue of prostate cancer in men in Ghana is not supposed to be toyed with. Lots of men of all categories of life are battling with this terrible disease. The situation has become one of the most challenging men's health conditions in Ghana where there are not enough prostate cancer screening centers in the various regions to help in the fight for early detection of prostate cancer.
Klufio conducted a retrospective analysis of the frequency and pattern of genitourinary (GU) cancers seen at the Korle-Bu Teaching Hospital, in Accra, between 1980 and 1990. According to this study, prostate cancer accounted for 349/479 GU cancers in males (81.4 percent).
Wiredu and Armah conducted a similar analysis for all cancers at the same institution between 1991 and 2000. In this study, prostate cancer accounted for 17.35 percent of all cancers identified (635/3,659) in males and females and about 31.8 percent of all cancers in males.
The GLOBOCAN 2002 database (compiled by Ferlay et al. for the International Agency for Research on Cancer) provides the following data for prostate cancer in Ghana:
Estimated number of new cases per year: 921
Estimated age-standardized rate of new cases per year: 19.3/100,000
Estimated number of deaths per year: 758
Estimated age-standardized number of deaths per year: 16.0/100,000
Estimated 1-year prevalence: 734
Estimated 5-year prevalence: 2,451
The WHO Impact of Cancer in Your Country data tables provides the following data for prostate cancer in Ghana:
Estimated age-standardized incidence (in 2002): 71/100,000
Estimated age-standardized death rate (in 2005): 55/100,000
Zeigler-Johnson et al. have demonstrated clear ethic differences in genotypes for genes associated with androgen metabolism, including the SRD5A2 and CYP3A4 alleles. They showed that Ghanaian, Senegalese, and African-American males have the highest frequency of alleles previously associated with increased prostate cancer risk.
A publication by myjoyonline on august 03-2012 stated that Almost 1,000 Ghanaian men are diagnosed with prostate cancer each year, and yet many are unaware that they have this form of cancer.
This is according to reliable research data and estimates from the Ghana Health Service.
Researchers say men in Ghana have higher risk of developing this form of cancer especially in their youthful ages and, therefore, they should find it very important to go for screening and treatment if the need arises.
Also on Aug 7, GNA - Ghana has exceeded global prostate limits as the country records 200 cases out of every 100,000 men as against 170 world-wide, a survey by the Korle-Bu Teaching Hospital revealed. Dr Mathew Kyei, Urologist said at a Ghana Health Service monthly programme in Accra on Tuesday that the situation called for immediate attention from government and the public to reverse the trend. Speaking on: "Prostate Cancer Disorders in Ghana", he said in 2006, 60 per cent of all cancers reported at the Korle-Bu Teaching Hospital were prostate cancers, adding that 27 people died from the disease in 2005 alone.
Prostate cancer rates in Ghana increased overtime and have been comparable to those for distant stage in Africa-Americans. These patterns are likely due to differences between African-American men in medical care access, screening, registry quality, genetic diversity and westernization.
Incidence rate in Ghana will likely to continue to rise with improving economies and increasing westernization, warranting the need for more high quality population-based registration to monitor cancer incidence in Ghana.
There also may be uncertainties in the person years at risk which could result in either under –or overestimation of the rates. Recent population –based data in Ghana show that the prevalence of obesity, a potential effect of westernization, increased from 5% in 1998 to 9% in 2004-2006, and the prevalence of overweight increased from 17% to 32%. US non-Hispanic black men had a prevalence of obesity and overweight of 34.0% and 69.1% respectively, in 2003-2004.
Both clinical and etiologic investigations in Ghanaian men are added to further clarify reasons for the rising prostate cancer incidence. Recent findings from Genome-Wide Association Studies(GWAS) showing that genetics are more important factor in prostate cancer .
Recent GWAS have linked over 30 independent loci to higher risks of prostate cancer in populations of European descent, including multiple loci in chromosomes 8q24. Notably some of the known risk alleles in 8q24 are more common in African Americans than non-African populations suggesting that genetic variation may contribute to racial disparities between Africa American and some other populations.
A recent GWAS specific to men of Africa descent also found similar results for previously identified variants in 8q24 but discovered an additional susceptibility locus at 17q21.
It is noteworthy that the frequency of the 17q21 risk variation (rs7210100) is 4 to 7 in men of African ancestry, including Ghanaian men(7%), but is less than 1% in non-African populations ( based on data from the 1000 Genomes Project).
This novel finding suggests that some risk loci may be specific to African populations. Whether 8q24, 17q21, or other risk variants play an important role in prostate cancer in African men warrants further confirmation, and future studies are needed to determine their underlying biological mechanisms.
Regarding the future trend of prostate cancer in Ghana, inevitably there will be increases. This population, both in rural and urban areas, is highly partial to western diet and when enabled with rising prosperity, readily forsakes the traditional diet.
The most significant risk factor elicited, an increased exposure to a western diet is also noted for migrant populations in transition as with Japanese migrant (Kolonel et al .1998: Severson et al 1989). Investigations on dietary and other evaluations of men at different risk to prostate cancer have been reported by Ross et al (1990) and Pusateri et al 1990.
The groups studied included Seventh Day Adventists, Non dietary non-vegetarians and lacto vegetarians. It was concluded. Inter alia, that dietary fiber may influence the metabolism of estrogen s and androgens by altering their enterohepatic circulation through binding and subsequent fecal excretion.
Undoubtedly, with improved economies and clinical diagnosis as well as increased westernization, incidence rate in Ghana are more likely to continue to rise.
Therefore, a high priority in this population should be the implementation of high-quality population-based cancer registration to monitor incidence rates in Ghana and to develop effective cancer prevention strategies.
These observations also consistent with the fact that screening is uncommon in Ghana, and thus cancers are more likely diagnosed at a more advanced stage. In fact, advanced disease accounted for 75% of cases in Ghana.
Prostate cancer is mostly presently at the hospital when the disease is advanced and metastasized to other vital organs, a stage which then becomes difficult, if not impossible to treat and may be fatal. This is mainly due to ignorance of the disease and dependant on herbal remedies. Men must seek for early screening services for early detection and treatment.
Raphael Obu
Msc Prostate Cancer Care
Msc Radiotherapy & Oncology, Breast Cancer Radiotherapy Module
Sheffield Hallam University, UK
Men's Health Foundation Ghana
[email protected]
Tel:0541090045
Selected references:
1.A.R.P Walker, B.F Walker, N.G Tsotetsi, C Sebitso, D.Siwudi& A.J Walker-MARCH 1992. Case Control Study of Prostate Cancer in Black Patients in Soweto-South Africa. Brj cancer 65(3):438-441
2.Closed to 1,000men diagnosed with prostate cancer yearly. Published On: August 3, 2012 www.lifestyle.myjoyonline.com › Health‎
3. F.K. N. Arthur, F.A. Yeboah, M. Adu-Frimpong, E.E. Sedudzi1, K. A. Boateng. PROSTATE CANCER SCREENING IN GHANA -A CLINICAL BENEFIT? Journal of Science and Technology Vol. 26(1) 2006: 1-7
4. Ghana exceeds global prostate cancer records. Tuesday, 7 August 2007. www.ghanaweb.com › News › 2007-08-07
. 5. Lisa W.Chu, Jamie Ritchey, Susan S.Deversa, Sabah M.Quraishi,
HongmeiZhang,& Ann W.Hsing(2011)-Prostate Cancer incidence rates in Africa
6. Prostate cancer Africa. Data on Prostate Cancer in Ghana. last reviewed 26, 2008 and updated October www. pcafrica.wordpress.com/site-map/ghana/data/‎