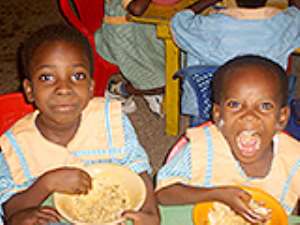 Mrs Florence Ayisi Quartey, Research Officer at the Children's Department of the Ministry of Women and Children's Affairs, has appealed to parents to avoid being too harsh on their children at home which could force them onto the streets to engage in anti-social activities.
"Children become afraid and frustrated if parents are harsh on them at home, instead of guiding and correcting them with love," she said.
Mrs Quartey was speaking at a stakeholders' meeting in Sunyani to campaign for the adoption of measures to curb violence against children.
The meeting, organized by the Brong-Ahafo Regional Directorate of the Department of Children, was attended by representatives of the Department of Social Welfare, Customs, Excise and Preventive Service, Prison Service, Sunyani Municipal Assembly, Information Service Department, the Media and the various communities in the Sunyani Municipality.
The research officer advised parents to desist from making statements that would adversely affect their children.
She noted that out of fear of a punishment by parents for committing an offence, some children might leave the home and could easily fall into the company of bad peers.
Mrs Quartey condemned the manner in which some parents punished their wards, citing that between 20 and 65 per cent of school-going aged children were reported having been verbally or physically abused at home.
This, she said, indicated that violence against children was on the increase and called for effective collaboration by stakeholders to control the trend.
Mrs Quartey attributed violence on children at school to the failure of some parents to attend Parent Teacher Association meetings, to pay fees and to provide other needed materials for their children.
To address the issue of violence on children, she said steps had been taken including legislation, policy formulation, establishment of institutions, research and media publications to ensure that the department achieved its set targets.
In a resolution, the various stakeholders noted with regret that policies on children's affairs were easily formed but difficult to implement and urged the appropriate authorities to promote the effective implementation of such policies.
Mr Maxwell Amankwa, a community representative, suggested to the Ministry to outline a common programme at the community level to help embark on massive campaigning against violence on children.

Mr Hammond Oppong Kwarteng, Brong-Ahafo Regional Coordinator at the Department of Children, noted that the department alone could not resolve the situation and called on the general public to contribute their quota towards the promotion of a violence-free environment for children.
He said a five-year national action plan against violence on children from 2008 to 2012 had been set up to create a safe environment that would protect children from all forms of violence in schools, work place and in their various communities.