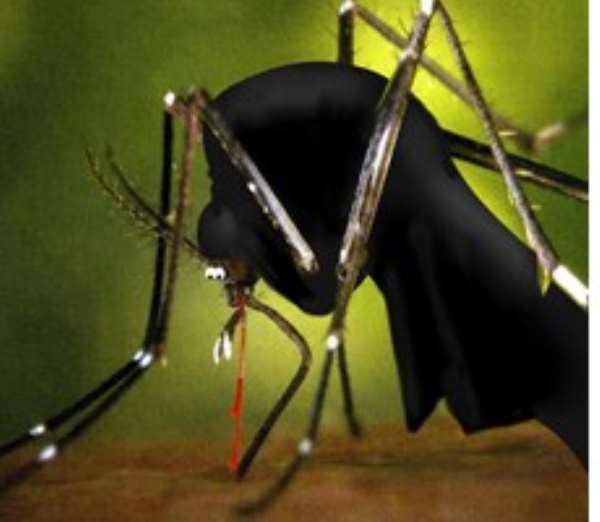 Malaria is a deadly disease in Sub-Saharan Africa which kills about 800,000 people each year. The disease is a leading cause of death for children under five, and claims the life of a child every 45 seconds.
Although preventable and treatable, life-saving anti-malarial medicines do not always reach the patients who need them, particularly those living in remote areas.
This is a situation which has been a great source of worry to the Health Sector and its allied agencies.
Malaria spreads through the bite of a mosquito. When a mosquito bites an infected person, it sips the parasites found in that person's blood. The mosquito can spread the parasite to other people. When an infected mosquito bites a person, the parasite enters the person's circulation and travels to the liver where it grows and multiplies. At this time, there are no visible symptoms and the victim does not feel sick.
The parasite may stay in the liver for different lengths of time, ranging from days to months. At some point, the parasite leaves the liver and enters the red blood cells where it grows and multiplies in numbers. The Plasmodium parasite is spread by female Anopheles mosquitoes, known as night-biting mosquitoes. They usually bite between dusk and dawn.
World Malaria Day was established in May 2007 by the 60th session of the World Health Assembly, the decision-making body of the World Health Organization. The day was instituted to provide education and increase global understanding of malaria, sharing information on the implementation of national malaria-control strategies, including community-based activities for malaria prevention and treatment in endemic areas.
Have those objectives been achieved? No. Countries are still grappling with overcoming the disease. Malaria still kills an estimated 660 000 people worldwide, mainly children under five years of age in Sub-Saharan Africa. Pregnant women are also badly affected, so they are advised to visit health facilities regularly for routine malaria checks. Every year, more than 200 million cases of malaria occur, many of which are never tested or registered.
If the world is to maintain and accelerate progress against malaria, in line with Millennium Development Goal (MDG) 6, which aims to have halted by 2015 and begun to reverse the incidence of malaria (and other major diseases), more funds are urgently needed. As part of measures to curb the prevalence of malaria, AngloGold Ashanti, in partnership with the Global Fund, has carried out wide ranging programmes aimed at eradicating the disease.
AngloGold Ashanti embarked on an indoor residual spraying (IRS) programme in the Upper West Region in 2012. AngloGold Ashanti's award winning malaria control organization is extending its areas of operation to other districts in Ghana. These include: the Upper East, Upper West, Northern and Western regions, beyond Obuasi and its surrounding districts. More than 1.3 million people in 12 districts across the Upper East and Ashanti regions benefitted from AngloGold Ashanti's malaria programmes (AGAMal) in 2012.
This year, AGAMal will extend the programme to the West and Upper West regions, reaching an estimated 1.2 million people.
By the end of 2013 the programme should reach 22 districts, including additional areas in the Upper East region. With $133 million funding from the Global Fund, after 5 years, AGAMal should be spraying in 40 districts and municipalities in malaria endemic areas, most in northern regions of Ghana. Besides saving lives, the AGAMal programme has created significant local employment opportunities for residents of the beneficiary districts.
In 2012, over 750 people were trained and employed to run the programme.
As part of its basic disease control programme, AGAMal educates people on the use of mosquito nets and how to keep the environment clean to discourage deadly mosquitoes. To coincide with World Malaria Day 2013, AngloGold Ashanti's Iduapriem Mine, in partnership with the Ghana Health Service of the Tarkwa- Nsuaem Municipality, will launch its malaria control programme.
This will be marked by processions through the principal streets of Tarkwa, with placards carrying messages about ways of fighting malaria, to eradicate of reduce to the bare minimum incidence of the disease.
The public event will be followed by a grand durbar of chiefs and other attendees, at Bonsa.
Distribution of insecticide treated nets, along with the application of larvicide in mosquito breeding areas such as water bodies, have also proved instrumental in the reduction of malaria cases. Other methods used by AGAMal include information, education, and community awareness activities on how to recognize and prevent possible infections, as well as early effective diagnosis and treatment, once the disease has been contracted.
AngloGold Ashanti feels very strongly about making the communities in which it operates better off for the company's presence through sustainable development initiatives. It believes that local community involvement in long term partnerships is key to sustainable operations.
The theme for 2013 and the coming years is, "Invest in the future. Defeat malaria." By doing this, corporate organizations in Ghana could help to eradicate malaria, reducing it to a bare minimum at the workplace increasing productivity.
AngloGold Ashanti has taken a lead in these initiatives through a proven and successful public private partnership model, dedicated to improving healthcare and contributing to the economic development of its host communities and beyond, in Ghana.