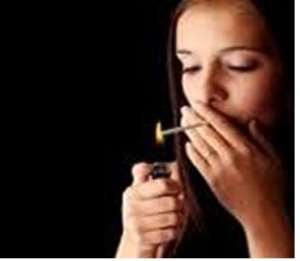 Smoking more than doubles a woman's risk of developing rheumatoid arthritis
Smoking just a few cigarettes a day more than doubles a woman's risk of developing rheumatoid arthritis, according to a new research.
The study found that women who smoked between one and seven cigarettes daily were more than twice as likely to develop the disease as those who had never smoked.
It also found that women remained twice as likely to develop the disease even 15 years after giving up smoking.
Rheumatoid arthritis (RA) is an autoimmune condition that causes the joints to become painful and swollen.
Symptoms may subside for many months or even years before a flare-up which can make movement difficult and very painful.
It affects around 600,000 Britons and is most commons in women aged between 40 and 70. It can, however, begin at any age.
There is no known cure for the condition and treatment usually involves taking anti-inflammatory painkillers or steroids during a flare-up
The study, carried out by Karolinska Institute in Stockholm, analysed 34,101 women aged between 54 and 89. Of those, 219 suffered with the condition.
Data showed that the risk of RA increased with the length of time the woman had been smoking.
Smoking for 25 years raised the risk 1.6 times compared with smoking for just one year.
Previous research has suggested that drinking alcohol can reduce a person's chance of developing arthritis.
Researchers, also from the Karolinska Institute, discovered that drinking five or more glasses of wine or beer a week can halve a person's chance of developing RA.
They found that people who consumed more than five units a week were up to 50 per cent less likely to develop the disease.
The biggest benefit was seen among some smokers who had a genetic risk of developing the arthritis.
Although more work is needed to explain the link, it is thought alcohol suppresses the immune system and reduces the inflammatory process behind the condition.
Another recent study suggested that women who are regularly exposed to sunlight are less likely to develop rheumatoid arthritis.
The research, which was published in the journal Arthritis Research and Therapy, suggested that women can reduce their risk of developing the disease by a fifth by regularly exposing themselves to direct sun.