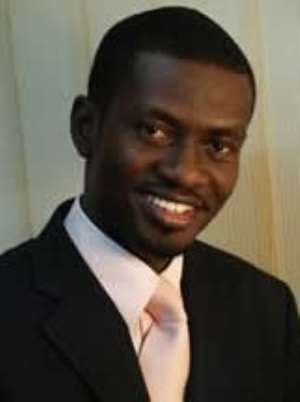 ACCORDING to Israel Laryea, the only Ghanaian media practitioner to pick an award at the CNN Multi¬Choice African Journalist Awards 2008 held last weekend, even though he relishes the recognition and prestige that go with his award, he still considers the event as a huge eye-opener for him.
For Israel, the event which brought together 23 journalists with a variety of backgrounds from 14 different countries to interact, share ideas and brainstorm on how to push the African agenda forward and improve upon the practice of journalism on the continent made him conclude that "in Ghana, we have more freedom to operate than most of the practitioners in other African countries".
Israel insists that "our country is a haven, in terms of journalism practice. Look at the case of the Eritrean -journalist; Seyhoum Tsehaye, who has been in prison since 2001, for a critical article be wrote expressing sympathy for the politicians and journalists, who were, imprisoned by the government."
He also expressed concern about the difficulties journalists in Zimbabwe and Kenya went through to discharge their duties, especially during the recent general elections in those countries. Considering the level of harassment in those countries, Israel is convinced that "Ghana's case might not be a perfect situation, but "in terms of freedom and peace we are incomparable."
Israel, who hosts Crime Alert and Business Trends at JOY FM, received the CNN MultiChoice Radio News General Award, based an a news story he did on an 11year-old house help who was abused by her mistress. With the support of officials from the Domestic Violence and Victim Support Unit (DOVVSU) of the Ghana Police Service, the little girl was rescued and given some solace.
In a chat with The Mirror on Wednesday, Israel said he received the news of his nomination from Maggie Eales of CNN while returning from an assignment. 'Maggie called me introduced herself and congratulated me. She told me I had been nominated for the CNN Multi Choice Award and that I was just a nominee so I should not tell anybody about it yet."
According to Israel the news was so refreshing and the excitement was massive. He could therefore not keep it to himself. I told my wife about it, then my parents and a few friends." He said Maggie told him that in all there were 23 nominees but only 16 would be given awards. She assured him that he stood a good chance of becoming a winner.
Later in May, the news was confirmed to him through the mail and was followed by a press conference to announce the nominees.
From that time on, I just could not wait for that day to know whether I was among the winners. I was also eager to wait for the other nominees to do my permutations and where I stood," he quipped.
"Finally when all the nominees assembled in Accra all the permutations that I intended to do, went away as we were told to be relaxed, feel free and enjoy ourselves."
It was a great opportunity for Israel who used the occasion to visit the Elmina Castle for the first time. Commenting on the award itself Israel said he was impressed and "it got me to appreciate the work we've done as journalists being the mouthpiece of the downtrodden and covering elections,"
He commended the media for successfully covering the 1992, 1996, 2000 and 2004 elections in Ghana and expressed optimism that the coverage of the December elections would be even better.
According to Israel the feeling after receiving the award had, been overwhelming especially at his workplace Joy FM and reaction from the public had been very positive. He had so far received more than 200, phone calls and 150 text messages congratulating him on his achievement.
He believes the award is going to make him work much harder and more qualitatively, and enhancing his skills in reporting.
Israel is grateful to the President, John Agyekum Kufuor for his kind words of encouragement when he hosted the award winners and CNN/MultiChoice officials as well as other guests to the event, at the Castle. He is also grateful to Mr. Edward Boateng of Global Media Alliance, the initiator of the CNN/MultiChoice Awards, Gloria Djomoah of Quest Events, staff of Multi Choice and all media organisations which supported the event.
Who is Israel Laryea?
Israel describes himself as a pretty cool guy, a bit reserved but exciting and an interesting person. At a distance, one, may think he is unfriendly, but if one is able to get close to him he would find him to be a different person altogether.
Israel was born on October 1974 to Mrs. Constance Laryea a retired employee of Cocoa Marketing Company and Mr. James Laryea, an ex-service man who worked with the Bible Society of Ghana and until recently Vanguard Assurance. He started schooling at the Osu Presby Preparatory School and continued at the Okuapeman Secondary School, Akropong- Akwapim, where he had his GCE '0" Level certificate. He had his sixth form education at Accra Academy.
Initially, he wanted to be a pilot but his mum's desire was to see him becoming, an accountant. His mothers wish prevailed and that influenced his course of study in secondary school. He was a business student.
With this background, he started a chartered accountancy course after his 'A Level studies, but had to abandon the programme along the line.
From there he joined the Mobile Water Company as an accounts clerk but ended up doing everything from marketing and distribution of the product, taking charge of the account books, supervised the workers of the company as well as running errands for his boss.
According to Israel, he began to have a hankering for television because of his control over the Queen's English. He therefore applied to work with the Ghana Broadcasting Corporation but could not meet their standards. Despite this setback, he was sure that one day his "time will come".
The opportunity to realise this cherished ambition came while watching television and he heard an announcement that TV3 was looking for a production assistant.
According to him the requirements of this position involved qualities he already had except that he was not computer literate. However he managed to make a strong impression at the interview and got the job.
From there, Israel realised he was getting closer to achieving his age-long dream to get on the screen.
While at the production job, he was doing voice overs for the television station. Besides, he had gone through a number of auditions which put him in very good stead to appear on screen. On September I, 1999, he did his first news bulletin for TV3 News.
According to Israel, his first experience was tension-packed and he therefore let out a scream after the news to let off the tensed feeling. He is an avid fan of CNN and BBC news so he-learnt a lot from the presenters and the anchors.
He added that on some occasions well-wishers had called him to correct him on his , pronunciation of some words. He is deeply grateful to veteran broadcasters John Hammond and Agmorkwor Dowuona, both formerly of GBC.
Israel said even though he was doing well as a young and single man while at TV3, he was mindful of the fact that his qualification reached GCE 'A' Level, and wondered what he could do with his life if he was no longer featuring on screen,

He therefore decided to pursue a Bachelor of Arts degree programme at the Greenhill College, GIMPA. Unfortunately, the lecture period clashed with his work at TV3. He therefore asked his employers for consideration and support, which he did not get, and therefore decided to get a job that, would make it Possible for him to work in the morning and go to school in the afternoon.
"I knew KomIa Dumor, who was then the Programmes Director at JOY FM. I went to him and told him "I want to work here". He agreed and asked him to start as a part-time member of staff. After some time his position was regularised.
He said along the line, TV3 wanted him back. He agreed to go there and read the news only when on vacation. Now that he has completed his programme, he works with the television station on a part-time basis.
Israel got married to Louisa, an accountant with the European Union Micro Management Project Unit, on March 20, 2004. They have two sons, Chaeyne Afotey Laryea, 3, and Mitch Nii Laryea Laryea, 2.
He is a Christian and worships at a Church in New Achimota in Accra. He enjoys watching movies, reading and sight-seeing.