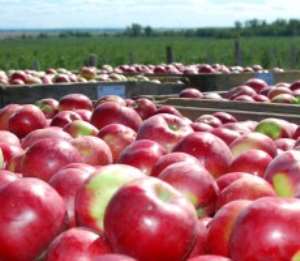 Apples keep doctors away, don't fall far from the tree, and tempt everyone from Adam to Snow White. Though Red Delicious apples are losing ground to other varieties, they are still a popular snacking apple, and most come from Washington State.
Nutrition
One large Red Delicious apple has 130 calories. It is a great source of fiber-- there are 5g in just one apple. Two-thirds of that comes from the peel, according to the University of Illinois Extension.
History
The first Red Delicious apple, which hit the market in 1874, came from a farm in Iowa. Washington got in the game by the 1920s and by the mid-1990s, Red Delicious apples made up 70 percent of the apple crop in the state.
However, Washington State University notes that by 2010, the popular reds made up just 30 percent of the harvest as Galas and Fujis grew in popularity.
Snack Ideas
A Red Delicious apple makes a great snack all on its own, but some people might get an upset stomach when they eat one plain. It can help to pair the apple with a little protein: A tablespoon of peanut butter has 95 calories; a stick of regular string cheese has about 80 calories.