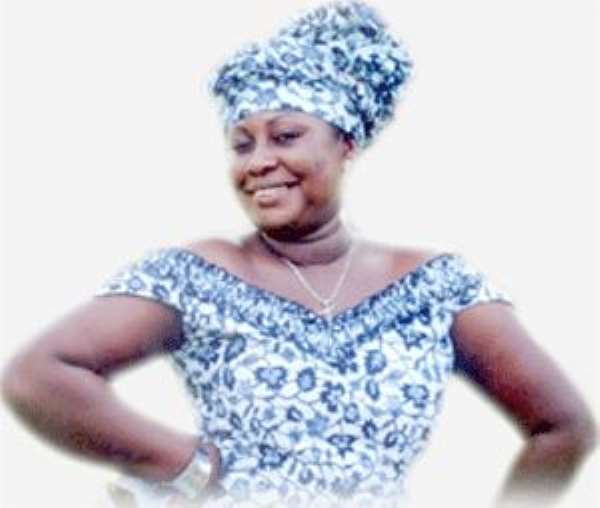 If anyone asked bubbly journalist and television news anchor Gifty Anti to choose between having children before marriage and marriage before children, she would quickly opt for the latter despite her own childhood experience with her divorced parents.
"My parents divorced when I was six months old, and it was my father who took care of me even before I got to know who my mum was." These were the words of Gifty as she recalled her difficult early childhood.

Speaking to Showbiz during her lunch break in her office at GBC, the vivacious Gifty whose face has been familiar in almost every Ghanaian home over the past 12 years said "my parents gave birth to me after my father had begun his pension, and he went to great lengths to give me the future I now have."

Gifty's desire was to have a child as an honour to her parents before they passed on in 2005 and 2006. Still she believes in children. "I wanted to get married before having a baby, but I wouldn't mind having a baby before getting married" she said.

Of the many challenges that has confronted Gifty, the death of her father was most devastating to her.
"I was in London writing my masters when my sister called to inform me of the death of our father. I don't know how I was able to go through with my exam. I was shattered because my life revolved around my father who had suffered a lot because of me"

In order to deal with the loss of her father maturely, Gifty vigorously buried herself in her work, but unfortunately her mother also died a year later in 2006.

"I was lost and had to start life afresh, and I had to do it with no one to depend on emotionally, but for the support of my big sisters. In fact, I started breaking up and had it not been for the grace of God, it would have been terrible for me", she added.
Gifty has been associated with so many unfounded rumours and speculation about her profession and private life. She has been misunderstood, criticised and sometimes sabotaged for no reason.

She explains. "Personally, I am a very sociable person, easy-going, someone who doesn't discriminate against the young, old or supposed 'less-important' people. I am a Christian who is supposed to love unconditionally" was her response to how she would describe herself.

For the obviously successful journalist, the respect she had for people who she had considered as mentors or icons has diminished over the years.

"It is appalling to realise that people that I had grown to consider as icons turned out as bad nuts in the society who sometimes spread stories about me. It's just unbelievable" she said.

To buttress her disgust for people who are supposed to live above reproach, she indicated that "I am disappointed at the end of the day when people in position of authority and trust, instead of avoiding pettiness and take pride in the achievement of others, even juniors, rather sabotage them."

Many of her viewers, and indeed admirers have wondered her position on politics, since the newscaster seems to be at home with all shades of opinion. "I have close friends in all the political parties who I call on when necessary and everything I say on my show is not reflective of my opinion, but representative of the opinion of others", she explained.

And those who think Gifty has had things easy without much toil, will have to rethink. "You can't depend on the salary alone here in GBC to survive. I have to work for hours on end abroad to enable me acqiure the few comforts I own."

Gifty Anti, who comes from Asempanyin in the Central Region, is the last of eight children from the late Samuel Christian Kyei Anti, a police officer and her late mother, Madam Stella Idun who was a dealer in second hand clothing at Mankessim.

She had her early education at the Government School in Tema, wrote the Common Entrance Examination in 1984 and went to Mfantsiman Girls Secondary School in Saltpond where she successfully completed her sixth form education.

Her desire to enter the Kwame Nkrumah University of Science and Technology (KNUST) was aborted when she realised that she could not gain admission to the university due to ill-health.

She later studied at the Ghana Institute of Journalism in 1994, although she initially wanted to do Public Relations, she got stuck to Journalism.

According to pretty face Gifty, she is a staunch fan of Asante Kotoko, and while she is unable to explain the reason for supporting the club, she confesses her association with the club has to do with her father who was once the local chairman.

Where does her inspiration come from? It comes from every successful woman such as Gifty Affenyi-Dadzie, Joyce Aryee, Ms Gloria Akuffo, Mrs Georgina Wood, the First Lady, Theresa Kufuor and many others.

Although she refused to name the man in her life, Gifty admitted she is very much attached and content with what she has at the moment.

Watching television, reading and sleeping are the things she does during her leisure time.

A word for her fans: "I am grateful to all my fans for their support. They should continue praying for me in everything I do for me to perform credibly. In any situation my advice is stay focused and don't be deterred in realising your dreams."

Story by Hilda Owusu