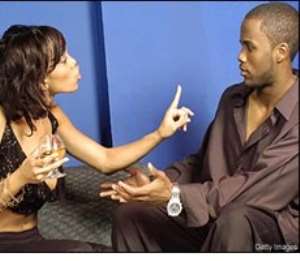 For many, marriage is the final blossoming of a loving relationship. But before you take that giant leap, you need to be absolutely sure that you're doing it for all the right reasons.
I've read countless testimonials from readers whose marriages have been plagued with misfortune and, ultimately, ended in divorce. And if there's a common link that runs throughout, it's that many couples believed they were ready without having ever really considered what marriage entails. And while everyone's situation is different, there are a handful of recurring circumstances in which planning a wedding is a bad idea.
Now, I'm in no way, shape or form implying that you should nix marriage altogether just because some of the following points apply to your relationship; it just means that you might want to give the idea of wedded bliss some extra thought. So here are the top 10 reasons you might want to hold off on saying "I do."
No.1 She's having your baby
Bottom line: Kids do not make marriages work. It may not be in your, her, or a child's best interest to see two parents subject themselves to a marriage of convenience.
Work together to come up with the best solution, but remember that there is a third party involved. And your child will be the one who suffers most should his/her parents force themselves into a family mold.
Let the above predicament serve as a model for those couples who engage in sexual activity without taking the necessary precautions, and reap the consequences thereof.
No.2 You're close to her family
You love her mom's cooking, her dad's a great mentor to you, and her brother is one of your closest friends. But it's not her family that you will have to share a bed with for the rest of your life. Hence, focus on finding the right individual rather than the right group. It's very likely that if you get along with her, your in-laws will be just as special.
No.3 She caught you off guard
In one of life's unpredictable turn of events, by some freak miracle, she proposed to you. And being on the spot, coupled with the fact that you're head over heels for her, may lead you to say "yes" without giving it enough consideration.
But if you have even the slightest doubt, take the time to mull it over. There's always that odd chance that she only asked because she knew you wouldn't say yes. And forget about withdrawing your response at a later date; calling off the wedding once she's begun preparing will render her twice as enraged than if you had said "no" or "let's wait" in the first place.
No.4 She's putting pressure on you
Before you get flattered by the idea that she wants to devote her entire future to making you a better person, you need to determine if changing yourself is a mutual decision. Giving up smoking or going back to school will never work if you aren't self-motivated. And if you aren't willing or ready to mold yourself into her ideal man, you will only resent her for trying to change you.
OK, so she's tolerated those countless nights you spent in bars and strip clubs, endured your sloppy ways, and remained loyal amid your jealous outbursts, but does that mean you should reward her with an engagement ring?
The problem is you'll never be able to pay off this "debt," at least not through marriage if your heart isn't in it. And no matter what you have done, forking your life over as collateral is not a smart move.
No.6 It's the logical next step
Most men seem to think that marriage is just one of those logical steps in the sequence of life (Job? Check. Car? Check. Marriage?). But just because you have a great career and a nice house, that doesn't mean you should complete the package with a trip down the aisle.
When it comes to settling down, nothing is written in stone. Everyone takes different paths in life, and it's possible that yours won't necessarily include tuxedo fittings and church rehearsals in the near future.
No.7 To please your parents
Attempting to get the parental thumbs-up for your choice of bride may be a smart way of alleviating some additional conflict (i.e. all those "your mother hates me" speeches).
A marriage, however, is not a group endeavor, and the fact that your parents think she's an angel sent from heaven won't count for much in making the relationship work. In other words, put your feelings first; all you can do is just hope that mom and dad approve.
No.8 All your friends are doing it
It's normal that you want to hop aboard current trends, but unlike sporting a new pair of shades, this "monkey see-monkey do" approach should not apply to marriage.
Being the only unwed guy in the group may feel a little awkward, but it's nothing compared to the agony you'll feel by getting hitched just to ensure that you're not the odd man out.
No.9 You've been dating forever
Don't get me wrong: I applaud any romance that can withstand the test of time. And it's great that what began as a teenage crush blossomed into a full-blown romance. But let's face it: If she was someone you wanted to spend the rest of your life with, wouldn't you have asked her by now?
Somewhere in your subconscious there are valid issues that are keeping you from getting engaged. Regardless, don't worry about the years you've already invested; think about all the future ones you'll spoil by doing something that just doesn't feel right.
No.10 She's a "sweet girl"
Finding that special someone can be both an arduous and lengthy task. So when you do come across a universally acceptable gal (the kind you'd take home to meet your folks), you may feel tempted to take her off the market, so to speak.
But as sweet, pretty and well-educated as she may be, it won't mean much if your personalities don't jive. Her prim and proper behavior should come in second to sharing similar tastes, interests and goals. Remember: She has to be right for you, not everyone else.