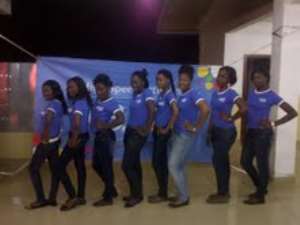 Eight dazzling, elegant and intelligent ladies consisting of seven (7) Nigerians and a Ghanaian have been shortlisted for this year's Face of Wisconsin.
These ladies were outdoored on the 16th of March at the Rooftop of Wisconsin International University and have since been undergoing grooming sessions and photo shooting for the final event. The main event is scheduled for the 30th of March 2012 at the Exhibition Hall of the National Theatre at 8pm for a Ghc 15.
The organizers, Aeon Alliance have promised a breathe taking show and amazing prizes for the winners. Packages for the winners are; the crown, a plasma tv, a mobile phone and hamper from sponsors,(for the winner), a laptop, mobile phone and hamper from sponsors(second position) and a four-burner gas cooker, mobile phone and hamper from sponsors( third position).
Sponsors include Tigo, Black Secret, Shinning Colour, Afromod Trends, Ghanaye, Extra Drink, and Citi 97.3 fm, TV Africa, Afri-Pride, and Mawuli Sekanku Photography.
This year's Face of Wisconsin forms part of their one week SRC week Celebrations from the 26th of March to April 1, 2012. Other activities include a pyjamas movie night, Maggie cooking competition, sports day, peace walk and a Beach party at AB's Royal.
FACE OF WISCONSIN 2012 JINGLE
Eight unique, intelligent and smart looking ladies, up on one stage…
Battling for the ultimate… The crown and prestige as the Face of Wisconsin 2012!!
Who wears the crown? Michelle, Jessica, Princess,Christie,Richel, Goodluck, Uche and Purity.
Join us at the National theatre Exhibition Hall on the 30th of March 2012
Time: 7pm Sharp
Rate: Ghc 15 p3!
Artiste: Stone Boy, Okay, Atumpan and Rana
Come witness an amazing and breathe taking event.
This event is brought to you by Aeon Alliance and The SRC of Wisconsin University College and supported by: Cardbury Ghana Limited, Tigo, Black Secret Make-up,Shinning colour,Afromod Tends, Ghanaye, Rima Therapy, Mawuli Sikanu Photography and Stomen.
Media Partners: Citi fm and Yfm.