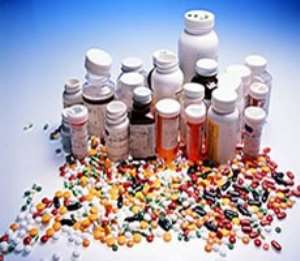 Participants in the study were tested on aspirin dosage instructions
One in three adults aged over 65 in England have difficulty understanding basic health-related information, suggests a study in the BMJ.
They are more than twice as likely to die within five years as adults with no literacy problems, it was found.
The University College London study tested nearly 8,000 adults on their understanding of aspirin instructions.
The Patients Association said patients should help draft information leaflets so they are "relevant and clear".
The researchers, from the department of epidemiology and public health at University College London, said that limited or low health literacy among older people has implications for the design and delivery of health services for this section of the population.
Using a short test containing four questions, based on instructions similar to those found on a packet of aspirin, the researchers assessed the participants' ability to read and understand the information.
They found that 67.5% had high health literacy (achieved the maximum score), 20% were classed as medium (made one error) and 12.5% had low health literacy (got two, one or no questions correct).
In the study, almost half of the adults aged over 80 could not correctly answer all four questions, compared to one-quarter of the adults aged 60 or less.
'Worrying'
The study followed the participants for an average of five years after the test.
During this time, 6.1% (321) died in the high health literacy category, 9% (143) in the medium category and 16% (157) in the low literacy category.
The researchers said that lower health literacy was linked to a higher prevalence of depressive symptoms, physical limitations and chronic diseases, such as heart disease, diabetes, stroke and asthma - but higher health literacy scores were linked to stronger cognitive abilities, including verbal fluency and working memory, they said.
When researchers adjusted for factors such as wealth, education, income, ethnicity and basic health, the link between low health literacy and mortality risk reduced, "but remained significant", the study said.
Katherine Murphy, chief executive of the Patients' Association said it was worrying that so many people struggle to understand health-related information.
"How are patients expected to make informed decisions if they do not fully understand the information being given to them?
"Patients must be involved in the development of these information leaflets from the outset to make sure they provide relevant and clear information."
Michelle Mitchell, director general of Age UK, said health professionals have a responsibility to give patients information that makes sense.
"That way, patients will be better empowered to manage their own health conditions and make the positive lifestyle choices that lead to better health and wellbeing."