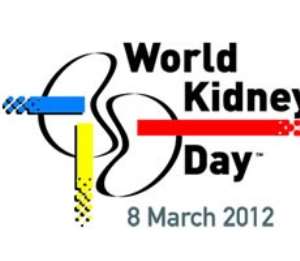 Today 8th March is World Kidney day a very important day not only for those who are afflicted by kidney problems but, indeed, for anyone interested in achieving and maintaining optimum health. In Ghana today, kidney diseases are on the increase probably as a result of the rising incidence of high blood pressure and diabetes. It is estimated that two-thirds of all chronic kidney diseases are attributable to diabetes and hypertension.
The kidneys play many vital roles in our bodies including regulating body water and other chemicals in your blood such as sodium, potassium, phosphorus and calcium, removal of drugs and toxins introduced into the body and releasing specific hormones into blood to help perform crucial body functions. When the kidney is not able to properly discharge its functions it leads to the build-up of wastes and fluids in the body resulting eventually in poor health and ultimately premature death. Considering the importance of the role of the kidneys in maintaining good overall health, it is necessary to focus on kidney health, from several broad perspectives.
This article thus intends to offer some very useful and practical information that will not only help to improve kidney health, but also overall health.
The first consideration in promoting kidney health is diet. Diet plays a big role in promotion of kidney health. As earlier mentioned, an estimated two-thirds of chronic kidney disease cases are attributable to diabetes and hypertension- both of which are diet-related conditions. Modernization has caused many Ghanaians to adopt poor eating habits, with an emphasis on convenience rather than quality. Now more than ever, we consume a lot more refined foods loaded with artificial ingredients, salt, sugar, and unhealthy fats. Not only are our diets generally poor but our consumption is often excessive leading to an increased incidence of overweight and obesity. It is little wonder that many degenerative diseases including kidney disease have increased significantly, over the past few years in this country.
The solution to the diet problem is to change our eating habits. A balanced diet that includes fruits, vegetables, cereals, grains, nuts and lean sources of proteins plays a crucial role in maintaining overall health and thus protecting the kidneys. It is important to understand that everything we eat is eventually absorbed into the blood, through the process of digestion and any wastes are sent off to the kidneys for removal. Thus being selective about what we choose to eat as well as good timing of meals is an integral factor in improving kidney health.
Advertisement

The second crucial consideration in protecting the kidneys is water. Consumption of adequate amounts of water is very important in promoting good kidney health and reducing the risk of developing kidney stones. Most people already know that it is important to drink at least eight glasses of water per day but in a hot climate such as ours we may need more. Sufficient water consumption is not only important for kidney health but many other biological functions as aiding in digestion, regulating body temperature and blood circulation, and helping to flush toxins and other waste products from the body. Healthy kidneys require a lot of water in order to perform their crucial functions of removing toxins from the body and maintaining the correct concentration of the blood and other body fluids.
Another important factor that should be considered in promoting kidney health is physical activity. Exercise plays a major role in the health puzzle. Sedentary lifestyles are becoming increasingly common among Ghanaians. The truth however is that many health problems including obesity, heart disease, stroke, high blood pressure, diabetes, and kidney failure have been linked with inactive lifestyles. Physical activity promotes kidney health primarily by helping to lower or control blood pressure and increasing insulin sensitivity, to prevent type 2 diabetes mellitus. The recommendations for physical activity are, accumulating at least 150 minutes of intentional physical activity in a week. This works up to 30 minutes of intentional physical activity (could be as simple as a brisk walk during lunch time) five times a week- a target that is easily achievable once a person is determined.
The final consideration in protecting the kidneys is having screening tests to detect kidney disease. Kidney disease can go on for years without signs or symptoms. Everyone in the population will benefit from screening tests usually carried out by simple laboratory tests but individuals who have hypertension and or diabetes, or a family history of kidney disease should not hesitate at all to go for screening tests.
In summary, eating the right types and quantities of foods, exercising regularly, drinking sufficient amounts of water, to observing other healthy habits such as getting adequate sleep, managing stress and avoiding smoking and alcohol will go a long way to protect your kidneys. If you have been diagnosed with kidney disease, keep hospital appointments and have your doctor refer you to a dietitian to help with the planning of your meals. Remember, the best treatment for kidney disease is prevention.
The writer is a dietitian and a lecturer at the School of Allied Health Sciences, University of Ghana. Email: [email protected]
Website: www.ultimatenutritionghana.com